The Trans Balkan Race is an ADVENTURE across the borders of the Balkans. 1300 kilometres by mountain bike through the untouched nature of 11 national parks – from Sežana (Slovenia) to Risan in the Gulf of Kotor (Montenegro).
Hermann and I start as a team, which we both find appropriate, especially for THIS race.
Once again, not even 50% of the starters arrived, I wonder why …
first my video: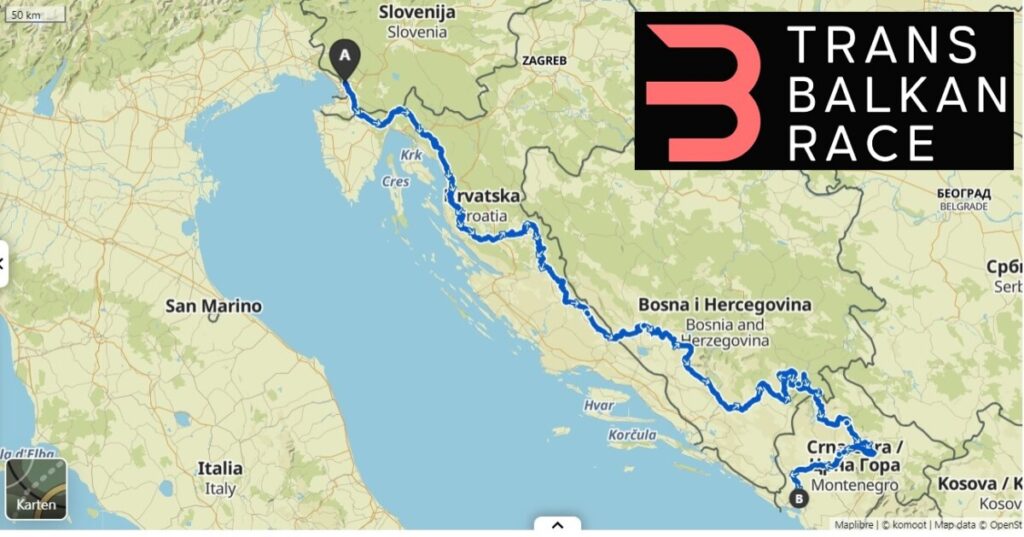 Trans Balkan Race: info ……………. website Trans Balkan Race
DAY 1 – 183 km/ 3800 m of climbing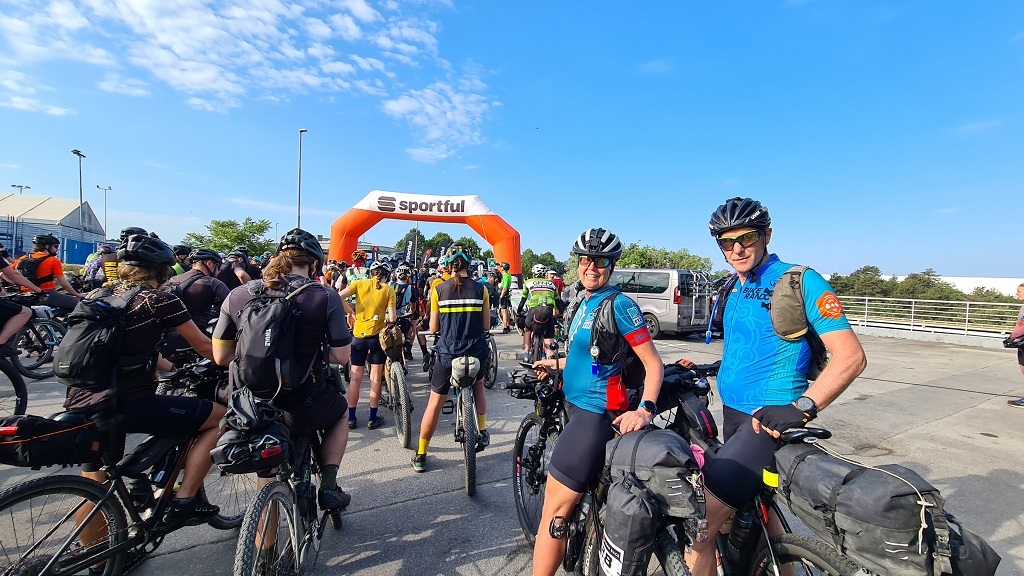 We set off punctually at 8am from Sežana in Slovenia, not far from Trieste. Already at the start we can see who has packed his stuff well, bottles, bars and other things roll on the stony ground after less than a kilometre. One of them is very lucky: he stands there and picks up the shreds of his reflective bracelets from the rays. It could have been bad.
It doesn't take long before a stone step slows me down, my foot doesn't have time to take the shoe off the click and a thorny bush catches me off guard. Ouch!
It is also hot and there is 'still' not a cloud in the sky. The path climbs steadily to a flowery plateau with a beautiful view. The first fountain, one of the few on the road to the south, is much appreciated and after a long descent we eat an ice cream in a small village. Andrea and Gosia pass us. Shortly after Gosia comes towards us, with scratches on her arms and legs. She has fallen and the rear derailleur was damaged, unfortunately we cannot help her.
With tears in her eyes she thinks about retiring. The road gets tough again, a few more ups and downs, often steep, but mostly without many metres of elevation gain. Nevertheless, the sum is considerable and, when we go 'to bed' in our bivouac much later, we will have overcome almost 4000 metres of altitude difference in 182 kilometres.
In Fužine we are fortunately in time for a stop at the supermarket, because there is nothing for the next 150 kilometres. Then we refresh ourselves with soup and dumplings at the restaurant. A couple of South Africans stop here, we spot them, because we still want to go on. Gosia, who had joined us anyway, but no longer had the easiest gear on the steep climbs, and Andrea also continue. As the clouds were gathering, Hermann wanted to go to the park rangers' hut at the entrance to Velebit. There one could have a roof over one's head. At a certain point, the road became deserted, surrounded by the roar of countless wind turbines on the mountain ridge. As there is no guardhouse in sight, we decide to settle down in a small meadow.
I leave the path with some trepidation; after all, we are in the mine danger zone and one should never leave the path. I sleep badly or not at all, the wind shakes my mini tent and the noise of the huge wind turbines around us makes me lose sleep several times. The earplugs don't help, because they always come off my ears with a 'plop'. After a few hours, around 5 o'clock, we set off again.
DAY 2 – 155 km/ 3000 m of climbing
We continue on bumpy paths and again and again we catch dream views of the turquoise sea and the islands off the coast. Then we have to say goodbye to the sea views. Only in Kotor, 9 days later, will the sea greet us again, hopefully!
Now we continue through the woods. At some point we pass the park keeper's house, where we have to pay an entrance fee of 5€ each. We would have had to drive a long way at night … At some point Gosia overtakes us and tells us about her adventurous night's accommodation with a local. She overtakes us, of course, she is faster without the lightest gear. At the end of the day I will have the feeling that all I have seen all day is forest, forest and more forest. Bears? We didn't see any, but two participants had a bear encounter. We only saw a lot of bear droppings. We saved the short detour to the highest point, the Dom Zavižan hut. They only serve cola and beer there anyway.
Shortly before Gospić, somewhere we will have rolled over the Croatian green border, there is a restaurant stop and then we "raid" a supermarket in the village and stock up for the next 180 kilometres without shopping. As we leave the town, it starts to rain, luckily it stops soon, but the ground shows us what we would have plenty of in the next few days: lots of puddles and mud. We still want to go over the next hill and look for a place to sleep. We find one, Hermann steps into a cow patty. We think we are in solitude, but the sound of a motor tells us otherwise. Some cart drives by. A little later it passes again in the opposite direction, stops, someone rolls down the window and asks in broken English what we are doing here. We should be careful because of the "big bear". What? A bear? I ask. There is laughter from the back seats. Someone else shouts "Spaghetti!", I don't know why. Were they "making fun" of us? In my tent, wrapped in my sleeping bag, I try to fall asleep. Again and again I wake up. What was that? I keep hearing noises.
DAY 3 – 122 km/ 2300 m of climbing
At some point it dawns, the alarm clock rings and I gather my things. It's foggy, everything is wet.
A little later we are on our bikes again and pass the first farm. I bend around a seemingly quiet black dog. Hermann behind me is suddenly surrounded by the five black brothers and sisters. As the saying goes: 'Dogs bite the last'. Hermann prefers to walk a little.
With their barks still in my ears, I see before me an elderly farmer with a German shepherd. With a stick, the owner pushes the dog away from me. Apparently the animal does not react to language. I pass slowly. I am almost out of sight when I hear shouting behind me and the shepherd dog galloping towards me. In a hundredth of a second I make a decision. What had Bea written in the race manual? Don't try to run away, the dogs are always faster. So I brake abruptly and face the beast, with a scowl. The dog does as I do, going from accelerating to braking. I almost laugh, because the animal glides over the smooth, paved ground and crawls like in a comic strip…. Then it looks for distance.
For a few kilometres, the road runs through farmland. On the rough meadow terrain I hear a strange noise, a clanking, somewhere on my bike. This will haunt me all day and give me pause. Every now and then we pass cyclists preparing their things for the night for the continuation. And then we have to go up again. At dawn, breakfast standing with kefir and bread. Michael joins us, we will meet him more often. He pedals with a Rohloff gear and a toothed belt.
Today, too, we ride a lot in the forest. The sound of every little bump reminds me that sooner or later a technical problem will slow me down. Too bad! Puddles and mud accompany us, and at some point, bike maintenance is required. Hermann lubricates the chains, then we try to work out where the noise is coming from. We remove the panniers one by one and discover that it is the rear pannier that is causing the noise. If it 'gives way' during the ride, where should I put all my things? Could I keep going?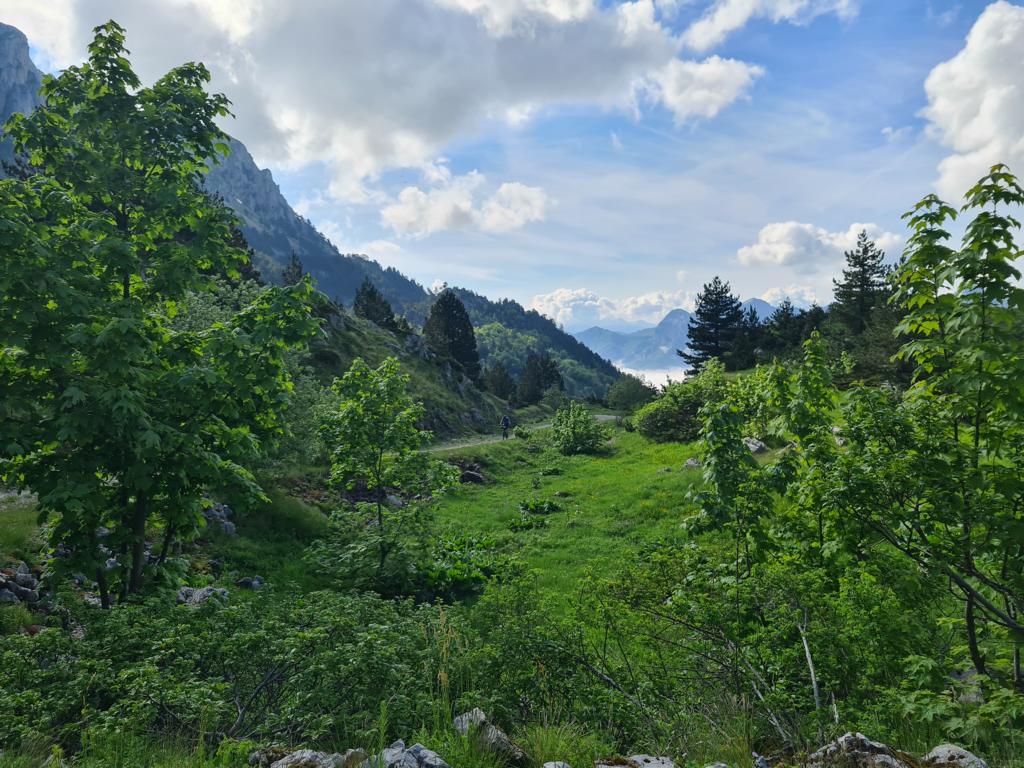 At some point, tired of the constant forest, we leave the impenetrable green. Below us is a valley in bloom. We travel a few kilometres on asphalt until we reach the first checkpoint. Here we can fortify ourselves with pasta. I take a shower and wash my clothes, everything dries in the sun and the light breeze before we continue on. It is nice to exchange experiences with others, for example with the nice Dave, the Englishman who lives in Berlin.
He, 28, says he just talked to his girlfriend and told her how nice it is that women like Andrea and me do THIS HERE. I wonder what he means by that. Women of our age, so over 50, or women in general. Many are no longer in the race, as we can see on follow.me. Many, including many men, have already chosen the short cut along the coast. It's a pity, because now it will become really exciting after the forest days. But really…!!!
Strengthened, we continue. Soon it's on its way. It's not uncommon for me to have to dismount and push a bit. Here Dave is fully in his element, already overtaking us at breakneck speed. I wonder if it will be OK.
The first mountain is approaching. It is a steep climb. Further on even steeper, here we see Andrea pushing. A rumble in the distance. My gaze wanders upwards. Coal-black clouds have thickened. And here we are climbing a plateau. My pulse rises, not just from exertion. At the top it rises and falls some more. The stress is draining my energy, because around us it is getting darker and darker. And there is no 'hiding place' in sight. Andrea has already disappeared from our field of vision.
She later tells us that she and Marco were looking for a hiding place. They had offered some karstic funnels, so-called sinkholes, but it was dangerous. Hermann thinks we should do something before it really starts. At a group of small trees he pulls out his bivouac sack and we both squeeze in. With each flash I count and calculate. My fear somehow gives way to a surrender to fate.
It doesn't come down very hard, and we set off again. Now it starts to rain harder. The descent on a very steep stony path takes a lot out of me. It is as slippery as soap. It is already dawn when we can ride on asphalt in the valley again. A few houses form the hamlet of Velika Popina. A little further on I am joined by Dave and another cyclist. Since it was getting dark and raining, they decided to return to the house where some guys were having a party. Soaked as I am, I follow them.
On the way I see a person in a garden in front of a new house. I try to explain our situation in my broken English and ask if there is a hotel in the village. Only later do I realise the absurdity of the question. A hotel with three houses in the middle of nowhere? Perhaps my ulterior motive was to get a place for our bivouac in his new house?
Nikola, we find out not long afterwards, ponders for a while, then his face lights up and in the meantime invites us into his kitchen to warm up and dry off. He makes a phone call and tells us that his neighbours occasionally rent out their little house. She is a doctor, he a policeman. We would have to wait at her house for a while and the key would be brought to us. Little did we know that the neighbour would travel 100 kilometres from Zadar just for us!
In the meantime, Nikola's mother, aka Johnny, offers us Turkish coffee, hot mint tea, biscuits and later offers us a portion of bacon and some delicious bread from the local bakery. A long time later we are lying in our beds, our things drying in front of the wood stove. The night's rest, however, does not last long, as we want to take advantage of the rain-free window to get over the next mountain.
DAY 4 – 167 km/ 2400 m of climbing
We set off in the dark. First we move on asphalt outside the valley, then it gets serious again. On a dirt road, then more impervious on a mountain path, we pull and push uphill. The creaking of my bike accompanies me. Is something broken? Is my bike falling apart? On the Bobija pass, a splendid sunrise awaits us. The landscape is magnificent. The descent requires a lot of concentration on my part, the organiser Bea writes about challenging single tracks. I would probably have walked such a stretch at home…. but time is pressing. The first drops of rain are already falling. Soon we will be completely soaked again. At Plavno there is a small climb, then we will probably be able to continue comfortably to Knin. What looked so peaceful on the map turns out to be a narrow clay path, which in the rain is just a succession of puddles and muddy paths. Before long, we are not only soaked to the bone, but also dirty from top to bottom. When we arrive in Knin, my will breaks for the first time. It is pouring rain and I am freezing miserably. What to do?
We decide to go to the hotel for the time being. We leave the bikes outside, completely dirty, we forgot the lock, but who would take such a dirty bike? I fringe our clothes, wrap them in terry towels in the hope that they will dry. Barefoot, I go for breakfast, which we eat very happily, hungry as we are. Andrea joins us. On the phone Gosia tells us that she is in the car to go to the mechanic. Her rear derailleur had broken during the night, she had desperately rung the doorbell of a house and had been helped. Shortly afterwards she is back in the race.
Around midday it clears up. We set off immediately, fully motivated. In the meantime, an intuition had led me to solve the problem of the suitcase: In the bag there is a metal frame with which the bag is attached to the carbon frame. This frame had a rubber sheath, which I had removed at home to save weight. In these adverse conditions, something had hit the metal, so I was to blame for this problem, which left my nerves almost exposed at times. Repacked and all was well.
We passed the Krčić waterfall and then crossed the gorge along the river of the same name. When we reached the top of Dinara Nature Park, it started to rain again. Hermann had walked across the field to a ruined building to seek shelter. When I am there myself, I feel hot with horror. We are again in a mine danger zone and must not leave the path under any circumstances. Fearfully, I return to the path on a tractor track. We pass several flocks of sheep and goats, all guarded by sheepdogs. As a precaution, I dismount several times. The dogs usually approach with curiosity, wagging their tails peacefully. We had no bad experiences during the whole trip, but I was always a little 'scared' when I saw the dogs in the distance. We got off the bike and walked for a while, because we are not aiming for a place in the race. Our goal is to arrive before the finisher party.
In retrospect, I discovered that we were not far from the mystical 'eye of the dragon', the source of the Glavaš, which feeds the Cetina river.
There is a diversion due to a road closure. But before that, my will is almost broken again: The route takes us through a meadow, a flooded meadow. In the ankle-deep water, I manage to stay on the bike. Then, at a certain point, I have to dismount. Back? It's not worth it, so I continue. I have to cross a small rivulet. It's no use taking off my wet shoes, so I cross it with my shoes. Then the earth is solid under our feet again. In front of a house we clean ourselves and empty our shoes.
A tap gives me the idea to clean the bike a little, a functional towel does a good job on body and bike. We are watched. Two women invite us ragged types for coffee. We talk with our hands and feet, we even use a translator. What we tell the peasant women seems unimaginable. Back on the road, we have to bypass the Perućko jezero reservoir on the eastern side, on a main road with more traffic. The fast-approaching trucks scare me and remind me of my unpleasant experiences on the Northcape4000. After a coffee break with "Rohloff"-Michael, it is not long until the next climb and the border with Bosnia-Herzegovina. Before that, however, there was an off-road descent of about six kilometres. Good!
But the feeling of well-being did not take long to fade. The diversions leads along a path softened by rain, through countless puddles and even muddier than usual due to the hooves of many cattle. Going down and over countless times does not help, the ground wraps around the tyres and blocks everything. Even the chain is wrapped in mud. Suddenly the motivation fails. As I catch up with Michael and Hermann, I sigh: 'My will to do has broken! It's not the first time and it won't be the last. Hermann cleans the chain with a toothbrush. I, on the other hand, squat down next to a reddish-brown opaque puddle and tirelessly spray water on the chain with my hand, hoping to remove the last grain of sand. the rest of the bike is just aesthetics and at that moment I don't care. At some point, the sun is already setting, we reach the serpentine road leading to the Vaganj pass. Our plan to reach Šuica today has failed. From the highest point, after crossing the border with Bosnia and Herzegovina, we descend to Livno. Hermann looks for a hotel on Booking along the way. Knowing that we will soon be able to go to bed, even the last few kilometres are a challenge. Our eyes already want to close. After wandering around Livno for a while, we find accommodation. I can water the bike and clean the worst, then the hot shower awaits me. Indescribable!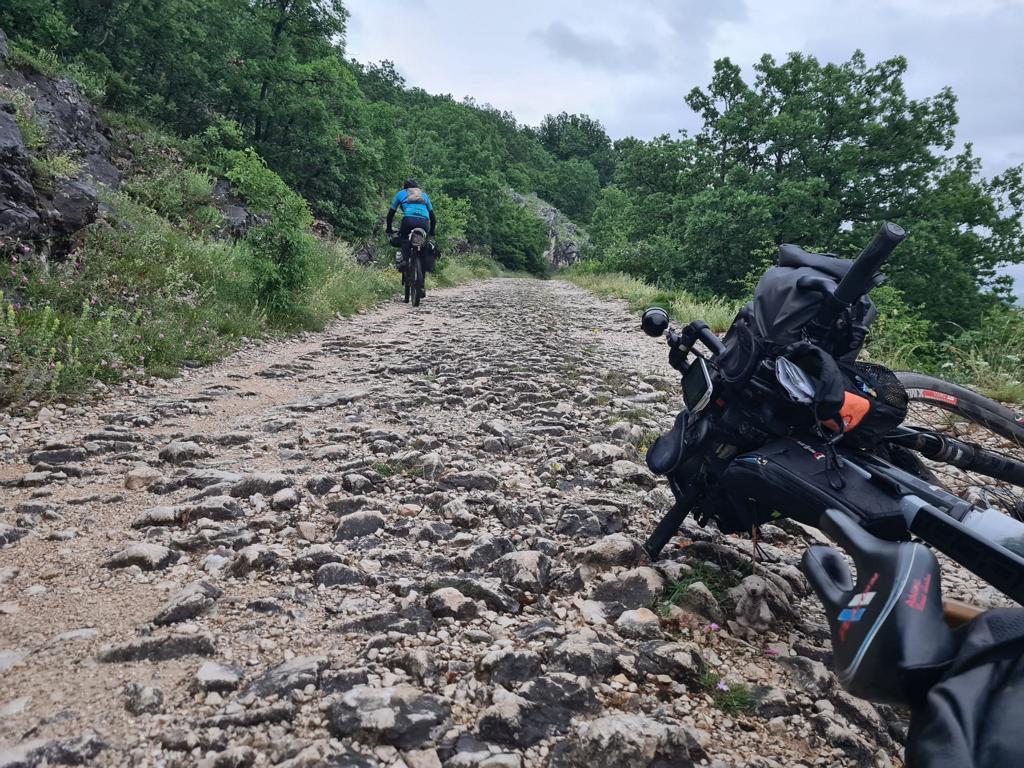 DAY 5 – 160 km/ 2700 m of climbing
We leave early again, it is dawn. Some stray dogs scold us and we set off again. And now I am literally shaken out of my sleep. A bad cobbled road, still wet from the last downpour, leads to the Cincar plateau. Here, too, my will is put to the test. Once on the immense plateau, there is nothing but magic. It is also said that the last true wild horses of Europe live here, some 800 animals. I look longingly left and right. I wonder if luck will assist us. And then there they are. I see the first group in the distance. A little further on, a small herd gallops by. The horses approach cautiously and a little suspicious, but curious.
Gosia joins us. She tells us about her experience before Knin and her fear of not making it, because she has to catch her flight on Saturday. For her it will be a nail-biting challenge. But she did it with a night's rest in the most difficult part of the race. Gosia did very well. Our respect!
Then the descent to Šuica. The last few metres across a flooded meadow once again. But then all the exertions are forgotten: There is delicious coffee and cake in the café next to the supermarket. And then we fill up with provisions.
For 120 kilometres, all the way to Mostar, there should be nothing. I learn that you should not squeeze the mineral water bottle between your knees while opening it. The result is that half of the precious water bursts from the bottle. Only half a litre remains for my hydration pack. Will this be enough to get me over the mountains? I don't want to queue at the supermarket again. Fortunately it is not very hot and the next downpour is not long in coming.
After a paved passage, we go off-road again. I am horrified by the scene we see at the crossroads. A rubbish dump. All around makeshift wooden shacks, all around rubbish. Do people really live here? Next to the huge rubbish heap there are several parked cars and above the rubbish a dozen people sifting through the remnants of affluence. Even this still exists in Europe. For the next 50 kilometres we pass through the so-called Danger Zone. Here it is not permitted to deviate from the route for any reason. It is said that the area is still mined more than 25 years after the last war. The area is hilly, dry and karstic, except for the rain. Short, very steep climbs force me off the bike. We make very slow progress. I discover to my horror that I forgot to turn on the tracker in the morning.
After almost 80 kilometres, I will make up for it as soon as possible. Bea will probably think I arrived here by helicopter. I smile. Then, in the Blindinje nature park, the trails improve again. We meet Christoph, who was going fast at first but had saddle problems. We give him some creams and meet him again in Mostar.
After Lake Blindinje, we are joined by Gosia, who had taken a long nap somewhere. We do not meet her again from Mostar. We meet Niko, from the USA, who has been travelling for months with his bicycle and camera, first through Morocco, then along the Italian coast and continues to cross the TBR route. We meet by chance in Risan and let him stay in our flat.
After a steep climb, the route is quite fast over hilly terrain. The subsequent thrilling descent seems to have no end. I am always amazed by what a MTB can endure. Shaken for days on bumpy roads, my bike reaches the finish line without a puncture. A miracle! But then we reach the long-awaited asphalt road to Mostar.
After the inevitable photo of the symbol, the Stari Most, the 'old bridge' over the Neretva, we try to find accommodation. We drive back to where I had seen an attractive hotel. When we finally check into the Hotel Patria, with Christian joining us, the supermarkets are closed. Fantastic! All three of us go out for a fabulous dinner at the nearby Restoran Malo Misto. After four days, the lamb dish with dumplings tastes incomparably good. Although one tooth, which had been slightly sensitive for days, is hurting more and more. We fill our reserves at a gas station and then go to bed.
DAY 6 – 112 km/ 2500 m of climbing
When the alarm goes off early, I am already awake. My tooth is throbbing. I think about whether it makes sense to go to the dentist here in Mostar. In the next few days we are unlikely to get anywhere bigger. Before seven o'clock, I could talk to my dentist at home, painkillers and all. Apart from the fact that the ointment didn't work on the first day, it didn't feel right to leave like that. Was that a reason to give up?
After an excellent breakfast, we leave only after 8am. There is still not a cloud in the air and we sweat during the steep climb, some of which is over 18% gradient. In the supermarket in Nevesinje, we meet Marco and Christoph. Now it is time to 'hole up', because the next 130 kilometres are again a wasteland in terms of shopping. Puddles and mud follow us, from above the wetness spares us, at least for a little while, but on the horizon something is already brewing again. We climb and descend, again and again through agricultural areas. A small climb approaches. In front of me, in the middle of the path, is a middle-aged man with his arms spread wide. I can't get past him, so I dismount and get hugged. The man seems to have a childlike disposition, he doesn't speak, he picks up my dirt-covered mascot hanging from the top tube bag, a small ex-white teddy bear, points at the teddy bear, then himself.
Again and again. Then he snatches the handlebars from me and starts pushing the bike uphill. At the top, he makes the same gesture to the bear and to himself. He thinks he has earned his stuffed animal by pushing it. But I do not want to part with my teddy bear, who has had so many adventures with me. I try to find a substitute and offer the boy a wafer. But he doesn't want it. I gently take his handlebars and sit him down. Then he spreads his arms again, pulls me towards him and gives me a big, scratchy kiss on the cheek. At least the jumper smells fresh. Then I'm free. Andrea will tell me later that she also had the same experience with this nice guy.
Descent to Ulog. According to the POI list, there is a café here. I don't need anything and unfortunately there is no coffee. So we continue. Everything is wet, puddles line our path. It had probably rained harder just before. The path is uphill and then flat along the mountainside. We want to cross the next medium-high mountain, the altitude profile does not promise anything good. Short but tough, you might say. Once again my carbon bike knocks me down, my shoes catch on the clipless pedals and I get a nice bruise on my thigh.
And shortly afterwards it starts raining. We manage to get down, I had seen a minaret in the forest at sunset and next to it some kind of barn with a dirt floor. Now that it is really starting to pour, with lightning and thunder, we decide to call it an early day. The fact that someone had pooped in the corner did not diminish our relief. We prepare a meal of water and powdered freeze-dried soup and then I disappear wearily into my tent and Hermann into his bivouac sack. I am only half asleep when Marco arrives and asks to lie down with us. He also tells me that he has broken the gear cable and wants to abandon the race. I don't realise that Andrea is also looking for a place to spend the night in our barn.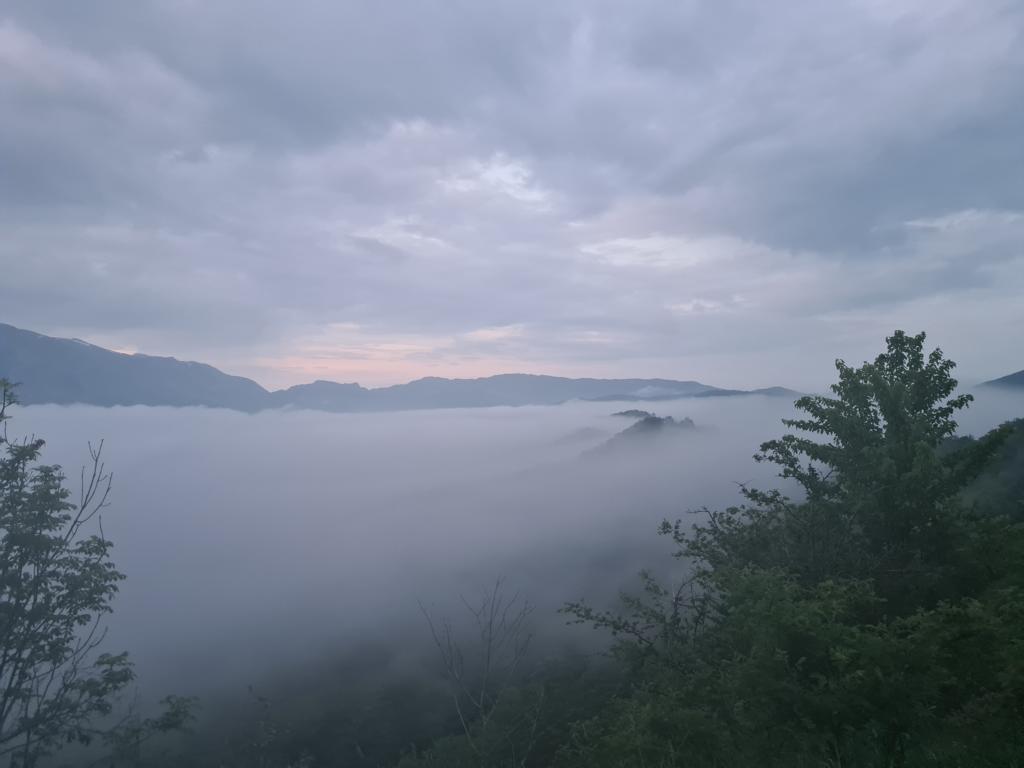 DAY 7 – 152 km/ 3100 m of climbing
We want to leave at 1.30. I regret that our preparations are not quiet, but the two of them are not to be disturbed. Our route to the Orlovačko pass leads over 1000 metres above sea level on a rather rough forest road. Had Hermann discovered on his satnav that our route would soon join the R-434, a regional road? Great, then the anti-rhythmic driving will soon be over. Wrong! The road surface gets even worse. I drive so slowly that at dawn the mosquitoes begin to bother me. Finally, on the pass, the road becomes muddy. And this mud wraps itself around the tyres again on the descent. Then it is a long descent through forest, forest and more forest. Since the sun hardly ever shines through the branches here, the mud is just as muddy and we have to cross many puddles.
At some point, tiredness catches up with us and we choose a few freshly cut tree trunks for a power nap. 15 minutes have to be enough. As we continue our journey, we discover that 100 m further on a nice covered picnic area would certainly have been more comfortable for our nap. Eventually we arrive in Miljevina. A small restaurant on the road invites us in and Christoph's bike is already there. Unfortunately there is no good news: he fell during the night on the descent, hit his hands and all his 'contact surfaces' with the bike are damaged. He will take the bus to Risan. We treat ourselves to coffee and a delicious omelette (the Atlas Mountain Race bids us farewell), then get back on the road.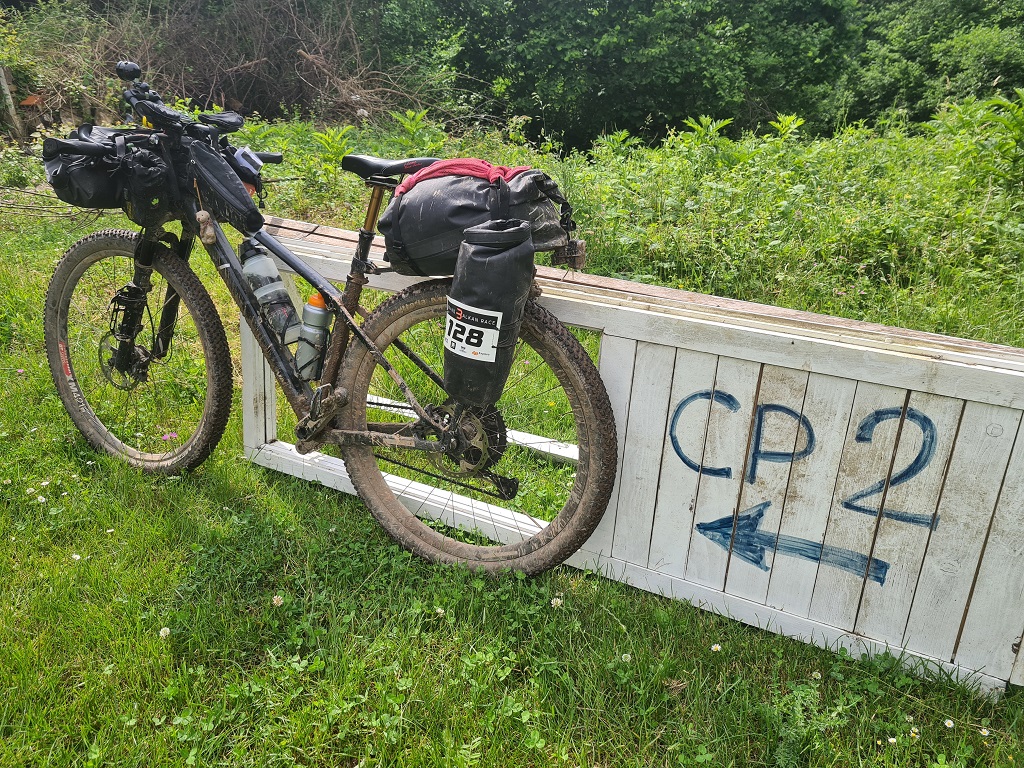 We still have to climb a mountain in Sutjeska National Park, a beautiful plateau, then another descent and we are at the second checkpoint, CP2 in Popov Most. At some point in the afternoon, only seven small climbs remain and then it's all downhill. In Bosnia, all the people drive VW Golf 2s, mostly 'one-eyed' and rusty all over. Car maintenance is rudimentary, sometimes with crazy lifting methods…
In Popov Most there is a supply of carbohydrates in the form of pasta, homemade elderberry juice, a necessary shower and washing the bicycle. I can wash my cycling equipment, which dries almost completely in the sun.
Then we continue to Brod, where we buy some groceries, because as usual there are more than 100 kilometres to go without supplies. But where to sleep? It is too cold up high. Primož had told us at CP2 that there was nothing left after the Tara river. There are countless rafting camps along the route, so we rent a rustic wooden hut in the Rafting kamp Rajska Rijeka. Great idea!
DAY 8 – 152 km/ 3900 m of climbing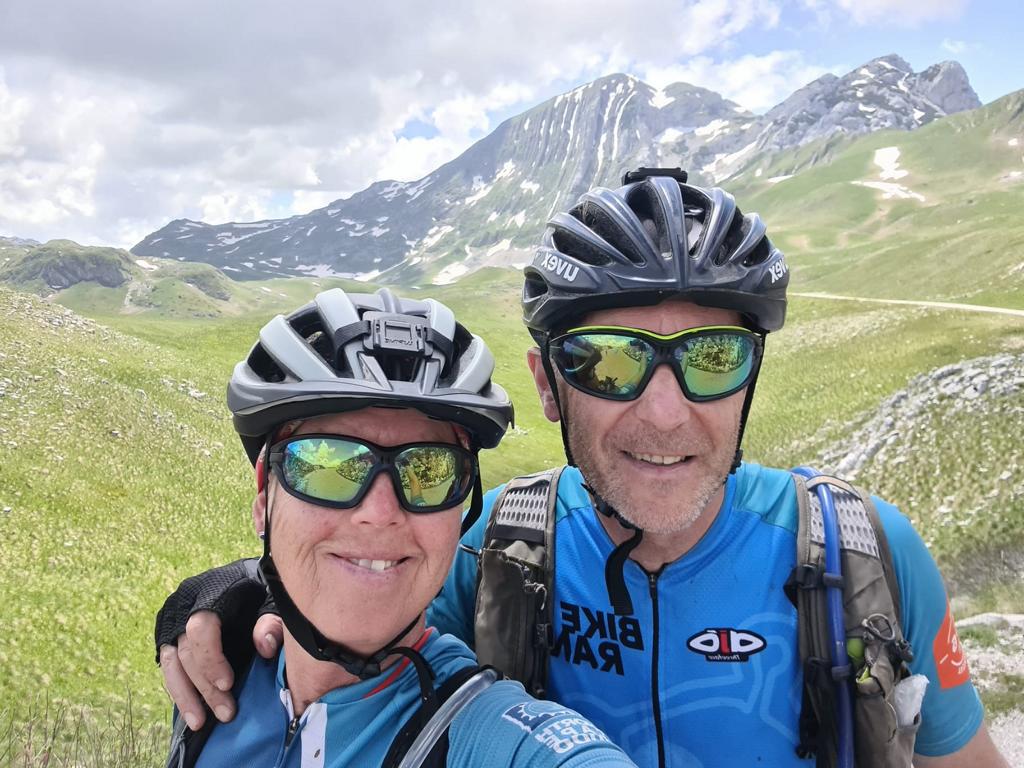 In the morning we set off at sunset. The border with Montenegro is not far away. What awaits us today is one of the most beautiful of the entire journey. After a long climb, the road becomes hilly, passing through Poljen, running over ridges and then entering the Durmitor National Park. During the ascent to the Sedlo Pass, a drone buzzes above our heads, I have to 'whistle' at Hermann, because it is unthinkable that we are not on video as a team. In this context I can say that Hermann would certainly have been faster than a day without me, and several times he waited patiently for his appendage to catch up with him, both on the ascent and on the more technical and bumpy descents.
He has plenty of time to eat, I unfortunately don't, because as soon as I arrive he has already left… We meet Bea and Luca, who had waited for us specially on the pass and whom we had put to the test, since we had taken a short break to eat just before. After today's first climb, we descend on asphalt. At one point the road is resurfaced and Hermann hits a sharp object on the side of the road. The sealant in the tyre does its job, but Hermann has to pump air several times over the next few days. But this was our only technical problem on this trip.
After the Sedlo pass, with a dream view of the Durmitor mountains, we quickly descend to Žabljak. Here we make a real stop, do some shopping and equip ourselves with Montenegrin tourist SIM cards. Apparently I don't know much about technical things, because I got annoyed with the new SIM, only to discover a day later that the card was working just fine, I had just forgotten to activate the 'mobile data', which I had deactivated in Bosnia. Sheer stupidity!
The next route is described in the race manual as challenging and hilly. It is over 60 kilometres across a plateau. Not a soul was around. I only saw the tightrope on the route, which had been announced to us on WhatsApp, because Hermann drew my attention to it. It could have ended badly. I had already put it aside, because it stretched out on the path a little later than planned…. I can't be so happy about the blooming alpine meadows, not only because of the countless push passes, but also because of the looming thick black clouds. In the twilight we pass some flocks of sheep and alpine huts, guarded by barking dogs. As we start to descend steeply towards Kolašin, it starts raining heavily.
Before long we are completely soaked; the steep gravel road would already be a challenge for me when it is dry, but I am even more clumsy when it is wet. Hermann becomes slightly impatient. A first house along the road, lit all around. We knock. No reaction. The door is unlocked, but we dare not enter. At least we are protected from the rain under the roof. But it is cold. What to do? Hermann looks for hotels on the Internet. There is a Sheraton, but will they let us in in our devastated state? We have to leave the trail to reach the small town. On the way, I notice an illuminated house with the sign 'rooms'. It is approaching midnight and we ring the doorbell. A girl answers it. No problem, we can have a room. We can put our dirty bikes in the common room. A hot bath awakens my spirits, but I immediately send them into a deep, dreamless sleep.
DAY 9 – 97 km/ 2400 m of climbing
Not very early as usual, we leave this somewhat shabby hostel. Both our trackers no longer light up green, a red light announces that the batteries are almost dead. But it's no use, we can't do a recharge here and Hermann had already put in the spare batteries, which were in the drawer at GBDuro's and were probably not quite dry yet.
It had already been a bit challenging the day before, but today it was even more so: the section of the route was described as 'challenging climbs, mountain trails, even technical ones…'. The scenery was magnificent, but it still meant giving everything. There are always technical descents and the climbs are often so steep that after these challenging days I have to dismount and push my 30-kilo bike. In addition, groups of black clouds and distant thunder are always threatening. The stress takes its toll. But the view is fantastic, so I am constantly distracted from the stress and the action in the sky. At some point, it is all downhill towards Nikšić. However, on a blocked limestone path that once again requires everything.
In my opinion, this day was the most difficult of the entire race. There are many reasons, not least the constant threat of thunderstorms on the plateaus.
At the supermarket we buy new batteries and some supplies, then head for the hotel we had found. It would have been easy to continue the 70 kilometres and arrive at our destination in Risan around midnight. A cosy bed, a pizza and a Greek salad first are very appealing.
DAY 10 – 71 km/ 800 m of climbing
At the Hotel Jugoslavia we also have a packed lunch, which we eat before leaving. Today there is only asphalt and beautiful scenery. The main road is still not very busy at this hour and three times we descend and cross the mountains, then rejoin the same road. On a side road, probably the old road to Risan, we finally descend. And suddenly, below us, the Gulf of Kotor looms up.
The idea of riding this last stretch today was a good one, otherwise we would have missed the experience of riding along the serpentine road to the finish, with a dreamlike view of the deep blue sea. A delicious pasta is already waiting for us in Risan. A long and not always easy journey through the Balkans has unfortunately come to an end.
Hermann and I are grateful to have experienced it together and to have been free of health and technical problems.
A big thank you to Bea and Luca and all the volunteers who did everything they could to give us an unforgettable experience. To all those who abandoned the route for whatever reason, I would like to encourage them to try it again. The really beautiful areas, but also the most challenging sections, are in the third third. All due respect to the winners who completed the race in less than five days.
Apart from the fact that I certainly could not pedal any faster, a lot of time could have been saved, perhaps the weather did the rest. But I don't care, because it would have saved us a lot of experience. And my goal of arriving before the finisher's party was more than achieved.
And a thousand thousand thanks to Bea & Luca & the many volunteers!!!!