Here you can follow us <– click
AMR – Atlas Mountain Race – in a few words … ………………………..italiano … deutsch
The AMR – Atlas Mountain Race – is a cycling race with a set course that must be completed without outside support. That means there is nothing, no organised accommodation or food and drink. Everyone has to ensure their own "survival". You can find a video of the event at the end of the page; the wonderful pictures were provided by Torsten Frank. You can read his exciting report here. You can find the larger pictures in the picture gallery at the bottom of the page.

Now the details …
The start is in Marrakech, the Moroccan Atlas is crossed on remote paths, the high plateaus of the Anti-Atlas to Essaouira on the Atlantic coast. In total, 1300 kilometres with 20200 metres of altitude have to be covered.
The going gets pretty tough. There is rarely asphalt. We are on gravel roads, narrow paths, on old, long-forgotten and often dilapidated colonial tracks. The organiser writes that sometimes there will also be walking, which is probably quite an understatement, because from reports of the previous two events, pushing and carrying distances are the order of the day, and not infrequently.
There are three checkpoints along the way. In the description it is already pointed out that often long distances have to be covered without the possibility to supply oneself with water and food.
Our research has shown that shopping possibilities are not only extremely sparse, but also that the offer cannot be compared with European standards. In addition, there is the uncertainty of what one can eat carefree (except – as participants wrote omelette, omelette, omelette …) without being hit by the revenge of Montezuma (does the Aztec ruler have anything to say here in Africa at all?) – all joking aside, it is certainly not fun when a gastrointestinal infection strikes. Besides hiking, pushing and carrying, this would also hamper progress considerably, because there is not much time to reach the destination on the Atlantic. Only eight days are available if we want to arrive for the finisher's party. After my experiences with the GBDuro, I can already guess that this time there will be no restful nightly breaks.
I am extremely happy that Hermann will give up his inner racing urge and start with me in tow, i.e. as part of the team. Without me, it would probably be faster for him to progress, technically he is simply the bigger pusher. But you should avoid falling and injuring yourself, because help would not be there quickly as it is with us. Also, there is hardly ever mobile phone reception in the country. I am looking forward to the adventure with him!
The landscape is supposed to be fantastic. And hopefully the weather will play along. In the heights of the Atlas and Antiatlas, it can get very cold at night and temperatures can exceed 30°C during the day. Rain does not normally fall often in this dry country, but it cannot be ruled out that precipitation will make the rivers impassable at times, as was the case in the last edition. In the heights it can also snow.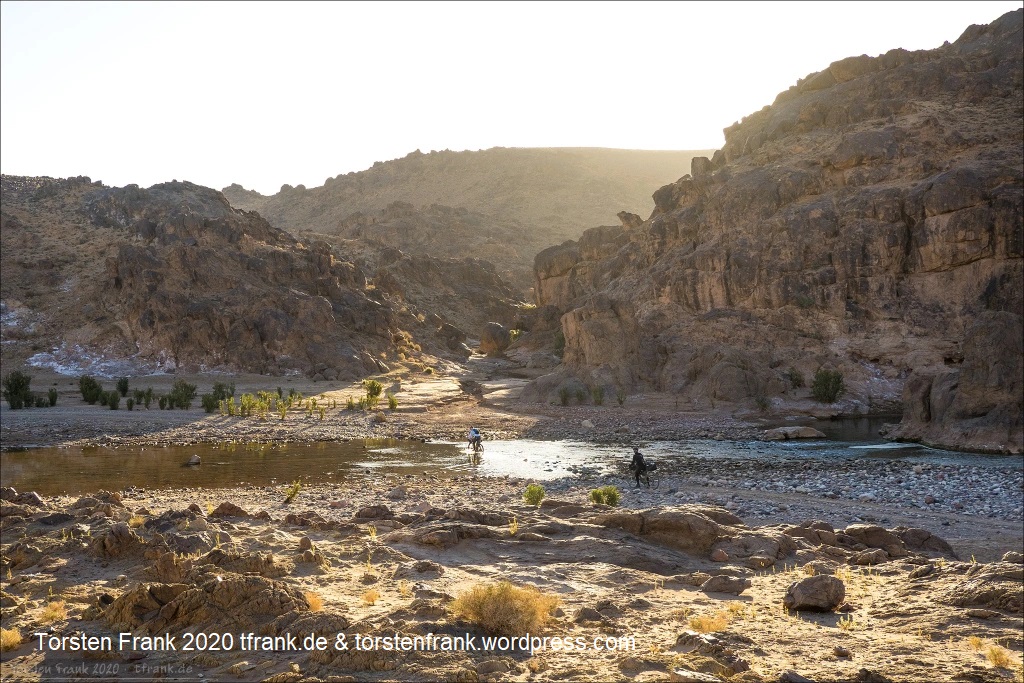 Many unknown variables, as well as communication, I don't speak Arabic fluently, I'm joking, no, I don't know it at all and neither does French … I already know one word in Arabic, I hope I get to use it often: شكرًا – that means "thank you".
And my MTB probably won't let me down on the road … I'm not a gifted bike mechanic and there probably aren't a single bike shops in the country. No, you can't even cautiously assume that …
The excitement is growing day by day, a lot of running around is necessary, the planning and organising will keep us on our toes for the next few weeks. Drawing up packing lists … What has to come with us? What can stay at home? Every gram of excess is useless ballast that prevents us from moving on quickly. In the UK (GBDuro22) I carried a 20-kilo gravel bike, here it won't be much lighter, considering that you will have to carry up to 5 litres of water at times.
Insurmountable obstacle?
My passport has to be valid for 6 months after leaving Morocco, mine expires in August 2023, but exactly 5 days too early. After the race confirmation, I tried to get an appointment at the Questura, but there was no chance of getting one before the end of February… That can't be, now I've got the much sought-after starting place and I can't go?
I wrote emails to several places. A very nice commissaria reassures me, with a letter from the organiser, the confirmation of the starting place, so for reasons of urgency, I could get an early date. I hope that everything will work out …
You can follow us in February because a tracker is compulsory and the position of all riders can be monitored almost minutely on a map.
The link will be available here later.
The wonderful pictures (see also gallery below), kindly provided by Torsten Frank, can give you an idea of what to expect … Also visit his very exciting experience report on his blog! HERE
Here is the film of the organiser: