GBDuro – a 2000 km gravel event across UK and one of the toughest events I have ever finished. The gravel course is very impegnative, but the many obstacles in my way, i.e. punctures, almost made me have to give up several times.
Before I begin, a few rules to be able to understand the narration correctly …
2000 kilometres from Land's End in the far south-west of England to John O'Groats (=JOG), the north-easternmost tip of Scotland.
4 route sections (=stages), at the end of which there is a checkpoint where all participants meet again for the joint start the next morning.
Those who cycle fast can rest for a long time. Those who are not on time for the next start are out of the race.
Strict self-supporting, i.e. no outside help may be accepted
Pure outdoor event: always sleep outdoors, also at the checkpoints
After 10 days a room is reserved in JOG, whoever is there on time for dinner is considered a finisher, otherwise "only" as arrived, all others are DNF or DSQ (did not finish or disqualified)
All riders must be equipped with a tracker
For those less interested in working through the following detailed description, soon the video.
Stage 1: Land's End to Ysbyty Cynfyn
Day 1, 2 & 3 Cornwall & Wales
640 km/ 9700 m d+
Day 1:
Start in Land's End. 40 starters set off from this most south-westerly point in England. I'm aware that it's going to be tough, but what I'm in for is something I never imagined in my wildest dreams. The road climbs steeply straight away and, filming the start, I keep as far to the right as possible. Not such a good idea with left-hand traffic …
Soon it's already off-road. The first ones crank like crazy and the field thins out so quickly. It becomes more and more impassable, the path winds for kilometres through a kind of heath landscape, characterised by large – in our country we would say – heather bushes and another extremely calf-hostile prickly perennial. In no time my legs are scratched bloody up to the knee. Driving and pushing alternate. At some point I seem to be all alone. Already? Someone comes towards me on foot, Jamie, as I will know later. Have I seen his bottle? No, I'm afraid you haven't. There are hefty time penalties for lost items. I had already found a front lamp so far. I will meet Miles in 35 km, with a rubbish bag already filled with items that had come loose from various bikes during this jog. Fortunately, everything is still attached to my bike and I haven't had any problems with the lights or lost lamps (at least not yet). My hub dynamo powers the lights at night and a buffer battery powers my smartphone and Garmin navigation device during the day. So I'm independent of power sources. Fine thought, at least for now …
Now the route continues very hilly on small roads with little traffic. However, almost all of them have an unpleasant peculiarity: short, very steep, crisp climbs, mostly around 20%, almost inhumanly steep for me and my 20-kilo gravel "tractor", especially because my gears are a mixture of road bike gears and gravel gears, not so ideal.
The announced heat wave does the rest. I'm not hungry, just thirsty, thirsty, thirsty. There is no water at the first supermarket. In front of the shop, however, there is a lonely and abandoned bottle of sparkling water. I immediately grab it and fill my water bottles with it. This has a pleasant side effect on my calves as I ride over the bumpy terrain: At regular intervals, the carbonic acid escapes in a shower-like spray.
There is no more water at all in the nearest supermarket. Hoarding purchases had meant that I now have to fill my bottles with pineapple juice. For the next two days, I don't get any more water anywhere. Exception: At a church, senior citizens have set up flea market stalls, here I ask if they have water for me. A lady disappears with my bottles and offers me to sit down for a while in the church and cool down – unfortunately, no time for that.
The route now leads beautifully through abandoned mine terrain on an easy gravel cycle path, the Mines Trail.
Hermann's "DOT" is already about 20 km ahead. My original schedule has already gone bye-bye here and is far exceeded. At a campsite pub stop for Coke and ice cream and a bike bottle refill, I meet Jamie again. He had his bottle back after walking a few kilometres. In the evening a supermarket stop already late in the evening (the supermarkets are almost all open until 11pm) and there I meet Simon, who already finished the GBDuro the year before. Fortunately, I only ask myself later in the race how a sensible person can knowingly take on such a strain again. In the dark, I enter a lonely river valley in Exmoor National Park. Push, ride, push and so on. Several times I see dark hills along the way, which turn out to be manned sleeping bags as I get closer.
After pondering for minutes in front of a gate how this could open, I start to climb. The Quantock Hills are not far away. I hear something. Is someone greeting me? Yes, there is a light up ahead. Someone must be in a mood for departure. I greet them loudly, "morning! How are you?" – no answer. The light turns out to be a reflection of the moon in the pond below, paired with fantasies that are due to tiredness? Not long after, with morning looming on the horizon, I want to take a backlight shot. All that is missing now is the silhouette of a cyclist. Lo and behold! There is one in front of me. Broad shoulders and narrow hips. Great! Approaching, it's a right of way sign. Hahhaaaa!
Day 2:
Day two also starts with a colourful mixture of asphalt and gravel and soon it gets serious: we are heading up Dunkery Beacon, the highest peak in southern England. On its summit rises a stone mound visible from afar. And what a surprise, Miles is there with his camera. In the distance, the sun rises over the sea. Wonderful. The descent from this hill is harder than expected. I push for a few kilometres over large boulders, through dense bushes. Oh dear, if this goes on, I'll probably be out soon.
But it can only get better and at some point I'm back on drivable terrain. And I find an open pub. I treat myself to breakfast and extensive body hygiene in the bathroom.
It seems to be getting hot again today. On the way, the little apples on a tree are tempting. Delicious juicy fruit. I notice that I have eaten a worm canal, probably with inhabitants. No matter, as we all know, proteins are good for sport. A long flat asphalt stretch in the sweltering heat and a stop in Bridgewater. The area seems a bit run down to me. As always, no water available. I meet Alish, who buys frozen peas and puts them between her backpack and her body. I stock up on sandwiches, kefir and biscuits. When I leave the supermarket, my top tube bag is wide open, all the rubbish is on the floor. Someone must have been looking for something. Luckily Garmin and my tracker are still on the bike.
On through the sweltering heat. I find a bakery that fills my water bottles. And I have a bright idea, which is laughingly implemented straight away: A bucket of water. The boss of the house climbs onto a chair with a filled bucket of water and the cool wet gush hits my head and runs tinglingly over my whole body down to my shoes. Wonderful! I can now keep my body temperature down for at least half an hour, then it's back up into the mountains. In between, another stop at a pub. Cola for me and water for the bottles. The people are really nice here.
On the last few kilometres to Bristol, I make the acquaintance of Rob from Tailfinn, whose super practical panniers we also use. The kilometres just melt away as we chat. Rob has it good, he will finish his ride in Bristol. I immediately forbid myself this thought. It's rolling along nicely at the moment. We drive over the Clifton Suspension Bridge, a fantastic structure. The city centre also inspires me. However, after my experience in the afternoon, I am a little perplexed in front of the supermarket. A gentleman asks me if I ride the GBDuro? Yes. His friend Oliver Y. was sitting over there on the corner, he was also on it. I tell him about my experience in Bridgewater and that I would be afraid to leave my bike out here while shopping. He immediately offers to look after it. I, trusting as I am, go to get some supplies. Bike and man are still there. I go to Oliver's for a short while and then on to the park for lunch. It is slowly getting dark, I have to go on. I've just got back on my bike and go back again, because the helmet is still on the park bench, when two young men approach me, later I find out that their names are Loz and Jack.
Are you doing the GBDuro? Yes! After a photo and a short chat, I don't even care about my faulty English any more, I cycle on. I cycle through the beautiful settlements on the outskirts of Bristol and into the darkness. Perhaps due to fatigue, strange thoughts creep in again. What if these men I've met have evil thoughts? How easily I am tracked via Dotwatching.com. What if I get mugged one night? A woman out alone in the dark? An easy prey. Away with these thoughts!!!
There is a diversion to Bristol. The road to the Severn Bridge is closed. After many kilometres in the dark, I must have missed a diversion sign and drove on for many more useless kilometres. Then I am at a loss, is the bridge closed and am I now on the wrong road? I am lucky and meet two men at this late hour who confirm that I should just drive straight on. What a relief.
Three small mountains lie ahead of me. I decide to ride over them and then look for a place to sleep. It's very steep again and the kilometres drag on, I get lost, don't find the right way straight away, don't get as far as I wanted. Before the third climb I find a nice clearing in front of a stream crossing. Tent out and bed prepared. This night I will allow myself 2h sleep, lulled by the sound of the water. The next day looms as a spectre before me, it would be really tough through the Brecon Beacons National Park with the infamous "The Gap", a popular mountain bike route.
Day 3:
When I want to go on, I get lost again. So back I go. The "path" goes over half-metre-high steps. Then finally another descent and in the next village a McDonalds. Breakfast in Brynmawr!! A friendly staff member introduces me, standing perplexed in front of the order board, to the secrets of the Mackie. I would have starved to death before the offer. My bike also gets a chain treatment afterwards. Then I'm ready to head for "the Gap". At Greg's next door I buy a sandwich at least half a metre long with cheese and ham and a puff pastry with chicken filling. That will have to do for the next 130 kilometres. It starts to rain a little. Not too bad. After the first long climb, I am on an alpine pasture-like plateau. From here it's a wavy descent similar to a pump trail. Very entertaining, until you have to push down through a fern forest to the reservoir at Ponticill. The wet stones are extremely slippery. But first, have a snack. Hmmhmm, where's the sandwich? It's disappeared. Probably due to the shaking. The sheep will be happy. Do they even like sandwiches? Penalty points for me? I don't think so, because paper bags and sandwiches are biodegradable, aren't they? I will have to starve, though. Who knows when I'll get to a shopping source again. I guess losing is my specialty, see Northcape4000.
After the reservoir, where a spire rises out of the water like our lake Reschensee, there is a long stretch of fine gravel. I could go on like this forever. And then the road turns off to the right. Not bikeable for me. Big stones, deep holes, unfathomable puddles. But the length is manageable, about 2 km, and I can already make out the pass in the distance. And then the bitter realisation that I also have to push down again on the other side.
I thought that after two almost sleepless nights in Ysbyty Cynfyn, the control point, I would be able to catch up on sleep, but I am beginning to realise that this will probably be an illusion. I thought that day 2 would have been THE walking day, but I was proved wrong: day 3 also meant a lot of walking up and walking down. I certainly wouldn't go down over the Gap even with a mountain bike.
Today I am also overcome by the realisation that I am now an expert on pasture gates. There are countless versions of opening mechanisms. On the first occasion I stood in front of the puzzle for minutes and thought "I'm such a dummy! I couldn't lift it over because it was too high. The bars are not like ours "bolt open – bolt closed", no, they usually have an additional safety mechanism. The sheep are probably smarter here than here. Speaking of sheep: there are at least 10 times as many as there are inhabitants. And each region has its own breed of sheep and its own opening mechanisms for the gates.
Now, in the late afternoon, there is another climb of at least two kilometres with a 20% gradient, a huge military area has to be crossed and that after 3000 metres of altitude in the legs today. Then finally the small town with the tongue-twisting name Llanwrtyd Wells. Contrary to expectations, the local supermarket is in operation. Famished, I eat sandwiches, kefir, yoghurt, rice pudding, water, biscuits, my meal slowly becoming a bit monotonous. But I am happy.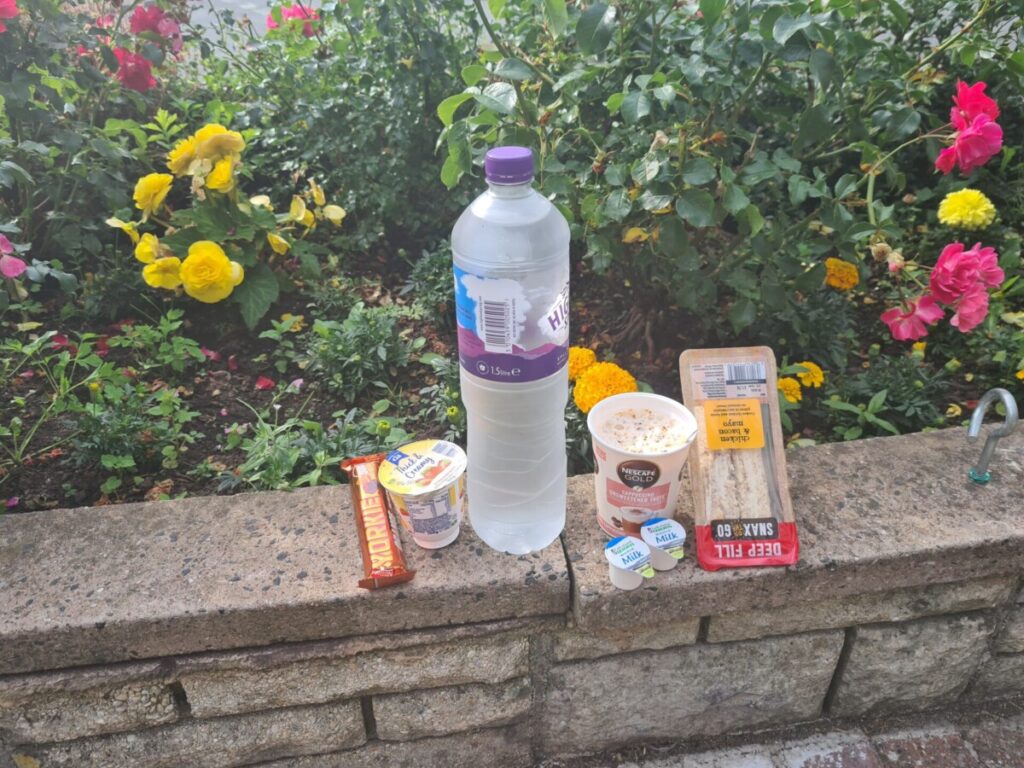 Then only 70 kilometres separate me from the checkpoint. I set off on this last effort at around half past six. It's a pleasant ride over gravel for kilometres through forests, along lakes. The sun is setting.
I am alone. Not a soul for hours. Simon had overtaken me earlier and quickly disappeared. Dark clouds are gathering in the sky. Out of the corner of my eye I see a flash of lightning. Help! A thunderstorm! False alarm, it was probably just my imagination or a reflection of my sunglasses.
My brisk ride is abruptly interrupted. Once again, a pasture gate stops me. But even with my now extensive experience with various mechanisms, I don't get any further. This one is one of the many I learned, but the gate is also blocked with a thick chain. Desperation. How am I supposed to get over it? Heave 20 kilos over a bar at chest height or higher? I don't know how I managed it.
And a few kilometres further on the next one. Here, moreover, umpteen mosquitoes buzzed around me, they had probably already been waiting hungrily for their next victim, who could not flee quickly, now after 3 days without a shower delicious-smelling cyclist. But at least the shower was within reach, or so I thought.
And not even 5 minutes later, the next gate. I inwardly curse my husband, who had so shamefully let me down by his desire to compete as a solo rider. By now I must have developed a certain technique: Front wheel over the bar, saddle pushed onto the shoulder, rear wheel behind. The bike now hangs on the other side, I climb behind, then lift the bike down. When I want to ride away, the handlebars are blocked. Did I break something? I push bags and panniers aside. Brake or gear cable had jammed. The cable is a bit damaged on the outside. Help! Hopefully it won't do any harm.
It is getting dark. Finally I'm in Pontrhydfendigaid -unpronounceable- now there are ONLY 20 kilometres to go. Ridiculously little, like Brixen-Klausen or something. Not counting the almost 1000 metres in altitude and it gets rougher again. I seem to be wandering all over the place through the woods. I get lost more than once and topple over more than once, carried away by the excess weight of my gravel tractor. Exhaustion slowly takes over. Attacks of microsleep. Once I jolt up, almost stand still and don't know at the moment how I got here, where I am at all, in which country and what I am doing here. Eventually I reach the point where the checkpoint should be and where I should take the time-stamp photo, a picture with the date and time as proof. But there is nothing here. An abandoned farm or maybe everyone is already asleep here? I take the proof picture and then decide to follow the track. Tired and desperate, I want to squeeze a few tears from my eyes. But I can't. Must be the lack of fluids. A little further on a locked gate, on it hangs a leaf with a note for the GBDuro racers: Follow the fence parallel to the road until you reach a house, the camp is opposite behind the bushes. But where is the road? And where is the house? I see neither one nor the other in the dark. Desperation. I wander along the fence. There! A light! Simon comes from the left and tells me the way. Relief! In the camp Hermann peels himself out of his bivouac sack. He shows me everything. I get something warm to eat. Shower? After three days I was looking forward to it. No, unfortunately it was out of order. Defective! But I don't care at the moment, I quickly disappear into my tent pitched on the damp meadow, the (short) sleep can come. Except for the lack of washing facilities for me, the boss of the control station at Daf's Farm did everything to make me feel very comfortable there. The provisions were fabulous, there was water, a toilet block, a flat meadow. What more could a woman want.
Stage 2: Ysbyty to Garrigill
Day 4, 5 and 6
470 km/ 7100 m d+
Day 4:
The next day, after a leisurely breakfast and packing up, the start for the next 3 days. Horrified, I realise that my planning sheets are gone. Hermann gives me his copy. I am glad, without it I would have wandered aimlessly through the area. I send him a digital picture of it, but he prefers to drive into the unknown. Today it's going to be tough again, almost 4000 metres in altitude spread over 7 "mountains". Wales is notorious. It starts well. Rolling in over an undulating asphalt road. Pleasant? Well, mainly steep again. I have time to think. Why are the roads so steep here? I think I have found the solution. One saves material, i.e. tar. But we're not in Scotland yet, are we? What else I have understood: the motto of the GBDuro is that it is a "rolling picnic" through the most diverse landscapes. Right! Because today is another supermarket, then nothing for a long time. So again I have to carry food and drink for the whole day and the next night. By the way, there's plenty of water to buy here in Wales.
Enough thinking, it's off-road again. Stones, puddles, rocks, 10 kilometres and 100 metres of altitude – that's easy, I thought, but the stop-and-go ride is very tiring.
A river crossing. Hermann is just putting his socks and shoes back on on the other side. It's too much work for me. I just wade through. My shoes and socks are in urgent need of a wash anyway. Then a somewhat jerky descent. More pleasant. I find a pack of Dextro Energen, 50m further on a bar, I'm not interested in them. A little further on I find a Snickers bar, I have to take it. Someone must have lost all their provisions.
Supermarket stop. I also meet some others, but they are already leaving. I seem to have run out of steam today. I had thought that only "the Gap" was difficult, but I am slowly being taught otherwise. Especially the steady climbs over 15% hurt so much.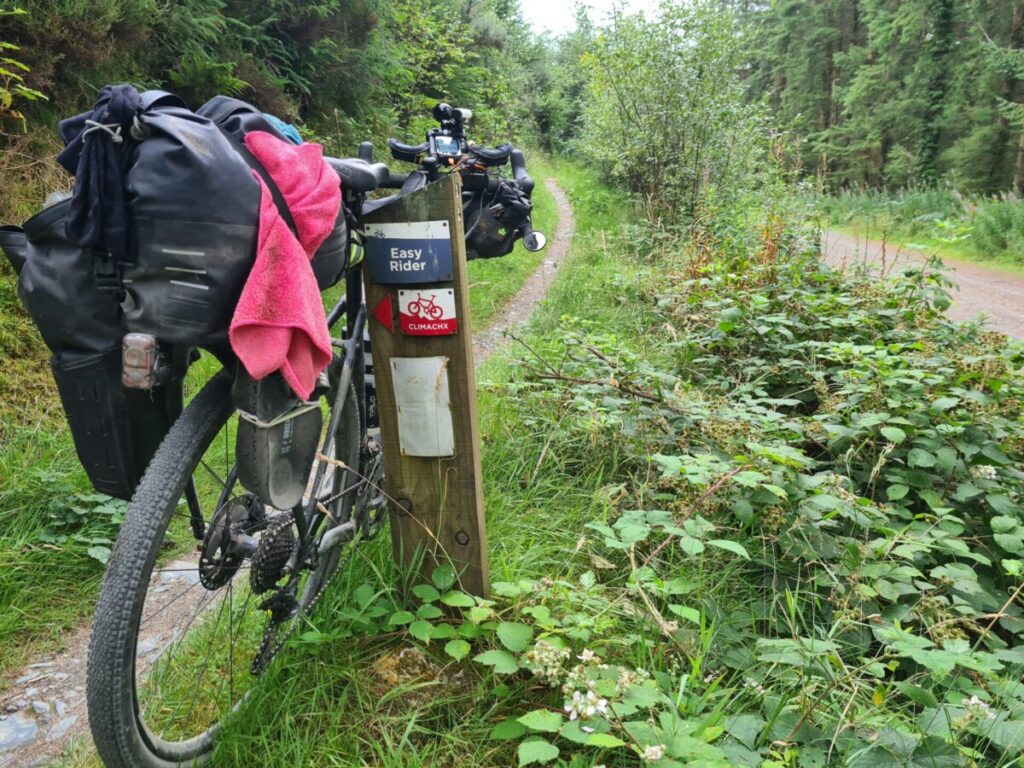 In the meantime, there are already some riders who have dropped out of the race before the first checkpoint. And I feel like the last of the remaining riders, I suspect there are no more than 2 or 3 behind me. But I enjoy the upcoming asphalt ride through an idyllic valley in the foothills of Snowdonia National Park and I am also a bit proud that I have at least made it this far, it can only get better … or …
And again gravel through endless forests and then the entertaining trails CLIMACHX easy rider and then va-va-voom. It's not easy for me to keep my balance and manoeuvre through the narrow paths and tight bends with my heavy gravel bike. My bike almost knocks me to the ground more and more often.
Then further on, slightly hilly, through a beautiful valley and at the end of it THE hammer: a few kilometres on tar with 20% and more. For me, it's a pushing stretch. So today is also a hiking day! In between, I'm gripped by madness: I'm cleaning my bike at a rivulet. Luckily no one sees me. They've all gone. And cleaning makes absolutely no sense, I soon realise. Great descent, by the way, but the next "mountain" is also mega-hard again, not because of the metres in altitude, but because of the stony path that winds into the infinite distance. The descent is also rough, and my wrists already hurt from the shaking. Then suddenly fine gravel. Great! I speed down the valley. After half a kilometre the Garmin says "wrong". Oh no, up again …
Now three more mountains and I will finally sleep again. In a corner shop I am the last one before closing time. Lucky. On the way out, I meet a small family with a dog. The dog yelps twice, then I have him on my calf. Ouch! But I am now as fit as a fiddle again.
It is now dawn when I start the next ascent. I meet 2 mountain bikers and pass the time chatting. The ascent is ok, but then the unexpected: unrideable descent. I am kilometres away from the next settlement, it is dark, what if I get injured here? No internet or mobile phone reception, not a soul for hours. It is getting cold. The sweltering heat of the first days is over, it's only 12°. Around midnight I have another short but hard climb, then I decide to leave the last mountain behind and look for a place to sleep. That was a very wise decision. It starts to drizzle and when I had pitched my tent in a school park in Llangeollen, it pours like rain. Alarm clock set for 2am, but then extended until 3am as it was still raining.
Day 5: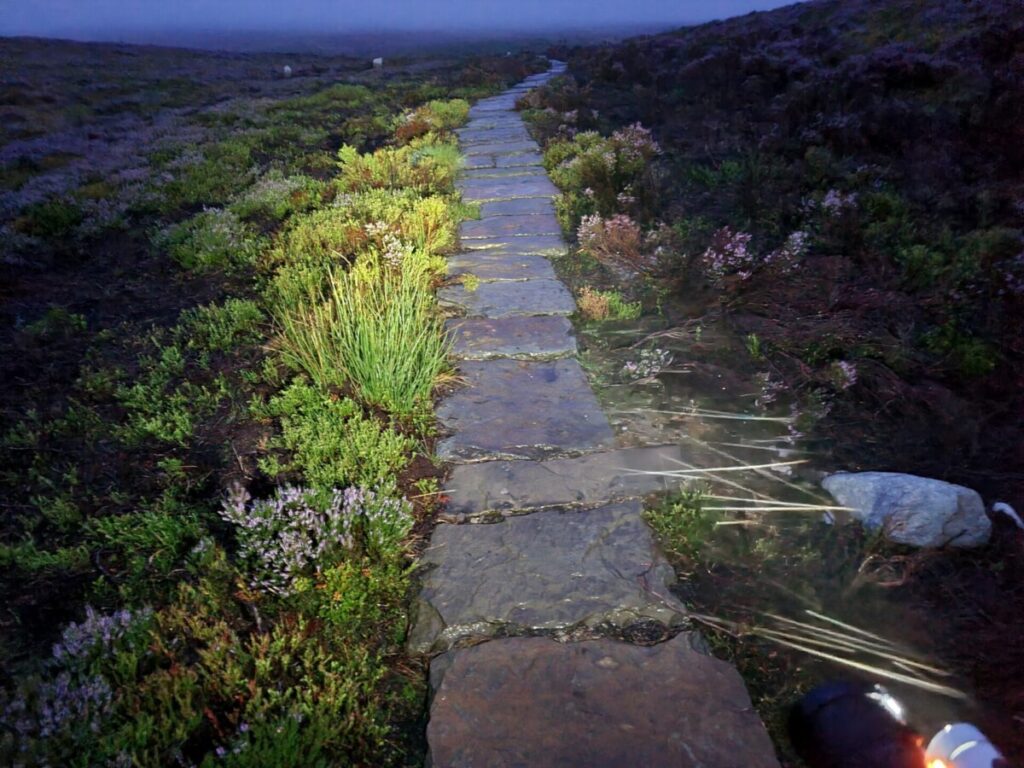 Packing up the wet tent is not so pleasant. It's bitterly cold and I'm glad that we're about to go uphill. Very steep, so it's once again ride-walk-ride-push. I reach a high moor. Here the route goes off-road again. I follow the purple line on my Garmin. A narrow path leads through erica bushes. My feet are already wet, but now they are soaking wet. Again and again I sink into the mud. The tracks of the path disappear slowly, I am struggling through waist-high plants. Can this be true? Yes, I am exactly on the line. Completely soaked and desperate, I stop and look around helplessly, it is slightly dawning. Then I notice something white, longer than a sheep. I wade towards it. A narrow slab path of light-coloured stone. My path! Saved.
Soon the path ends in front of a grove. It is storming and drizzling. In front of a gate an orange wheel and a bivouac sack. I'm glad I didn't have to sleep here. A trail through the forest follows, wet and slippery. I get lost several times and once again have dark thoughts: why am I here? Alone?
End of the single trail. Drizzle. There is an amusement park here. Closed. And that in the truest sense of the word. Two huge orange gates block my way. Almost 2 m high. I'll never get over them with my bike. I wander back and forth and discover trampled down ferns, behind them a not so high barbed wire fence. How I got over it – I have no idea.
The next supermarket stop is coming soon, luckily it's already open at 7am. A cup of Latte Caramel XL with three sugars revives my spirits. The route is now quite flat for many many kilometres until Manchester.
In Chester I stop briefly at a mechanic's, but he can't or won't help me either. So I move on. The gearstick is still causing problems. Hopefully the cable won't break sooner or later. There have already been quite a few failures of participants due to technical problems. But I WANT to go on, even if it's mega hard.
The weather has become nice now. My clothes are slowly drying, even my feet. Pit stop at a box of tempting fruit by the roadside. I fill up on plums and apples and also stuff my bag. As I drive away, I notice a little card that has fallen over. Voluntary donation? I only have a 100-pound note. So I continue on my way as a cheapskate. It starts to rain again and I get lost.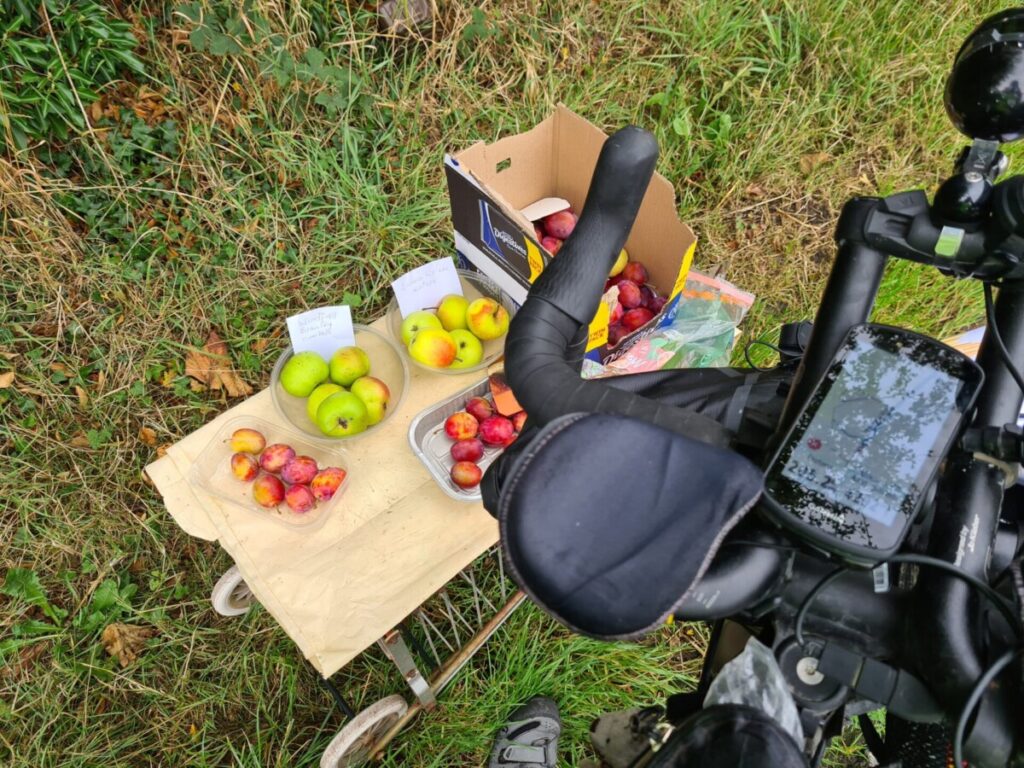 Around lunchtime, I feel very tired. What am I doing to my body? Not allowing the body to sleep can't that be fatal? In a way, yes … I get a terrible fright, a huge tractor with a trailer roars past me, at least at 100 km/h. If you get under the wheels … I get a shock. When you get under the wheels … I decide to take a power nap on a bench. In front of me is a cyclist who wants to engage me in conversation. GBDuro? Oh, a dotwatcher. But I'm so tired that I brush him off, disappointed, he leaves, I'm sorry. I try to doze for a few minutes, having set the alarm for 20 minutes.
In the next village, big trucks and cameras. A film crew is shooting. But the scenery is also wonderful. I make a point of googling it at home: It's Great Budworth, which is apparently very popular with film directors.
The long, flat, easy sections give me plenty of time to think: now it's time to think about driving on the left. When it gets critical, thinking doesn't help at all, you just do what you're used to. Tired and unfocused, you quickly find yourself in life-threatening situations. I think about how I could build a mnemonic bridge for myself. When you cross the street at home, you have to look left first, here you look right. Turning left on a bike is easy, you just have to see if something is coming from the right. Turning right is more complicated. I can't think of anything I could do. So the best thing is to wait until the whole road is clear and quickly cross to the other side.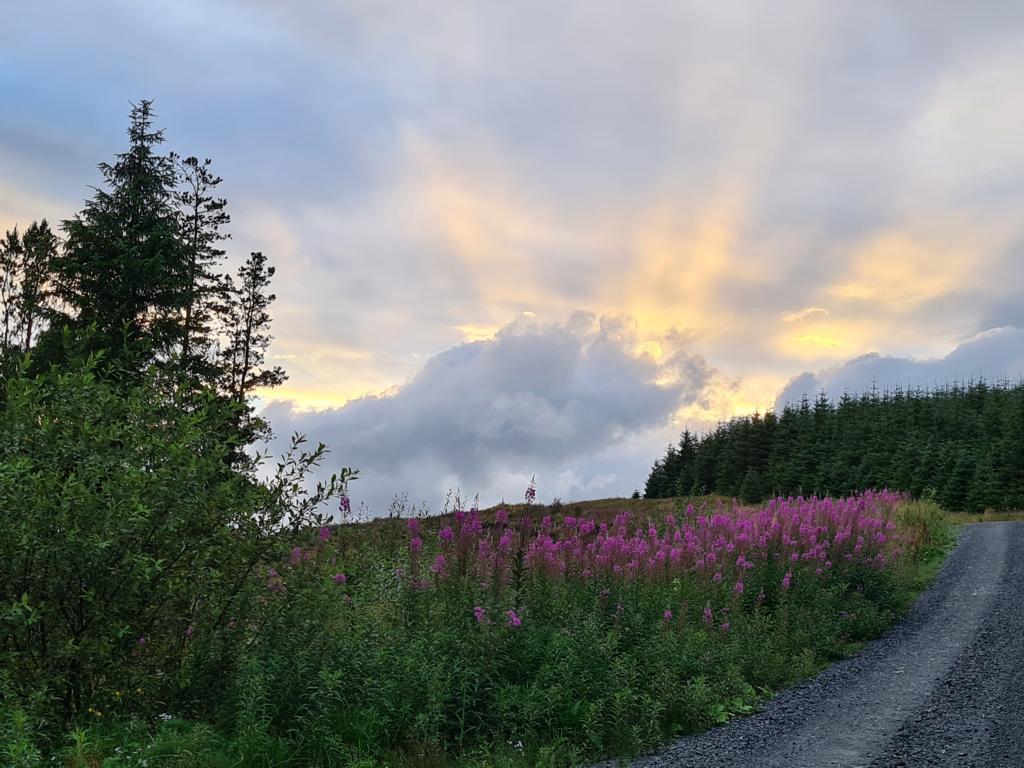 The last few kilometres before Manchester, the route leads along a canal with moored houseboats. In the city centre, there is a throng of people, it is relatively dirty and not everywhere smells good. For me, a small town, it's pure horror. I much prefer the solitude of nature. Quickly away!
I still have to get some supplies, there is nothing for the next 160 kilometres and the next night is still to come. I drive up to a supermarket, a security guard in the doorway. I express my concern that I'm afraid my bike will get away. I wonder what he thinks of me, a dirty, fully packed bike, a rider staring at dirt and probably stinking after 5 days without a shower? Anyway, he allows me to push the bike into the shop and lean it against a rickety cardboard shelf. Relief. What would I have done otherwise? Carry on without food?
In a suburb I have another interesting experience: in the distance I can make out a man on the street. His little remote-controlled toy car is racing towards me at breakneck speed. I can't get out of the way so quickly with my heavy vehicle and "crack!" I drive right over it. The car still drives and back to the master. He scolds me like a mule. I quickly run away. Hit-and-run? It wasn't my fault.
By the way, I don't like myself at all today. Last night in the tent I hated myself. Sticky, sweaty. The socks smell the worst. Washing goes quite well with my cloth, which I have tied to the bag. But I can't do anything about the clothes. The fifth day without a shower. I wonder what the people in the supermarkets say. But no matter, no one gives me anything for it … And: This is pure environmental thinking – I save a lot of water, shampoo, soap!
There is a nice gravel road out of Mancherster. At a petrol station I meet Adele and her husband, two enthusiastic cyclists who are doing some dot wading here. Very nice. They show me a water tap.
Then it's back to a wind farm with a blocked gate. Somehow over it and cables are squeezed again. Oh dear, that will probably become a problem at some point. A short chat with a MTB rider who knows the Gardasse area. Then onwards. Out of the wind farm, yay, no gate!
Before the next mountain, I take a break to eat. And shortly afterwards I pass a pond with a snack bar. And another break for latte and cake. No wonder I'm getting on so slowly.
Then it gets dark again. Once again I come to a closed, very high gate. Behind it I can make out a house. I see a bell. But can I ring the bell at this hour? I try the other way along the fence. No, there's no further to go here. Back again. Along the opposite fence. Here I find what I am looking for. In the moon shadow of some tall trees there is a gate for pedestrians. Somehow I manage to squeeze myself and my bike through. I continue up to a kind of alpine pasture. Again and again there are glowing spheres along the way. The reflecting sheep's eyes. I push down a serpentine path, then the first houses again.
I decide to end the day here and look for a place to sleep on a meadow behind a fence. I still wonder about the high-pitched sounds that can be heard here from time to time. The sign on the gate says something about theft protection. I'll have to google it when I get home.
Two hours later we left again. I had set my alarm for 3:15, but it didn't go off and so it was an hour later.
Day 6:
I thought today would be a "leisurely" day, but I was soon proved wrong. Wrong again. It goes on endlessly over pastures, gate after gate. I ride a few kilometres with Steve and we have a great time. The joker is in high spirits, although he has already had a few mishaps, including the frame to which his bag is attached breaking, then he was locked in a public toilet where he wanted to do his laundry at night and had to wait until the next morning to be freed, sleep was out of the question as he was terribly cold with his wet clothes. The streak of bad luck continued. At some point it starts to rain again and we part ways. First I have to spoon my rice pudding out of the pannier. It's not a good idea to stack yoghurt and rice pudding cups on top of each other in the bag on the bumpy roads.
Slide-in: Infinite are the possibilities to lose time. Summary and preview:
Getting locked in toilet stalls
Packing food awkwardly and removing the fabulous mess
Taking to many photos
Losing your smartphone
Repairing bike and accessories
Rushing to the aid of one's own spouse (doesn't concern me, but time loss is immense – see my husband)
Falling asleep
Cleaning your body on the road after many days without showering. It's pointless anyway, for whom?
Shopping without a plan
Carrying too much stuff around. Every kilo too much slows down the journey.
…
The following descents are really fast. The penultimate mountain before the checkpoint is tough. Not only do I have to push, it is raining heavily and stormy. At some point my rear wheel locks up. The strap of my bag slipped off and got stuck. Luckily it happened while I was riding slowly, I can't imagine what would have happened a few kilometres later on the descent. That could have ended badly. Tailfinn really needs to think of something.
Now I'm whizzing along. Along a railway line and many viaducts, as you know them from Harry Potter. It's going great. Cycling can be so beautiful. Before Kirkby Stephen, tiredness catches up with me, and it is already late afternoon. A little bench in the middle of the busy crossroads. Just what I needed. Set the alarm for 15 minutes and take a power nap.
Then just one last (very steep) climb and 10 kilometres of rolling down to the Garrigill checkpoint. That won't be so bad any more. We now have 600 metres of altitude to climb. Easy, when you think of comparable climbs here. A cyclist in front of me. I start to chase him, he will be catchable. It's Miles, filming again. I try to look as fresh as possible and as if this once again murderously steep climb doesn't bother me at all.
Miles reports that Hermann is behind me. I am incredulous, that can't be, he must have been at the campsite for hours.
Luckily Miles Simon, who had caught up from behind, is driving behind and I can slow down and don't have to suppress the panting gasps for air. A car comes towards us. Someone gets out and tells me that he has baked brownies and asks if he can offer me one. I'd love to, but can I? Miles is away, so I accept with thanks.
Shortly afterwards, someone catches up with me again: Hermann. How can that be? Where am I supposed to have overtaken him? He tells me he waited for me for 5 hours in Kirkby Stephen, my power nap stop, because Simon told him there would be very difficult terrain after the pass. That's so nice of him.
I hadn't thought about that. Really, the last 10 kilometres were walking terrain, at least half of it. And it wasn't easy to find the right path. As it was now also slowly getting dark, I am not unhappy not to be alone.
It's late again when we reach Garrigill.
And here, yay, a working hot shower, the possibility to wash clothes, delicious food and last but not least sleep, 5h should be it, what luxury. I have to pitch my tent in the light rain and under a plague of mosquitoes. The beasts are terrible. Millions buzz around you and torment you, especially attacking your eyes and ears. Without a mosquito net you are powerless. The prospect of clean clothes is also great, but the drying room is hung up to the last crack. More than halfway is done.
It should be emphasised how kindly the crew at the control point looked after us! Many thanks again!
And now, actually, more or less everything goes wrong …
Stage 3 : Garrigill to Fort Augustus, Inver Coille Camping, Loch Ness
Day 7, day 8 and 9
510 km/ 6500 m d+
Day 7
After the rich breakfast and after packing up under a plague of mosquitoes, I feel like new. The route follows an idyllic cycle path along a disused railway line. A small obstacle doesn't faze me, the track leaves the cycle path and leads over a rough pasture with subsequent lifting over the fence – again, but by now I'm an expert. Shortly afterwards the next obstacle. In front of a beautiful old viaduct you have to leave the track, lift the bike down over countless slippery high steps and do the same again on the other side (20kg thank you = hard work). In the next village, Alston, shopping is the order of the day. Or rather, I first try to reach a bike mechanic who can take a look at my gears. I'm beginning to suspect that it won't be long before the cable breaks. Difficulties of understanding on the phone. Then I just keep on going. I briefly visit a café where one of the mechanic's employees works, but he has no time. While shopping in the supermarket, the nice gentleman I spoke to on the phone kindly looks for me and gives me a contact address, but it is again the one from the café. Nice gesture, but unfortunately in vain. After shopping and a Costa latte, I set off with my much heavier bike. I have about 200 kilometres to go without any supplies.
It continues easy through rural areas, after a road sign "Red squirrels", it becomes unbearably steep again a few times. Then gravel again, for hours through the Kielder Water National Park, but easy terrain. At some point a ban on passing because of heavy forestry equipment. What now? Back – impossible. I push my bike through mud towards the workers. The wheels of the machines are enormously high. I hope they see me. I get on undamaged.
A little later Steve catches up with me. We tackle the next climb together. After a rapid gravel descent, a van at the side of the road. He is waiting for Oliver, who wants to get off here, unfortunately one less around me again. And a little further on, Christophe from Belgium, the leader of the second stage, catches up with us. Why is that? Freewheel damage, he only has 2 gears left. There is no way to repair it in the next 200 kilometres. Too bad, he would have been a contender for victory. Now the leaders of both stages are out, because Alex had to give up for health reasons. It can happen so quickly … I will find out in the next few hours … (Christophe and Alex were part of our carpool to Land's End).
I now cross the Scottish border somewhere. As you know, after a mountain there is another valley where things "flow". A pleasant gradient, asphalt, what more could you want? A moment of carelessness and from now on pretty much everything goes wrong: my front wheel leaves the road, the ditch races towards me, I fall and my bike gets wedged under the crash barrier. The handlebars are bent, luckily I haven't done anything to myself apart from a few scratches. For minutes I try to get the bike free again and to screw the handlebars on with my tool and straighten them. Then I'm back on the road with shaking knees. Only later do I realise that the lamp no longer works and that I can't charge it via the hub dynamo. Disaster. The destination becomes a distant memory. How am I supposed to find my way to JOG without a lamp and without a power supply? Communication and route tracking impossible without a charged battery. I'll probably be out soon too. I reach Hermann. He is sitting in a pub many kilometres away having dinner and promises to wait. I increase my speed, the kilometres drag on, my Garmin is acting up, luckily the problem is solved by restarting the device. Dusk falls, it gets bitterly cold, suddenly I have an apparition of sorts: "Gabi, you've been here before! No, you good woman, you must be crazy, this is surely another sign of overtiredness …" Later I will realise that I have been here on the LEL (London-Edinburgh-London). I arrive at the Tushielaw Inn. The kitchen is unfortunately already closed, but my disappointed face softens the boss of the house and I get another sandwich and can warm up with a hot drink.
Steve and Simon also find their way here and together we form a lively company, funny if my thoughts were not darkened by my impending departure. What could be the reason for my charger not working? Hermann thinks it might be due to a short circuit, as the lamp cable was damaged, the copper wires exposed. Without further ado, the lamp cable is cut and miraculously I can charge again. I now plan how to proceed: With a charged reserve light, I would get 2 hours. If I could buy an additional battery-powered light somewhere along the way, I would be saved.
Hermann and I ride on together for a few kilometres. It gets colder and colder and also starts to drizzle again. No suitable bivouac spot can be found, a higher mountain was ahead of us. Somewhere then a stony pasture and because of the cold we both decide to slip into my mini tent, rest a bit and soon set off again. Unfortunately we don't set an alarm clock. And shock, it is already 6 o'clock when we wake up, not 4 as planned. My finish is getting further and further away. I would have to drive through the coming night to reach CP3 Fort Augustus on time. But how could I do that without proper lighting? And with a lamp that would give up after 2 hours at the latest?
Day 8
Hermann leaves, I still have to pack away the tent. The first mountain brings more difficult terrain in the ascent and descent, then it's over the next rise, where pushing is once again the order of the day. The way down is ridable, but not easy either. The heavy bike, a third of my weight, is not so easy to manoeuvre and so the bike knocks me over a few times. In one of the falls I land on my back but softly in the bracken. When I get up, I see a piece of yellow drainage pipe out of the corner of my eye. In the valley, about 250 metres down, I had just passed a farm, I notice that my smartphone is gone. Shock! Headless, I lay my bike next to the road and walk back up the path. On the way I meet Simon, but he hasn't found anything on the way. I trudge on in my cycling shoes and realise too late that I have strayed from the right path.
I try to find the right path through the bracken, the Garmin device is on my bike, which would have made the search easier. A little further up, the realisation that the fall was not that far up. So down again. I look for the pipe. Nothing. I descended to a small dense fern grove. In my head the scenario: I can't contact anyone anymore. I don't know a phone number by heart either. Terrible thought. What to do? I guess I have no choice but to go up again, to the highest point. This is where I took the last photo. At the top, another realisation hit me like a lightning bolt: I was looking for this drainage pipe. Yellow and with grooves. The partly yellow leaves of the fern looked similar. Maybe the pipe was just a figment of my imagination? So I turned over each of the yellow leaves on the way. Nothing. As I approached the bracken for the second time, something lit up to my left: The pipe and next to it – my SMARTPHONE. Saved!!! Relieved, I grab it and run down the hill. On the way a new bad thought: What if my bike was no longer there? I hadn't locked it and had left money and documents just like that. Relief when my Gravel tractor is still where I had left it. Later Simon will tell me that the farmer was standing by the bike and asked him if it was his bike. Hahhhaaahhaa, driving GBDuro with two bikes … Simon explains the situation to the farmer .
This trip on foot must have taken me at least another two hours, one and a half times up the mountain, about 300 metres in altitude and a 4-kilometre walk. That will probably be the real end now!
My courage increases a little as it is now quite easy to continue towards Falkirk with its attraction "Falkirk Wheel", a spectacular ship lift.
On the way, Simon and I overtake each other several times. Then, at a wind farm, once again a blocked grid. Lifting over it is the order of the day. Simon is just getting back on his bike on the other side. He makes no effort to help me. Exactly – I'd forgotten – the race is strictly SELF-SUPPORTED – and that goes for us women too! For minutes I stand like a stupid sheep in front of the new task of heaving my tractor over it and can only just hold back the tears. Although the road is now flat, I still have to push it, because the path is "paved" with a colourful mixture of broken pieces and I don't dare roll over it.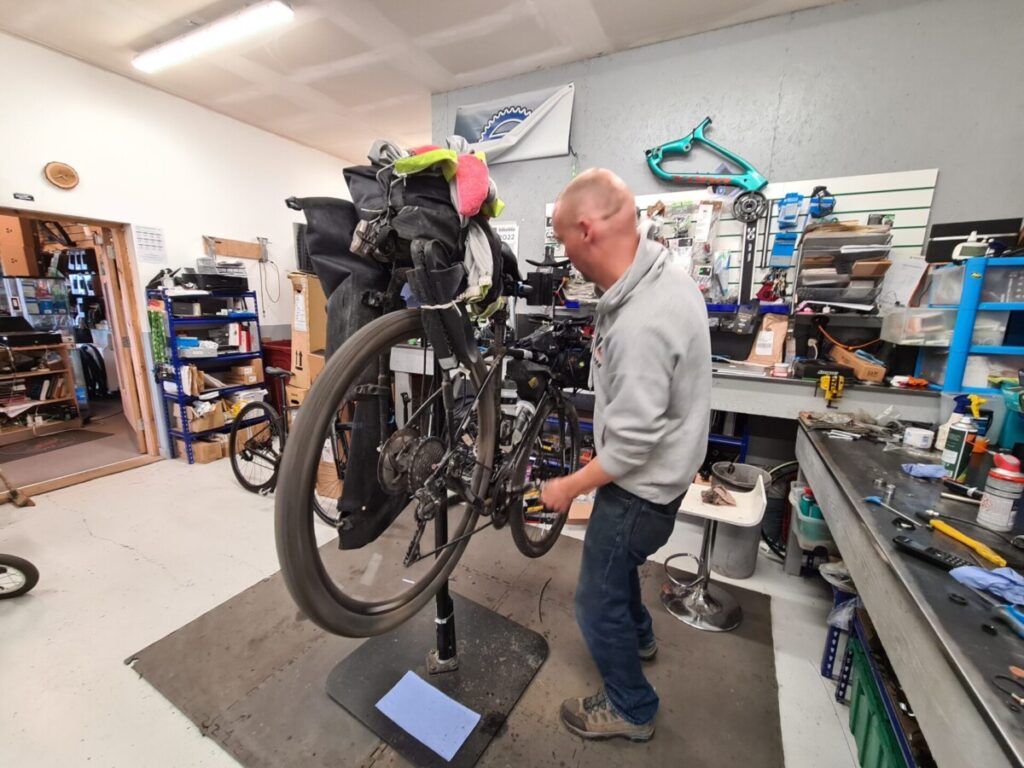 The last few kilometres are entertaining and not difficult on a downhill stretch. I had also discovered a bike shop in Falkirk, but at the end of the route I realise that I have already ridden 3 kilometres too far. So back I go, and uphill too. The nice Chef adjusts my gears, replaces the brake shoes, lubricates the chain and most importantly, I can buy a front light here. However, when I use it, I realise that the light is more for being seen and not as a useful source of light. But now I'm looking more positively at the route ahead.
It is now late afternoon again, how quickly time flies … The next few kilometres go easily, a next supermarket stop is called for, as again there will be nothing for over 150 kilometres. My choice is Morrison, not so good as there are only oversized packs here. I can hardly close my pannier afterwards. Strengthened, I set off. I get lost several times, I must be a bit more attentive. After the pretty town of Stirling, it's dawn. I am overcome by gloomy thoughts, as the weather forecast threatens rain. I toy with the idea of stopping here. This would be an ideal place to be picked up the next day; continuing the journey would complicate things again. Several times I stop and think. I weigh up the pros and cons. Then the adventurous Gabi wins out: keep going, let's see what happens.
Now there is mixed terrain ahead of me. Steve passes me in the dark, I'm probably the very last one now. It starts to rain, in a short time I am completely soaked. So I ride on, it warms me up a bit. I seem to be on a cycle path. At some point it's approaching midnight, tiredness catches up with me. I'm getting slower and slower, I'm freezing, I'd like to lie down somewhere. But here in the pouring rain? At some point in front of me a village: Killin. Midnight is long gone, it's getting close to half past two. An ambulance in front of a lit restaurant. I knock. No, not open, I can't warm up for a moment either. I lurch along, overtired and freezing. What am I doing here? I should have given up kilometres before. Close to tears, I pedal on. A house with a garden and someone standing there. And what if I just ask here? I don't see any way out and have to warm up a bit. It's 6° and I'm soaking wet. I ask the tall guy, who looks like an English aristocrat and smells of wiskey, if he has a place where I could warm up for a while, a garage, a garden shed or something. What is he doing here at this time of night, I ask myself, but my desperation was enormous, there was no way I could drive any further now. He looks at me for a long time, then says he wanted to help me, leads me into a tiny crowded room. He was staying here at the moment because he had rented out his house for an event in the village. I can change, he offers me a glass of wiskey, a camp bed is unfolded. I feel a bit queasy when he locks the door with a huge bunch of keys, climbs over me and disappears into his sleeping bag.
Day 9
After an hour of warming up, I'm on my way again, all went well, the Lord didn't even wake up as I gather my seven things.
It had stopped raining in the meantime. A next well rideable mountain warms me up. The descent is also fine and it continues through a small valley, very lonely. Now and then a house, then a pub along the way, unfortunately still closed. At the junction for the next climb, the sun had just risen, I meet Steve again, in conversation with a gentleman travelling with three dogs. I was just expressing my disappointment that I would have to continue without breakfast into an indefinite endlessness, when the nice gentleman asked if he would invite us in for coffee, his property was only 400 yards away. We take off our cycling shoes at the door and the smell of our socks immediately spreads throughout the kitchen. Here the table is richly set. There is porridge for us with fruit and hot coffee. Delicious.
Very grateful, we set off again. The next mountain is again unpleasant terrain. But eventually I reach Loch Rannoch and with it a few kilometres of tarmac again. There is a cycle race going on here.
Then 48 kilometres of riddled terrain, which means the stones are so big that I and my bike are really shaken up and there is no end in sight. Something scratched my thigh and a bolt fell to the ground. Luckily I noticed it. I put it back in place, cover it and continue. Slowly my bike is falling apart. This race makes huge demands not only on the riders, but especially on the material.
Loch Ossian, here the route continues on a super fast gravel surface and I speed through the landscape. It's really fun again. Suddenly it seems to me that my bike can no longer be manoeuvred so easily, I look down and see that sealant is squirting out of my rear tyre. A puncture? I ride on, maybe the hole will close up again. No way, soon the tyre is completely flat. And that too! I am not spared anything. Inflating doesn't help, the tyre jumps off the rim. Shit… Put the bag down, take out the tools, put the tyre down, clean out the sealant, check the tyre for splinters, put in the tube, inflate.
In the meantime, an off-road vehicle stops. I am relieved when the driver offers me a lift if I am still here in an hour. So I guess the end of the world is not so near after all. I am sorry to think that this is the end for me. A man and two women stop. No, I don't need help, but they are waiting in case I do. So nice, everyone…
Then I pack everything up again and continue. Only 60 kilometres separate me from the next checkpoint. These go very sluggishly, my tyre jerks, probably hasn't slipped into its rim bed. One of the highest mountains is still ahead of me, which worries me a little. Almost 500 metres of altitude difference, that would actually be very little for us, but what I had experienced so far already let me suspect that it would not be easy.
Finally, I'm really on the climb and it doesn't go smoothly. The area is very rich in water, which means that every 50 metres there is a paved water gully across the stony path. Endless times I have to descend, cross the rivulet, climb up again. Endlessly. Then it gets really steep. Pushing is the order of the day. I struggle up the last serpentines. Then it's finally time to descend. Over a stony, steep path. I have to concentrate hard. Just don't fall! My wrists hurt like hell from the cramping brakes, despite the suspension stem. 20 kilometres of difficult descent. At some point the tears want to come, tears without tears, is that possible? I talk to myself. I measure myself, that's what I wanted, now I should be quiet. It is slowly getting dark. And now my reserve lamp comes into play. It doesn't seem to give such bad light if I don't drive too fast. And for how long, that remains to be seen. At some point in the distance I see the lights of Fort Augustus on Loch Ness. But they don't want to get any closer. Endlessly. Eventually I arrive, now it is only 7 kilometres to the camping site with CP3. Now it's uphill again. Interestingly, there are brown structures the size of a date on the path. What? Dates grow here? My tiredness is probably playing tricks on me again. The next day I will find out that these are small pine cones.
It seems to me that I am lurching criss-cross through the forest. Where is CP3? I get lost several times. At some point I see a light between the trees. Hermann! There would have been a sign, but unfortunately my "dying" light didn't catch it.
Done, I probably wouldn't have expected that in the last two days … I'm mega happy. Campfire, I still get pizza, shower, tent pitching and the long-awaited sleep.
Stage 4: Fort Augustus to John O'Groats
Day 10 and 11
400 km/ 4100 m d+
Day 10
However, the sleep is already over after 5 hours. Breakfast and departure for the last stage. Almost 400 kilometres to go, but only 2 days time. Whoever would be on site at 8 pm on the second day for dinner could call themselves FINISHER. And as the drop-out list showed, a maximum of 18 of the 47 registered would arrive in John O'Groats.
Three mountains right after departure. And it was straight into the full swing. An extremely steep climb. Then wonderfully high above Loch Ness through moorland, then a downhill and on to the next mountain. Suddenly I can't change gears any more. No!!! Not another problem, now the end is within reach. I push a little, then it gets flatter. The gears seem to work again, but I can't shift into first gear. Downhill. Supermarket stop with latte break, Hermann is just leaving again. After that, there's nothing for a long time, unless you make it to Contin, where there's a petrol station shop open until 7pm. Will I make it? No idea, so better take precautions, which means more weight again. Food and water.
I don't get far. The rear tyre is flat again. A cry of horror on my part. Again the same procedure as the day before. Pump in air. It doesn't work! I try to lubricate the inner rubber ring a bit, now nothing works. A van stops. He can't help me either, but it's a nice gesture. Pump broken! The dream is over. I write to Hermann that I'm out for good and google how I can get away from here.
Hermann is already 11 kilometres further and halfway up the next mountain and well in time to finish. And what does the guy do? He turns around and brings me his pump.
Together we drive on. A difficult mountain, a difficult descent, but we make it to the petrol station to stock up one last time, because from here on, 260 kilometres to the finish, there is no more shopping.
The metres in altitude that now lie ahead are not many, but the terrain at night is not easy. I am without good lighting and as it gets dark I realise how difficult it is. The better Bontrager lamp lights up for just 2 hours, the other lamp is barely usable. This means very slow progress while the Bontrager charges. Unbearable, and then there are the attacks of tiredness at night. I pass between two fence posts, get a fright and pull my head in in front of the crossbar, but it doesn't exist, delusion, it would probably be time to sleep. At first we thought we would reach the end of the first section, Rosehall, around midnight, but it's 2 a.m., then 4 a.m., and finally we don't get there until 6 a.m. I'm not sure if we'll make it.
Day 11
A short power nap, then on. Motivation is down, Hermann had read on the Dotwatcher site that the observers had already written us off, Hermann and Gabi would not make it until 8pm. Demotivating.
We should now manage the remaining 200 kilometres in just under 14 hours. Only a little bit of asphalt. We pass a 400-metre-high mountain with poisonous gradients. Suddenly we see a slow cyclist in front of us who is pushing. As we get closer we recognise Jamie. His freewheel is broken. He wants to complete the 200 kilometres on foot. A hero! But he will stop a few kilometres later. Too bad. I feel very sorry for him.
We continue to torture ourselves. Tiredness comes at ever shorter intervals, now also during the day. Twice we allow ourselves a quarter-hour sleep break. I run out of water. There are no streams in the area either. Against all expectations, we pass a small campsite. There we get water and an ice cream.
The next ascent is a long jogging track. Is that necessary? I am very tired again. Suddenly I see a hut in front of me, it looks like a mountain pasture. A mirage in my exhausted brain, there are only stones and grass here. Eventually, this climb and descent are also mastered. The long asphalt stretch drags on, though. I keep seeing strange things, now a machine cutting the bracken just in front of me, I wince and realise it is only a reflection of the water next to me.
At some point there are "only" 40 kilometres ahead of us and only asphalt. Now it's getting dark again and the lighting problem is the same as the night before. I'm also afraid that I won't be seen by drivers. Progress is slow. It is now 8 pm already over. The dream is over!
The arrival in John O' Groats, despite a 2 hour delay, nevertheless overwhelming. A group around Emily Harper, the winner, awaits us at the most north-eastern point of Scotland. A wonderful gesture from the group, who surely would have preferred to be in a warm bed by now. As we missed dinner and were unable to feed ourselves for over a day, Emily gave us her travel provisions, biscuit, oranges, crisps – a great gesture!!! Thank you Emily!!! Then we could sink into our longed-for bed …
The next day, breakfast with the Finshers, then the community slowly disbanded and everyone headed home.
GBDuro was the hardest thing I've ever finished in my life….
A lot of the moments were fun level 3; but not least because of that I am mega proud to have made it to Johr O'Groats, especially considering how many of the racers had to give up (over half of the starters).
Thanks for everything and thanks for all the nice people I had the chance to meet, be it fellow riders as well as dotwatchers and other people along the route!

What was to come now cannot be topped: Horrortripp travel home