Atlas Mountain Race. Actually, the registration was a bit thoughtless … never thought I'd get a starting place. And years ago, at the first edition of the AMR, I was amazed at what people can achieve. The whole thing seemed pretty off the wall to me: tough riding conditions, no end of altitude, such a high scratch rate (supposed to be a hallmark of MTB racing). Then the acceptance and the first moment the shock. We probably won't make it …
Our AMR. First some impressions in the video …
Our AMR in numbers – see here – the race on maprogress.
It is dark, the waning moon does not really illuminate the scenario. I trudge discouragedly through deep fine sand. For three kilometres or so … ever since I was thrown off my Trek Procaliber while transitioning from a short stretch of asphalt to what I thought was gravel: my front wheel locked in the deep fine sand and I did a circus-worthy somersault mortale over the handlebars.
I am now pushing. The 23 kg bike doesn't really roll over the piles of sand either. Exhausting. Another 50 metres of cycling over somewhat firmer ground, then I get stuck again. The motivation sinks. Actually, in Ait Baha, the last village, Philipp had said that it was now 60 kilometres more or less downhill, rolling fine until the next serious mountains, the last two. But who would have thought that after Ait Baha there would first be a blocked pushing passage and now a terrain that would do credit to any sandy beach … And no end in sight.
It was to be a total of 15 kilometres. I resign myself to my fate after emptying sand out of my cycling shoes for the umpteenth time. My motivation drops below zero. Our schedule? We're already behind schedule, but now arriving on time for the finisher's party and thus achieving a positive result in the Atlas Mountain Race seems a long way off, i.e. impossible. In my thoughts, I send the blackest of imprecations to Nelson. While I had been fully motivated to rock the thing, I now berate the organiser for being to blame for the fact that I would probably now join the countless "scratched" participants, the list of those who had given up along the way. By the end of the race, a whopping 48% of those who started had dropped out. Trademark of the AMR? What nonsense, I think to myself. If I expected 4 hours for the 60 km easy downhill, I now have to chalk up this time for the 15 km push …
In the darkest minutes, I still think back to how it all began. No wonder that quite a few people dropped out at CP1, after only 125 kilometres: The mountain bike race started at 6 pm in Marrakech. It starts off quite calmly, 60 kilometres of only slight uphill. In Zerkten, a short stop is made at a provisional supply point set up by locals: a group of young men sell tea and loads of flat breads with spreadable cheese. But then it gets serious. We reach quota 2500 via steep and impassable climbs, the track is snow-covered, and we have to walk 5 km to the highest point. An icy wind blows, we measure minus 6°. Then we continue on foot down a mule track, which we have to find in the dark. Gruelling. After the first night, the speedometer at CP1, Telouet, shows 125 kilometres and 3500 metres of elevation gain.
After a breakfast of tajine, omelette, flatbread and lots of mint tea and after sunrise, the world looks completely different again and we set off exhilarated. A cool single trail through a village and then we have to push again, up to a wide plateau. The route is very varied. Up and down and behind every bend the magnificent panorama changes. The ground becomes increasingly rough, then sandy again and with deep gravel. 60 kilometres further on, it's already late afternoon when we sit together in a cheerful group in Ghassate in a shop with omelettes and mint tea. The time frame is exceeded, impossible to get to Imassine as planned. After another 30 kilometres it is deep night, it is cold and we are exhausted. In Toundoute there is a shop where we replenish our supplies, perplexed we set off into the next (sleepless?) night. Like a mirage, the sign in front of us reads: Gite Amandou… with the symbols: eat and sleep. We ask and get a small tent of accommodation, shower and delicious food.
We set off in the middle of the night. We would quickly "rock" the 40 kilometres to Imassine to the petrol station and last possible refreshment opportunity before heading 100 kilometres into the wasteland. A typical case of "Think again!", as is often the case in this race. There are countless impassable canyons to cross, which means dismounting, carrying the bike down several metres, then heaving it back up steeply on the other side. Fast progress? No way, and so it is already broad daylight when we fill up our reserves in Imassine.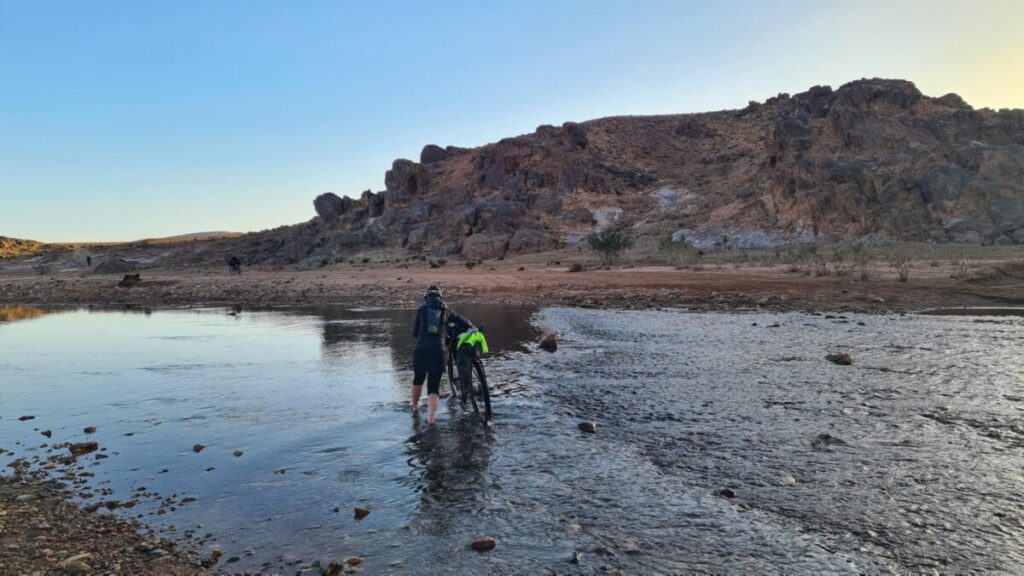 Day 2 starts with a river crossing in ice-cold water, then wide plateaus and finally a several-kilometre-long push up to the highest point at Quote 2000. The reward is a 50-kilometre-long descent with views that would do credit to a Winnetou film. Rock formations to marvel at, then a stark colonial road with walls. Don't get too close to the abyss.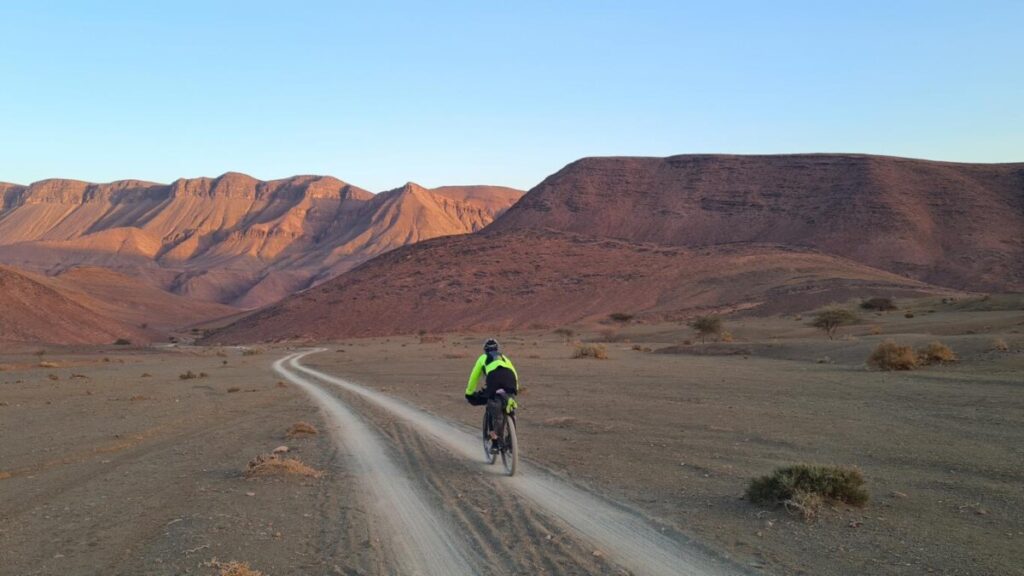 My almost non-existent technical driving skills are put to the test. Slowly jerking down is not an option here. I jet over the loose passages and hope that my Procaliber doesn't throw me off. I think the Vittoria Mezcal will save me over the difficult terrain. There is something in front of me on the path: a smartphone. 10 kilometres further on, the owner meets me on foot, Lawrence, a 23-year-old participant with whom I had already cycled a lap in Marrakech. We will see his bike about 3 km down the valley, poor guy! Relief on his part – I was his "angel" …
We now drive beautifully downhill through a palm-fringed oasis to Afra. Here, too, a large group meets late at night for omelettes, cheese bread and mint tea. The supply falters somewhat, as the shop owner sits down to pray on his rolled-out mini-carpet between one omelette and the next.
We drive a few kilometres further and set up our first bivouac in a lonely oasis, hoping that the thorns in the deep sand do not bore into our inflatable mats. After a short and not very restful sleep, we set off again very early. Our destination is now the oasis of Tizgui, situated in a narrow canyon. Omar, who serves tea here during the day, is probably still asleep. So we make our way uphill over countless steps and reach the steep road that should take us to Tazenakht.
On the way, I distract myself with my audio book, but when my bike suddenly moves 90° to the middle of the road as if by magic, just before a car roars past me, I wake up as if torn out of a microsleep. I need a short power nap. Hermann helps me spread out my mat and sleeping bag next to a wall, I sleep for about 10 minutes, then I continue. I exchange information with Walter. He has problems with his leg from the long hike-a-bike passages and wants to get off in Ait Saoun. I feel better now, but Hermann worries me.
His cold has worsened. Is it reasonable to continue? In such a tough event? What if he drops out too? Should I go on alone? Or is fate telling us that we would do well to throw in the towel after less than 500 kilometres? I am torn. Rest at last? After a refill of omelettes and flatbreads with cheese, coffee and mint tea, and the news from Christian that he would also leave it here, Hermann and I want to continue at least to Tazenakht and possibly take a hotel room there and then think further.
The drive across the following high plateau is great fun and the 5-6 hours fly by. In Tazenakht we treat ourselves to several pizzas and, as it is late afternoon, we want to get the 60 kilometres of asphalt behind us. On the way, I notice that something is wrong with my seat meat, the skin is slightly inflamed. A little cream and the next day no pants with padding and the problem is solved. Fortunately. We pass Tamskrout after dark. As expected, there is no hotel and so we set up our bivouac a few kilometres later. The ground is strewn with stones, not exactly ideal. We set off again early in the morning.
Some climbing and then descending to Assereragh, checkpoint 2. Inexplicably, I fall with my bike and hit my left thigh hard on a sharp stone. A huge bruise is the result, but even more so the severe pain when I activate the thigh muscle.
That means it hurts a lot when pedalling and even worse when I get off the bike at CP2 and have to walk a few metres, hardly manageable. That won't change for the whole day. Do I have to scratch? I am distracted from my pain by the beautiful landscapes at dusk, palm gardens and picturesque villages. The day dawns around eight o'clock, in the evening it is dark from half past seven.
After superficial personal hygiene at CP2, the Auberge Des Ètoiles, and a wonderful menu consisting of tajine (vegetables and chicken meat), omelettes, pancakes with jam, coffee, mint tea, we set off again. Breathtaking views on the descent into the Palmerie Aguinane. The onward route over a lonely pass is also fantastically beautiful. This is followed by a long stretch of asphalt. Unexpectedly, before the last ascent of the day, there is a supply of bread and amlou, a sweet almond paste, and tea, provided by a local who has converted his cellar into a café with a seat by the roadside.
As we continue our journey, clouds loom over us and a strong wind brings the first raindrops. I quickly weatherproof my luggage. Fortunately the clouds move in the other direction. After the wide plateau, we first descend over a gravely, difficult descent to a wide stream bed. The next 20 km or so will not be easy. The "path" is sometimes hardly recognisable in the round pebbles. I had actually thought of a comfortable coasting down to Tagmouth, which was before the legendary climb over the "old colonial road". Unfortunately, once again "no"!
At sunset we made it to the village with its square market place. As usual rations consisting of omelette, bread and tea. We stock up on biscuits and decide to continue to the beginning of the ascent, although a local offered us to spread out our sleeping bag with him.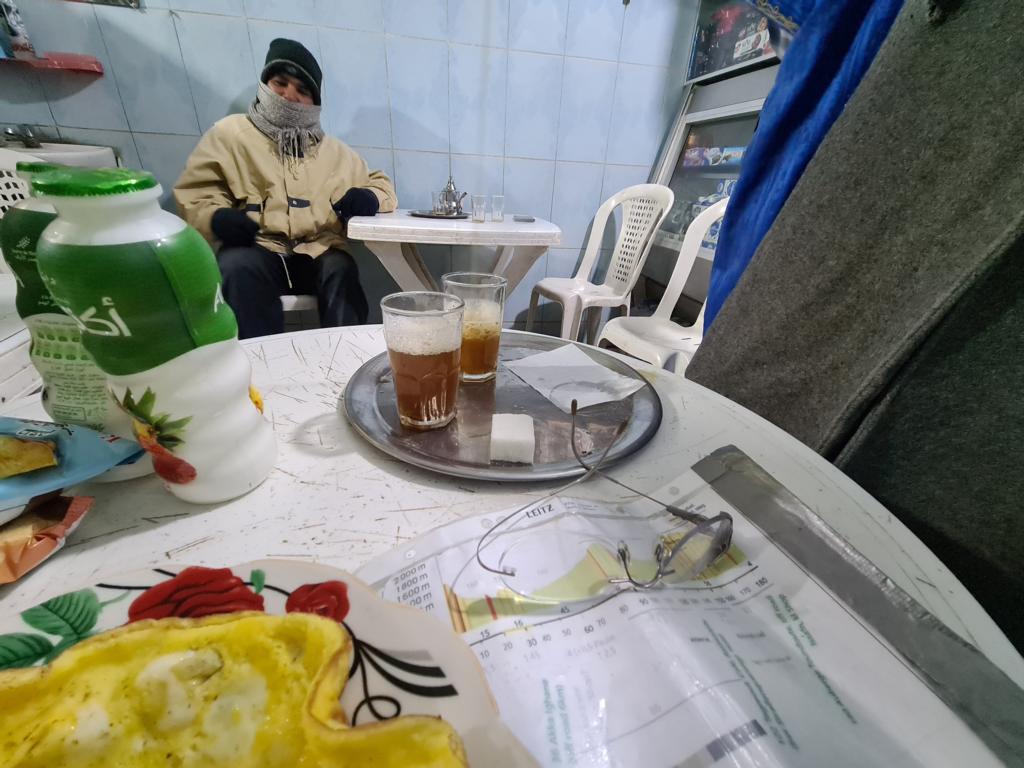 So a few kilometres further on there is another bivouac in sub-zero temperatures. The thought of the old colonial road with its two impassable interruptions does not let me sleep well. After 3 hours of rest, we set off again. Descriptions from previous participants spoke of many hike-a-bike kilometres. I lower my saddle a little and miraculously I manage to cover most of it on my bike, bulldozing my way uphill, dodging big stones again and again. Suddenly the "road" comes to an abrupt end. My light cone catches a drop-off and a precipice about 10 metres in front of me. I put my bike down and try to climb down. Hmmmhmmm. Oh dear, how am I supposed to get my bike down? Hermann arrives and says he saw a narrow path 50m ahead. So I go back and carry the bike down into the gorge. I'm glad that my team partner helps me to heave my bike back up the other side. Hard work!
A few corner later, the same scenario. Abyss in front of the front tyre and diversions.
Again and again we meet cyclists who have set up bivy along the way. I get tired again and at the highest point there is no way out but a short power nap in the sleeping bag, just 10 minutes until the cold from below penetrates through the down. But that's enough and now it's slowly getting light, the sun rises over the mountains and bathes the rocks all around in an unreal red.
Another 20 kilometres of descent, whose underground demands the utmost concentration, and we have well deserved our breakfast in Issafn, a small street village. We find a small café at the side of the road, in front of which a few cyclists are already sitting. There are wonderfully delicious fresh desserts, of course omelettes as usual, and coffee and tea. I also treat myself to a freshly squeezed orange juice and an avocado shake. Incredibly tasty and energy-rich.
After a short asphalt intermezzo, Hermann takes a power nap on a bench, I continue. We now pass through a partly palm-covered canyon, meandering upwards through the rocky landscape. The temperatures rise, the gravel road gets worse and steeper. Here and there are a few settlements. Usually the children come running and accompany the drivers for a while, wanting to "give-me-five". Suddenly I hear stones hitting the ground next to me. They're not going to …? I brake abruptly, turn my bike around, put on my meanest look and shout "LA"! (that should mean NO in Arabic). The kids were quite astonished to be confronted by such a fury and didn't do anything any more, even leaving the following Hermann in peace.
I "suffer" the way on, exchange a few words with a French rider suffering from Shermer's neck, whom I will meet again and again, but who will give up. Eventually we make it to the highest point and here the path joins a wide gravel road. It goes over the plateau, now and then interrupted by a short descent, whose loss of altitude is made up for by the steepest climbs. Every now and then a lorry roars past and fogs us in for minutes. As darkness falls, the route descends and then climbs through another palm tree valley.
The plan was to ride to CP3 and sleep in a hotel bed there. Around midnight, however, we have only done about half of the climb and still have 20 kilometres of descent ahead of us from the highest point. A hotel on the way, checkpoint at the penultimate AMR issue, is unfortunately closed and so we set up our bivouac, for 3 hours.
Then it's on to Tafraoute, CP3. On entering the hotel we are immediately met by over-zealous local staff, I don't even know where my mind is and I'm sorry that I can't respond to the exuberance on an equal footing. All I need is a shower and a bed. We allow ourselves that too for an hour and a half. It seems that at breakfast we are the very last ones left. I watch as a man films us eating and preparing to leave. He introduces himself as a volunteer from Portugal when we leave. I see … and he is filming the old couple … who can't even reach the finish safely …
In the next few kilometres, the landscape changes completely, many villages have to be passed, it is a bit greener, millions of cacti line our path. It goes up and down, varied. In a small village we are approached by a young woman, Hajar is a teacher here, as she says, and she looks after four pupils under catastrophic conditions. She would like to invite us into her modest house and show us the school building. Unfortunately, we have to move on. However, we will stay in touch via WhatsApp.
A long descent ends once again in a wadi, no idea where to go next, we just follow the track on our GPS device. In the distance we see a path winding up the mountainside. Once again it is not ridable. Hike-a-bike with uncertain length. It could be up to 6 kilometres. Fortunately, the path soon leads into ridable terrain. On a narrow path, a brown California suddenly comes towards us. What is he doing here? And how is he going to turn around? The driver's door opens and a camera is pulled out. Later I find out that it is an AMR employee who is "accompanying" the last ones.
We ride nicely up and down again through the falling dusk. At some point I think that a bus or something is approaching behind me. No, in the village next to us a muezzin begins to call us to prayer with his chanting, and our colleagues in the surrounding villages fall asleep.
A little later we drive into Ait Baha, a somewhat larger village. Here, in a small restaurant, we amaze the owner with our orders: Soup, then omelette, tea, coffee and grilled chicken, plus loads of bread. We pack the leftovers of the latter as a nightly snack with sardines in tomato sauce (we ate more cans on our trip than we have in the last 10 years at home …).
Philipp made his prediction here that it would now be a leisurely 60 kilometres downhill …
See the beginning of this story!
After the 15 km sand-hike-a-bike in the early morning, I have another sleep attack, Hermann too, and so we just lie down on the ground a bit off the road as we are. Clothes dusty? No matter! Soon we are on our way again. There is a lot going on in Jerf, women and students stand at the bus stops.
We stop in a small shop and equip ourselves for the next two mountain stages with 1000 and 1100 metres of altitude each.
Now it's a rather desolate ride through gravel pits, then along a busy road to the last supply point, a petrol station, very run-down and dirty here in this transit town. Hermann had already warned me that the weather was about to change: a sandstorm was coming. As we leave the petrol station, after omelette and tea, what else, wind has come up, the sky is brown-red and there is no visibility. The ride up is sensational. I only have to pedal a little for the next 1000 metres, the storm pushes me upwards. But don't leave the wind direction, then get off the bike and brace yourself against the gusts. It also starts to rain. We put on our rain trousers and jackets. At the top, the asphalt road ends abruptly and turns into a loamy path. Fortunately, there is now a descent. Suddenly my bike lurches and slides as if on soap, then I suddenly stop. What's going on?
I look down and can't quite place the mess: Mud has wrapped itself around the tyres and is blocking everything. Clay fills the spaces between the wheel and the bags, the chain is no longer visible. I don't even manage to push my bike anymore, the tyres are blocked, the whole thing is mega heavy.
But I have to get to the next tree to find a branch to scrape it off. It's almost pointless, though, because another metre on this ground and everything is back to normal. Pushing is only possible on the stony and impassable edge of the path. How is this going to work? How are we going to get away? At some point we can climb up again, such passages as on soap follow several more. The wind has become even stronger up here. Then it happens on the descent:
We come around a bend, I can already hear a thunderous roar and a gust of wind hits my bike. I just manage to jump down and hold on to the handlebars with all my might. My bike is lifted off the ground and almost stands in the air like a flag. Hermann got it worse. He wasn't quick enough with the jump. It lifts him and his bike into the air and with a force he is thrown against a pile of stones at the side of the path. Abrasions on his shin and hand. He was more lucky than good. If this had happened a few metres before or after, he would have fallen into the abyss. With trembling knees we continue down, there are several counter climbs. I wonder if there is a sensible reason to go up the next even higher mountain. What will the wind speeds be like there? Dangerous? Why is there no information from the organisers?
At the lowest point we pass through a wadi with palm trees again. There is no village there, but since the next pass is used more for tourism, several cafés have set up along the road. We fortify ourselves again in the early evening with two omelettes and tea each, chat a bit with some other participants, buy lots of snacks and tackle the last mountain. Because of the many hairpin bends and serpentines, it is also jokingly called Morocco's Passo Stelvio. The 1100 metres in altitude are quite a challenge, as the gradient becomes almost inhuman towards the top. Fortunately, the wind has died down somewhat. It is now after midnight. I am infinitely tired. Continuing down into warmer zones would be sensible, but as soon as the legs don't have to pedal any more, the sleep attacks come and microsleep would be fatal. So we set up our bivouac in a copse just below the pass. After I have wrapped myself in my sleeping bag, I hear various noises outside the tent while half asleep. What kind of animals are there here?
We don't allow ourselves much rest, we have to be in Essaouira before midnight tonight and still have 170 km to go. Who knows what the terrain is like. Doable? Maprogress shows that there are not many behind us, but out of 220 participants almost 100 have already dropped out. I can't live off the little bit of pride I have in still being in the race, now I have to keep going at full throttle. The terrain is quite varied, up and down, over gravel and occasionally on asphalt. Towards dawn we are both so sleepy that only a power nap can help us out. We lie down for 15 minutes until the cold creeps into our limbs.
On our way we overtake a participant from the Netherlands who looks completely exhausted. He has nothing left to eat, so we give him some of our food. And on we go.

At breakfast time we arrive in Imsouane, a small town on the Atlantic that is currently one of the most popular surf spots in Morocco. The beach below is accordingly lively and it is a must to deviate a little from the route and replenish the reserves in the centre of the town.
Delicious with omelette and tea, orange juice, avocado shake, various croissants and crepes. Hermann fills up our reserves in the mini-market and we continue on our way. We still have about 90 kilometres to go. Very motivating, we first follow a road running parallel to the coast. Here we meet the brown California again. Oh yes, he is following the last ones … never mind, we can be proud to still be there with THIS failure rate …
Soon we leave the road and cross two normally harmless mountains. For the first time in the unaccustomed midday heat, my legs don't want to go on. I feel like I have a fever. I sacrifice some of my precious water to cool my hot head. The second mountain is also done, at a small break at the first and only fountain of the whole tour we meet some locals for a little chat. I am invited to climb onto the festively decorated donkey. But then we have to move on, as pleasant as the break was. Another 40 kilometres await us. It stretches like chewing gum, but fortunately there are no more unpleasant surprises, except for a short sandy passage just before the finish.
Upon arrival, all the tension falls away from me. If I had thought a few times on the way that I would have to cry with relief, now I am just relaxed and relieved to have made it with 116 other successful finishers. I get my well-deserved last stamp. We are not even last, 5 more arrive after us and as mentioned 104 have scratched!!! I don't have time to pay attention to my emotions … now it's time to quickly move into my room, take a shower and get ready for the finisher party … And it's so nice to meet so many people again and exchange experiences. The stresses and strains of the last 8 days are forgotten in no time.