I've always wanted to cycle 1650km across Germany – I was born in Frankfurt and know parts of the country only from the motorway.
The time will come in July 2023.
First my video/ here the short version
Day 1, Sunday, 2 July 2023
172 km/ 2250 Hm/ 10:35 h
In Basel, four of us start: Kevin, Jörg, Stephan and me. From about 60 kilometres onwards I won't see any of my fellow riders and the next 10 days will be pretty lonely, apart from the many nice people I meet on the way. One arrives before me, the other two a day later. The first half day I cycle mostly quite flat near the banks of the Rhine. Quite a few kilometres in very close proximity, so you shouldn't lose your balance, because the water is only centimetres away from the single trail. One of the guys had told me the night before about the path along the banks of the Rhine with the danger of falling off, but I thought it was a bit exaggerated when I rode along the banks on a wide, somewhat bumpy path and believed that this was the section of the route I had mentioned.
What was to come shortly afterwards was not what I had imagined. Gravel and roots, the narrowest of paths, a steep slope upwards on the right and the aforementioned river bank on the left, and that for kilometres. To be honest, I found myself pushing a few times. Pretty villages on the way. Then it's up and down and almost unexpectedly I'm standing at the entrance to the Devil's Kitchen. Kevin appears behind me, I thought he was long gone … He had lost his way. I won't meet him again after the Devil's Kitchen.
The Devil's Kitchen, the name says it all, is a gorge that fortunately does not have much water at the moment, so that the path, i.e. the climbing tracks, can be easily seen. However, the stones and roots are extremely slippery. With difficulty I push through the gorge, then it's a steep climb up irregular earthy steps. How am I supposed to get my bike, weighing 26 kilograms, up there? A wire rope is supposed to provide support. But unfortunately I don't have a hand free. The weight threatens to pull me down, oh dear! Somehow I make it around the bend and across the slippery path over the abyss. As I will hear later, Stephan is not so lucky. He slips at the same spot and both man and bike suffer injuries. After the Teufelsküche (Devil's Kitchen), the route goes steadily up and down, and I gain a lot of altitude until I reach the banks of the Danube.
I reach my intended destination, a cycling campsite in Tuttlingen, much too early, so I decide to take the next "mountain" with me. On the way I meet Sven, a cyclist from Switzerland, who is also cycling the BTG route and this is the 7th time he has done so. The route through the Ursental valley is idyllic and moderately steep, and I soon reach the Klippeneck. Here is the small Kreuzsteighütte, a shelter open on the front, like the ones I find all over Germany in the forests. My night's camp is pitched here, with a view of the little villages far below me. The sun provides a dreamlike setting. The tent is pitched and I begin to worry that I'm all alone here. But relief is at hand in the shape of a young long-distance hiking couple.
I am relieved when they ask me if they can pitch their tent next to me. No sooner have we disappeared into our shelters than the forest starts to rumble, bleating, roaring, barking, grunting, I don't know which animals they are and it's like a zoo all night long.
Day 2, Monday, 3 July 23
158 km/ 3300 hm/ 11:30 h
I hardly sleep at all. It gets light at four o'clock, I'm shivering in my thin sleeping bag, although I'm wearing everything available (summer down jacket, rain jacket, rain trousers). I let the air out of the air mattress and head cushion, fold up tent, sleeping bag, pack my seven things and start into the dawning morning. I rush down a tarred road full of energy, only to have to pedal the metres of altitude back up again because I missed the turn-off.
But that won't have been the only time … The route now descends for a few kilometres along forest paths and I can hardly believe my luck: In Gosheim, the bakery is already open at 6 a.m. and I can get my beloved latte macchiato (with two sugars) and treat myself to several pastries. A customer is amazed at what I am able to do as a woman alone, and asks if I haven't heard what happened the other day … I don't want to hear that and close my ears.
Forest, forest, forest. It's constantly up and down, not infrequently over 15% steep. Now 20% gradient, for me that means pushing for a kilometre. I discover a sign before another inhuman climb, almost overgrown by bushes; under the logo of the BTG it says "RÜGEN – only 1450 kilometres to go". Aha, so I'm in the right place! Sometimes my bike almost gets overweight backwards when going uphill, although there is a lot of luggage in the handlebar pulley and my water belly from drinking so much in the heat would probably also be a good counterweight.
Forest, forest. I had not expected so much. You meet very few people, sometimes a cyclist or a walker with a dog, rabbits, squirrels, foxes, deer … But I feel quite safe in the forest. Still …
And then suddenly the surprising panorama with a view of Hohenzollern Castle on a hill opposite. I have arrived at checkpoint CP1. After a "chat" with a hiker, we continue.
As before, we continue over hill and dale, through forests and fields. At Lichtenstein Castle, also known as the fairytale castle of Würtemberg, I choose potato salad from the many sausage and meat dishes and am looked at blankly. I meet a family from Italy here, it's a small world, because they know Brixen well from many holidays. Then on through the afternoon heat.
The next break at the foot of the Swabian Alb in Bad Urach is a must, sweaty climbs await me. I sit in the middle of the late medieval market square with the town hall and the half-timbered houses from the 15th and 16th centuries and enjoy some fruit cake, I also have to fill up my water reserves. I leave the intended forest meadow for camping with a view of Hohenneuffen Castle and Teck Castle behind me. It is cooler now, but the gradients are still relentless. In the middle of the steepest climb, a huge stag beetle crawls across the path. I see my chance has come … no, not to drive over it and see how strong the guy really is, but … to take a photo. Of course, I can't do that while driving. So I get off the bike and then climb back on with a dog's shame, without tipping over. Who is so stupid as to do that?
Ich treffe Sven wieder, der mit Magenproblemen zu leiden hat.
Where should I sleep tonight? I drive into the sunset, it would be time to find a place. There! A diversions in front of me. There's also a car here, and two men in front of it, looking at me. I turn off and race through the forest at a breakneck gallop. What if these two men are following me now? What had the man at the bakery said in the morning, a woman alone where so much was happening? My heart beats wildly as I accelerate further. The forest becomes darker and darker, the fear increases. A car is coming towards me, and the forest is already thinning out and spitting me out.
Indecisive, I stop shortly afterwards at a farmhouse, I hear voices from a utility room. Should I ask? I could pitch my tent in the guest garden and with a view of the sky covered in heavy dark clouds, I could seek shelter in the rain and I wouldn't be alone somewhere in the forest. I follow the voices and ask if I can pitch my tent outside by the fence. Yes, of course. When my night's camp was set up, I had moved a little closer to the guest garden, suddenly the farmer's wife was standing in front of me, asking if I wanted to camp here? I told her that I had asked. Aha, the son, but no problem.
Of course I can, I even get half a litre of sour milk in a porcelain cup and ice cream. Although the woman refuses, I give a small tip and insist on it as a parking fee. They even open the guest toilet for me. It is very nice here at the Reußenstein farm. Sleep is not entirely quiet, in my neighbourhood a cow moos all night. I save the sour milk for breakfast, put a beer mat on top and put the glass in a hollowed-out tree stump.
Day 3, Tuesday, 4 July
114 km/ 1900 hm/ 8 h – a "break day", so to speak.
I hadn't noticed the rain during the night, but the tarmac is wet when I set off into the young day. Breakfast beforehand. The beer mat had slipped and in the sour milk some ants and an earwig had unfortunately met their death. I pick them out and, starved as I am, the slightly more fermented milk tastes delicious. To go with it, there's the yeast particle Henry. Hahaaaaa! I had written Hermann about the yeast cake and the smartphone "auto-infill" makes it "Henry" … I take my time with the start, otherwise I would probably get to Kuchen too early for the second breakfast and supermarket stop. The sun comes through beautifully between the clouds.
But I don't get any further very quickly, again inhuman gradients and a lot of forest. Route deviation! Garmin reports, so I go back. Concentration isn't possible this early in the morning, but who would think that a trail would suddenly turn off from a nicely gravelled path and I'd be 100 metres down and have to climb it all again. The next time is not long in coming. I'm lost in thought and race down the gravel path, I don't notice the turn-off, why should a tarred path suddenly continue here, the path of less resistance doesn't fit into the BTG concept at all, I had already noticed that. Since this little road runs parallel to the gravel road for a long time, the Garmin doesn't notice anything and I certainly don't notice anything. Everything back … Why was I distracted? I've been doing some scientific thinking today, so to speak: Because I noticed something. The vineyard snails here, which crawl along the path in great numbers, have a right-turning shell. If you want to photograph them, you have to make sure that they crawl across the path from left to right, otherwise the beautiful shell is not on them. I do comparative natural science: In the Balkans, three weeks before, it was the other way round, the snails crawling to the left, there you could see the beautiful thread. Surely that meant that the snails there were left-turning or right-turning? Anyway …
I was also very surprised that last evening I wanted to continue to Gammelshausen, where Karsten, who had started two days earlier, had spent the night. But I had refrained from doing so because I didn't feel like going up 150 m, as the map showed me. I was now at the junction, Gammelshausen deep below me. I think I should take a map-reading course on contour lines. Well, it didn't change much, because if you go down, you have to go up again, or vice versa.
Just now my mobile phone almost fell out of my hand. I was taking notes (voice recording) when a huge bird of prey bursts out of the undergrowth in front of me, one level higher of course, and turns onto the forest path a metre in front of me and flies in front of me for a few seconds. I should take better care of my new mobile phone …
As usual, alternating woods and fields, some single trails and some bitter climbs, like the 500 m with 110 m difference in altitude, it's easy to calculate the gradient percentage, it's exactly 22% and that on gravel and with 26kg. As I turn around in the middle of it to see if I dare go down there, I see that at the very bottom a man in short trousers and a white baggy T-shirt is turning into the path. Is he following me? I keep turning around to see if he's getting closer. Should I put my pepper spray within reach? I can't go any faster. But fortunately the man doesn't speed up either and doesn't look like he has a knife or anything. But the thoughts go round and round. What had the baker's customer said to me the day before? Soon it flattens out again and I cycle away, relieved. As steep as it was going up, it's now going down, if not steeper. I don't dare and push. Down over the wet forest floor interspersed with loose limestones. If it keeps going like this, it will take me at least three weeks to get to Cape Arkona.
But it gets flowier again and I reach Kuchen, not too early of course. And the place really is called that. Nomen is omen, there is a bakery at the supermarket and here I fortify myself with a latte macchiato (with 2 sugars), pretzel bread with thick butter and plum crumble cake. I enjoy it and use the free wifi, but I can't bring myself to start, I have 300 m to go. Did I have a premonition? Fortunately, I don't yet know what's in store for me.
Old water emptied out, new water filled up, then off we go! It's a good ride right away. 18% plus, but no big deal on asphalt. Well, wait, Gabi, the path turns into a forest road, but with a slightly lower gradient, and then suddenly a hiking trail branches off to the left. On both sides there is a steep slope, steep up on the right, steep down on the left, with a very narrow path in between. I obviously have to take it. And soon the first obstacle. A tree trunk lies in the way. I stand in front of it for minutes, unable to muster the energy to heave the 26 kg over it. Then soon the next one.
Quite high. My bike won't fit under it with all the luggage. I heave the front wheel over it and try to pull the rear wheel over. Almost there, I notice that the weight of the bike is pushing me outwards, towards the "abyss". I quickly try to grab an elder branch, but "crack!" it breaks and in no time at all, I don't know how it happens to me, I and my bike are two metres below the path.
Bones sorted, everything still attached … But how to get the packed bike back on track now? I muster all my strength and have the front wheel back on the track, but what is it? Something is stuck … The saddle had got caught in an elder tree trunk, the front wheel is blocked by the tree trunk. Nothing works any more.
My strength leaves me and my bike is back where it was before. Despite all my efforts, I can't get past the trunk next time. Bathed in sweat and almost on the verge of tears, I'm already thinking about taking all the bags off, some higher power has probably seen sense and I don't know how, but both I and my bike are back on the right track. My will is broken, I knew that from the Trans Balkan Race, where I felt that way during a bad mud passage.
Nothing is happening in my head any more. I only live in the moment. There are still several trees to climb over and then a few steep earthy irregular steps. My thoughts are preoccupied with how do I manage the next tree trunk. I have no idea how much time has passed before I stand at the Höhenstein lookout point. With trembling knees, exhausted. At least the coming climbs are not so demanding. I cool and clean my bruised legs to some extent at the next fountain.
Picnic time. I have to eat my cream cheese and vegetable loaf, the table is a fallen tree trunk. Fortified with kefir, I continue. The Wental valley with its bizarre dolomite rocks lies before me. Very beautiful. In Aalen I have to pass under a railway subway. Me and the Garmin are confused and when, with trial and error, we finally reach the light again, Stephan is standing in front of me. What a coincidence, as if by chance. He had boarded the next train in response to my posted crash picture and had shortened the route; he wanted to cycle and not push a bike … Together we ride to Ellwangen. There a comfortable bed awaits me, I can take care of myself, my wardrobe and my bike. There is delicious food and restful sleep, the first time in three nights.
Day 4, Wednesday, 5 July
141.08 km/ 2,365 m/ 9:25 h – the second "break day", so to speak.
And around half past five on the fourth day I'm back in the saddle. Are there supposed to be thunderstorms? Not with this blue sky … I pass the Kreßbachsee and Fischbachsee lakes and dive into the German forests. The clouds thicken and do not promise anything good. The first raindrops and soon pattering rain, I save myself under a deciduous tree. It doesn't stay dry underneath for long and I change the side of the path and "hide" under a high stand. But first I have to kick down the dense thorny vines that pull at my arms and legs. And then there is a crack, I hadn't even seen the lightning. Fear! Thunderstorms in the open always cause me some kind of panic. I pull out my smartphone and type frantically on it. Rain radar! I see I'm right in the core of the storm front. When the worst is over, I drive on. It is still raining lightly. The paths are now fully muddy and I look like a piggy in no time. Hopefully I will find a garden hose somewhere for bike and me. However, this is the beginning of my smelly shoes.
Now I'm going downhill again, but extreme caution is called for, because the forest road seems to be filled with piles of fresh grit. I ride slowly so that my tyre doesn't get bored into the crowd and throw me off. In Schnelldorf I treat myself to a nice breakfast, then I continue towards Schillingsfürst. Hopefully the weather will be better by midday. I didn't think this tonderstorm. I keep my wet clothes on. They dry quickly in the changing headwind, crosswind and tailwind. I am curious whether it will rain again today.
On the way I have to smile, a picture from the day before in my mind's eye. Gabi kneeling on the ground, camera lens pointed at a snail, waiting for the little animal to stretch out its feelers again. The name Lumacagabi says it all and a picture with a snail is a must. Or what else doesn't one do to get a few minutes' break?
The forests here are almost endless. For almost five kilometres I've been driving straight through a forest. The only change is two female riders with at least 15 dogs. Again and again the gravel changes to deep sand.
Again and again nice single trails, but after the rain the roots and stones are as slippery as glass, as is the packed clay soil, and I have to be careful as hell not to take off. In the afternoon I ride through more agricultural greenery, and with the missing trees comes the heat.
The old high road before Erlangen from times gone by is now a single trail and nice to ride. In the late afternoon I reach Doris, who picks me up on the way and leads me to Großseenbach. Once again I was wrong, I thought it would be flat or uphill after the village. But we descend almost 200 metres in altitude, help, I would have to climb that again the next morning … But I ignore that for the moment, the delicious hospitality and the pleasant night's lodging, the refreshing shower and also the thought that my bike would also be well looked after on the next kilometres let me close my eyes calmly.
Day 5, Thursday, 6 July
160.79 km/ 2,766 hm/ 11:40 h
Now I have to climb the metres back up to the track, good to wake up. I can't even think about how many metres in altitude I'll have to climb today. The last few days were filled with pushing and riding uphill without end. My legs feel heavy today, I can feel every little incline. The coffee stop at the petrol station in Erlangen wakes my spirits a little. However, in the next forest, on a 10% incline, I am even overtaken by a jogger. Whew!
I almost don't find my way up to CP2. First a mistake, because I continue comfortably up the gravel road and miss the entrance to the single trail. I guess she can't read no-driving signs. It's my own fault. So I go back and take a kind of pump track towards the Neideck ruins. Now I scrupulously follow the instructions, with the result that instead of taking the normal route to the castle, I brake my bike down a narrow, extremely steep footpath and then have to heave it back up over roots, risking a fall.
Now we continue through Franconian Switzerland with its rock formations hidden in the forest. First the forest road is closed due to logging work. Where am I supposed to divert? I consult the Garmin.
Now it's a pleasant ride for many kilometres on a cycle path along the river Wiesent. The next "mountain" is near, before that an open-air lunch with hummus and delicious olive bread from Doris. Strengthened, I cycle up again in the heat. My legs are like rubber, I have to push. What? With this little bit of incline, I have to walk? But my glance at the display of my Garmin confirms 18% and it's getting even steeper. My perception is probably a little disturbed.
I have to go through Bayreuth. There is a nice cycle path along the Red Main. But there are far too many people here. It seems dirty to me, although that's not true at all. In the past four days, I must have pretty much become a "nature boy" or rather a forest girl. I'm happy when I'm allowed to dive into the cool woods again.
An iced caffeé on the way before Bad Berneck. The cool treat (almond and melon) tastes like real Italian "gelato", the latte macchiato (with two sugars) awakens my spirits. I am allowed to sit down at the table with Jürgen and we start talking. Together we ride for a while. He tries to explain to me the advantages of an e-bike. I have the pleasure of a test ride on Jürgen's bike, the poor guy has to ride up the bumpy and blocky path before Gefrees with my pack mule, which he does without grumbling. Then, after a "bump", we have to go back and turn into an impassable single trail. Once again a huge fallen tree blocks the way. Jürgen helps me get my bike over it, I probably wouldn't have made it alone. Another short chat and I'm alone again. Thanks, Jürgen, for the entertaining company! Alone in the forest again. I hear the noise of chainsaws. With a "hello" I try to draw attention to myself. Had there been a sign somewhere? I didn't see anything, but my path had brought me through overgrown wilderness with fallen trees, so no one was walking there normally. The noise died down, I heard the sound of hammers, as if a wedge was being driven into a notch; fortunately I stopped, because by then I could hear a huge "whoosh" and not far from me the top of a large tree hit the ground hard. Oh oh! Lucky.
The e-bike ride must have saved me some "energy" and after shopping at the Aral petrol station in Gefrees, where I stock up for breakfast, I make it over the Großer Waldstein in the now cooler evening and tackle the next climb. The following observation is interesting. After getting back on my own bike from the e-bike experience, I had the feeling on the climbs that the bike was pulling away on its own, similar to walking over a swaying bridge and feeling the ground sway on dry land. Well, it's a pity that this feeling gave way to the tedious uphill ride again a little later.
I had already chosen a place to sleep on Google Maps, the Kornberghaus. A fairly new restaurant next to a ski lift, now closed and deserted. For me, pitching my tent here meant not camping in the middle of the forest, so I didn't feel so unprotected.
But what was that? As soon as I settle in at home, millions of tiny midges familiar from last year's GB-Duro of Scotland buzz around. Unpleasantly, the little beasts buzz around eyes, nose, ears and other unprotected body parts. Mosquito repellent doesn't help. I am pelted with little bites, the skin does not swell up like after a mosquito bite, at least not yet. Again and again I run frantically back and forth between the bike, which I had placed against the wall of the house, and the campsite. It only takes a short time for the creatures to get me again. I have to lead the animals around by the nose so as not to be chased when I enter my four walls. I'm glad when I'm lying in the tent and have my peace and quiet and happy that I didn't opt for the bivouac sack at home.
Day 6, Friday, 7 July
135.25 km/ 2,373 hm/ 10:00 h
I sleep quite well until, at dawn, I hear a door somewhere and voices moving away. I guess I wasn't so lonely after all. Or was I dreaming? I pack. The Midges are probably still asleep. I take my time over the next few kilometres, hoping not to be too early at the bakery in Rehau, which is 2 kilometres off-road. But don't worry, I need an above-average amount of time for the 10 kilometres, I keep going on trails through the forest, several times I get lost because I don't notice that I'm going from a gravel road to a single trail. I hear a strange noise in the forest, similar to machine noises, sometimes louder, sometimes quieter. I think I'm hallucinating, but then I find the answer to the riddle: I'm not far from the motorway and there's already a lot of traffic there at 6am.
I decide to leave Rehau on the left and head for the next village. Suddenly a large black dog sits in front of me on a narrow, rooty and blocky trail with its back to me. The dog's owner is 10 metres away. What should I do? How do I make myself noticed? How will the animal react? I say "Good morning" loudly, but my master probably doesn't hear. But the huge dog comes galloping towards me. Tail wagging! Fortunately, Fritz, as he is called, is friendly towards me.
Breakfast in the forest with buttered pretzels from yesterday and an unchilled iced coffee drink. The very thought of "ice" makes me shiver. It is very fresh – just 7° Celsius. I wear a down jacket and consider putting on my thin woollen gloves, but that would be too much in the middle of summer. On we go. A path filled with fresh gravel has to be mastered. My front wheel floats. I only see a wheel track, which means it's very fresh.
Soon I will cross the Czech green border for the first time. For the umpteenth time I ride the wrong way, the next single trail turns off almost parallel to the gravel road and by the time Gabi and the Garmin get there, Gabi has already passed. I think I'll easily make the 1700 km to Cape Arkona.
I change after a short Czech intermezzo back to Germany and breakfast in Adorf is announced. What probably thinks in the supermarket the baker's wife at the counter of the "torn" looking woman with helmet and not quite clean bike clothes, who orders in a foreign language, namely not Saxon, coffee, old German curd cake, a poppy seed crumble slice, two pretzels, and a sandwich? I am eyed suspiciously and not very friendly. I am in the Vogtland, driving close to the Czech border, which I will cross again and again. Was it in the morning still under 10 °, so it has now on the ascent already over 28 ° and it goes the next 50 km always up to the highest elevation of the entire tour, the Fichtelberg.
But first there's a lot of forest again through the Saxon forests, interrupted again and again by pretty little single trails. With a light MTB, it would be totally exhilarating, but this way I'm rocking a bit heavily through the area.
After a slow start in the morning, the journey continues at a brisk pace. Soon I'll be crossing the border again, where I'll probably have to refill my water tank in a town. I don't know how far I'll get today.
Johanngeorgenstadt is a mountain town in the Erzgebirge district of Saxony. It lies directly on the border with the Czech Republic. Coming from endless kilometres through the Saxon forests, I am struck at first by the sudden hustle and bustle and the many souvenir shops and duty-free shops at the entrance to the town. I go round the roundabout three times until I decide what I want to do. I buy some water in one of the shops and flee the hustle and bustle.
The climb to the Fichtelberg, expected with some trepidation, is milder than expected. First a moderately ascending tarred road, then further on a pleasant gravel path. A nicely carved bench invites you to linger and I sit down in the shade to eat up the last of my supplies. Wait, no, first it's my bike's turn, the chain urgently needs oiling again, so apple and bread will have to wait. A little further on, I use a small stream to cool down and clean my pro calibre. The last few days had left their mark, the colour of the bike was hardly recognisable.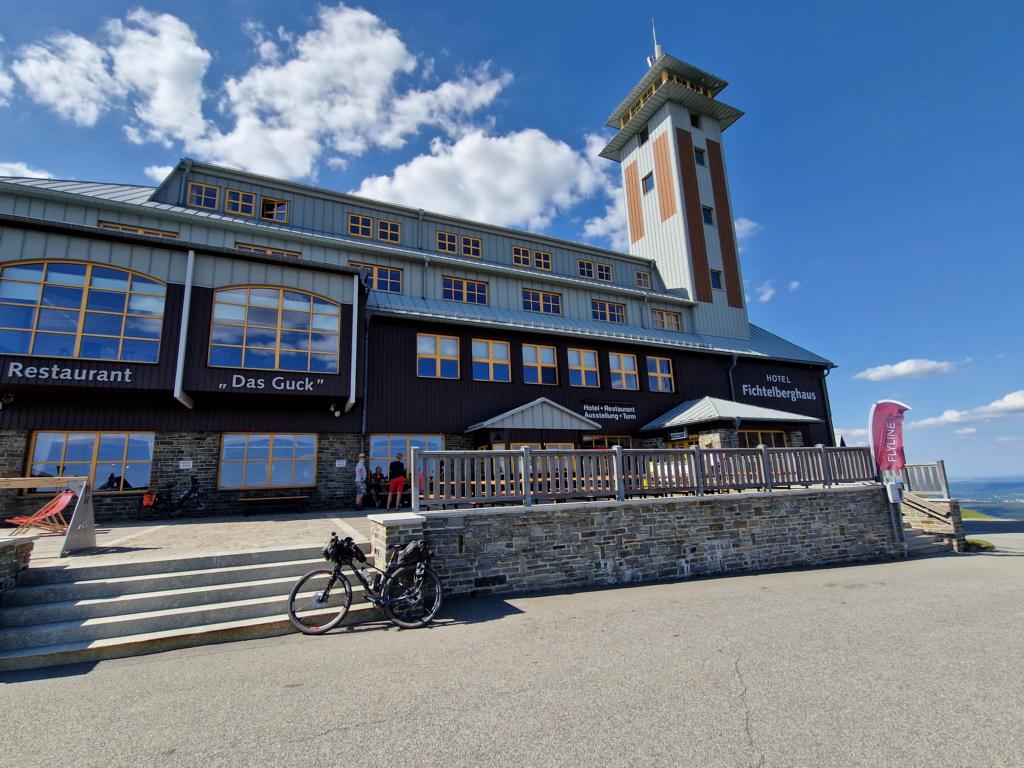 The last few kilometres I have to push again, the rough ground and the steepness of the path hurt, especially when a fine asphalt road leads up five metres away. But cheating is out of the question. I am rewarded on the Fichtelberg with a fantastic panorama and the prospect of a delicious meal, stuffed peppers with mashed potatoes.
Since I have to wait a little for the food, I use the time for personal hygiene. I wonder if the sanitary facilities of the restaurant had ever seen that. The woman really washes her feet, socks and hair, what a surprise! And the flooding under the sink, luckily no one saw that. I even have to visit the men's room for a while, because the paper towels on the women's side have run out. Clean at the table again, dinner is also there. It tastes divine.
Full of energy, I then set off on the downhill. In the truest sense of the word, it's a steep descent over hill and dale. And then I see them: the yellow course signs of the Stoneman Miriquidi. It feels like home, because we've already done the Stoneman Gold at my place, in Sesto. Bea (Sportmiez) had contacted me, she wanted to intercept me somewhere, she was doing the Stoneman Miriquidi today, I knew her from the Trans Balkan Race. But apparently I'm too fast.
In Bärenstein I have to fill up my reserves. I don't know where to put all my things. The town lies directly on the German-Czech border, the borderline is the Pöhlbach and the town is divided in two, so to speak. I now cross over to the Czech Republic for a few kilometres. Lonely forests await me here, I feel a bit queasy because dusk is not far away, the forests are gloomy, the paths are in such a state that I can only progress slowly.
At first I wanted to drive to a picnic area by a pond, but then I decide to spend the night in Jöhstadt at the Schlösselmühle bed and breakfast. But will I get a place? According to the booking, the place is fully booked, nobody answers my call, the last attempt is to ring the bell at the back of the building. With success. The landlady comes out of the garden. Yes, she had one room free, the others were occupied by a wedding party. I fear that it would be fun at night, but driving on is not an option. I don't hear anything from the wedding guests, but my sleep is a little restless, because in the middle of the night my ankles and wrists start to itch. Interestingly, the allergic reaction to the Midges stings on the unprotected areas from camping at the Kornberghaus earlier occurred late.
Day 7, Saturday, 8 July
149 km/ 2,400 m/ 10:50 h
soon it will continue …
My watch wakes me up at half past four, I have permission to make myself a coffee in the guest room, eat some of my purchases in Bärenstein and am on my way again shortly afterwards. Today it's not as cold as yesterday, even in the forest the air is warm. I am curious to see how the temperatures will develop today. I don't foresee anything good. Kilometres of single track through a kind of moorland, followed by a Waalweg. The path is nicely rooted, so I have to be careful not to end up in the water.
Then I am at the lake where I actually wanted to camp. I was on the road for two hours, so it was good that I chose the guesthouse. There are mosquitoes here too. After a short break, the next stop is Olbernhau. After that, there's nothing for 100 kilometres. I had arrogantly thought at the start that I would be there long before seven, but now it's already half past seven. The routes are difficult to assess.
The next big goal is to be in Bad Schandau before 8pm, because after that there is no more shopping for almost 140 km.
I decide to leave Olbernhau on the left, as it is off route. I still have some food and soon I reach the spa town of Seiffen, where there should be a bakery. It "hurts" a bit that the centre of the village is about 100 m below the route, but it's worth stopping at the Schmieder bakery. Very nice shop and delicious breakfast. I also stock up on cakes and breads, because there probably won't be anything for a long time if I don't reach Bad Schandau on time. And tomorrow is Sunday, so there won't be anything. So it remains exciting. I had read about the poor supply situation in the east beforehand, but I'm only now really realising it.
The route continues through forests and wide, cross-border hiking trails through Saxony. Interesting detail: at the side of the path are hundreds of small white plaques with the names of newlyweds on them. Is that the custom here? Maybe it's supposed to bring good luck. I wonder if all the couples are still together, the oldest signs have been there for over 20 years.
Over a bumpy single trail I change to the next fine gravel path and am held up by a young couple with gravel bikes. They ask me if I have a suitable Allen key. They had ridden over a drawing pin, of which there were several, and now the tyre was flat. We chat a bit, then I take the precaution of pushing a bit. Tacks … Who would think of such a thing. Now the road near the border changes to the Czech Republic. The roads become bumpier again, it is not possible to move forward quickly. In addition, there are again several "stalls". We also pass through beautiful but sun-exposed upland moors. The sun burns down from the sky. A small bathing lake along the way comes in handy. We quickly get out of our clothes and scatter them on the ground, and into the fun. A welcome cooling in the heat. But how do I get out again? Without anything on … Not everyone bathes naked.
Now about 25 kilometres, as the Italian ciclisti say "falso piano" … so it looks flat on the map, but is always slightly uphill, here on the map slightly downhill, but feels like a climb over turf, single trails. A bit tedious.
Near the border, the eagerly awaited first rock formations of the Elbe Sandstone Mountains. Spectacle. And soon I reach CP3, the Katzstein. Fifty steps lead to the top of the rock, and you absolutely have to have a head for heights to scramble up the steep ladder and, above all, back down again. Under no circumstances should you allow yourself a misstep. Besides, there is no one around and an accident would not be noticed for a long time. I eat my crumble cake, which I have been carrying around all day.
That is once again the basis of a scientific study. Question: What becomes of a prism-shaped piece of crumb cake that bumps along single trails all day? Exactly, it becomes other geometric figures, namely spheres. And addendum, kefir that's been churned all day turns into a butter-like mass, but still delicious. After all, you don't treat yourself to anything else …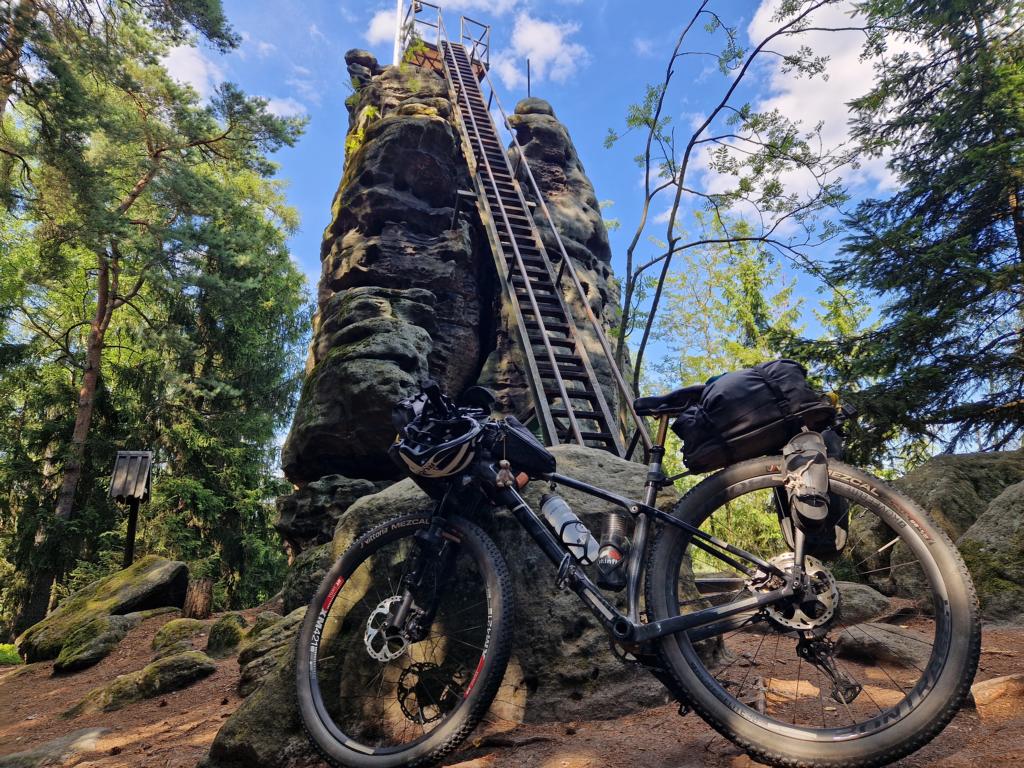 After a short stretch of pushing through the forest, now a quick 10 kilometres to Bad Schandau. I look for the supermarket and again get pitying or uncomprehending looks. I can't fit all the things I've bought in, and I need a lot of water for the next day. Good advice is now expensive, I look around for accommodation. Sweaty as I am, I long for a cool shower and freshly washed cycling clothes.
Everything in Bad Schandau is fully booked, even in the immediate vicinity. Resigned to my fate, I drive on. Then I'll camp, but where? First my way leads through a gloomy valley, past a huge historic factory building, the Kohlmühle linoleum works. Impressive. It gets lonelier and lonelier. I am now really worried about the coming night. Unexpectedly, it gets lighter again, a village, Lohsdorf, lies ahead of me and a bit off to the side a picnic area. Yay, this seems to be the ideal spot. I pitch my tent, somewhat hidden behind a table and bench, prepare my dinner, a Greek "salad" in the form of a packet of feta, a cucumber and a small box of cocktail tomatoes. For dessert I have semolina pudding. Yummy!
The sun sets, I talk to Hermann on the phone and after a little cat wash I disappear into my four walls. Good night! The last thing was a bit of bad luck: while pitching the tent I step on a peg (no, not on a fish), a thick drop of blood runs from my toe, the plaster doesn't stick and when I slip into the tent I notice a puddle under me … Help, am I leaking? No, the hydration pack had slipped under the mat and the mouthpiece wasn't closed. Crap. Then I'm soothed by the thought that I'm sleeping right here, where my little tent is, at kilometre 1000.
Forewarning: What comes next sometimes sounds unspeakably difficult and sometimes sucks. BUT I must say in advance that most of the sections are beautiful and fine to ride.
Day 8, Sunday, 9 July
171 km/ 1,600 m/ 10:40 h
Alarm clock at 4:45 a.m., there was music somewhere in the distance at night. Disco? It is now 11°, at some point I had started to shiver, pack, breakfast and off we go. Today the last "mountains" are on the programme. Today, Sunday, everything is closed, let's see if I can find something to eat somewhere. Yesterday I forgot to charge my smartphone on the way and then discovered that the powerbank I had brought with me was empty. The same thing happened to me during the Trans Balkan Race.
Forests and fields alternate, we now cross the Czech border again and there are a few single trails today. In a small village I see a man with a shopping bag and two yoghurts in his hands. When I ask him if there is a shop open today, he says yes and points in the other direction. Delighted, I set off, one kilometre, nothing, two kilometres, three … still nothing. So I go back, he probably didn't walk that far. What a pity, I would have liked to replenish my supplies.
The mountains today are tough. 114 metres in altitude, which would be easy for us, but here it feels like Everest, it's so steep that I have to push. All around me there are nettles and climbing plants, who knows how often these paths are used. In addition to the many mosquito and midges bites on my legs, I now have various injuries from plants.
On the penultimate rise, I don't get breakfast at the buffet in the Biehleboh Inn without a reservation, but I can buy drinks and strawberry cake. Very tasty. And the coffee awakens my spirits, which had somehow been lost by the difficult climbs here, and I had to climb over a few trees again, which was very sweaty. I have to go on, it's very hot today.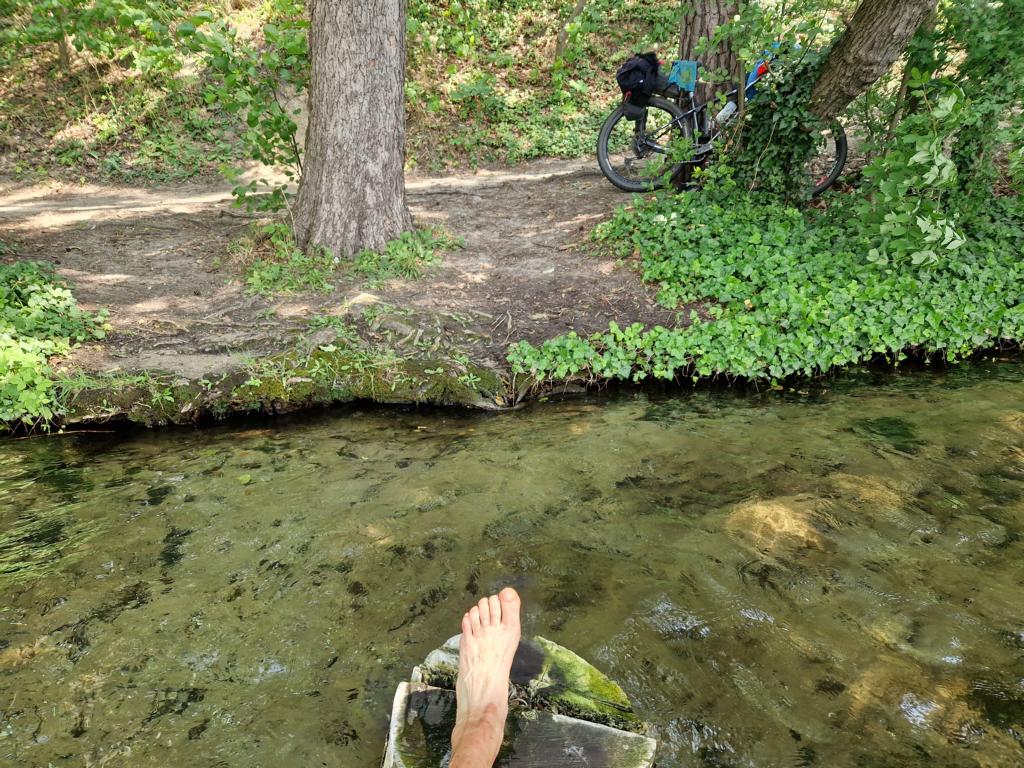 The last climb, pretence of false facts, Garmin says "climb completed", I first go wrong, as I take the way down, back again. It goes up an overgrown footpath, it's extremely hot, without a breath of air and that after I had already pushed for over a kilometre and climbed over tree trunks, but then the moment finally comes: I'm at the top of the last hill. I had been looking forward to the descent, but there are large branches on the overgrown path and thick tufts of grass require concentrated riding.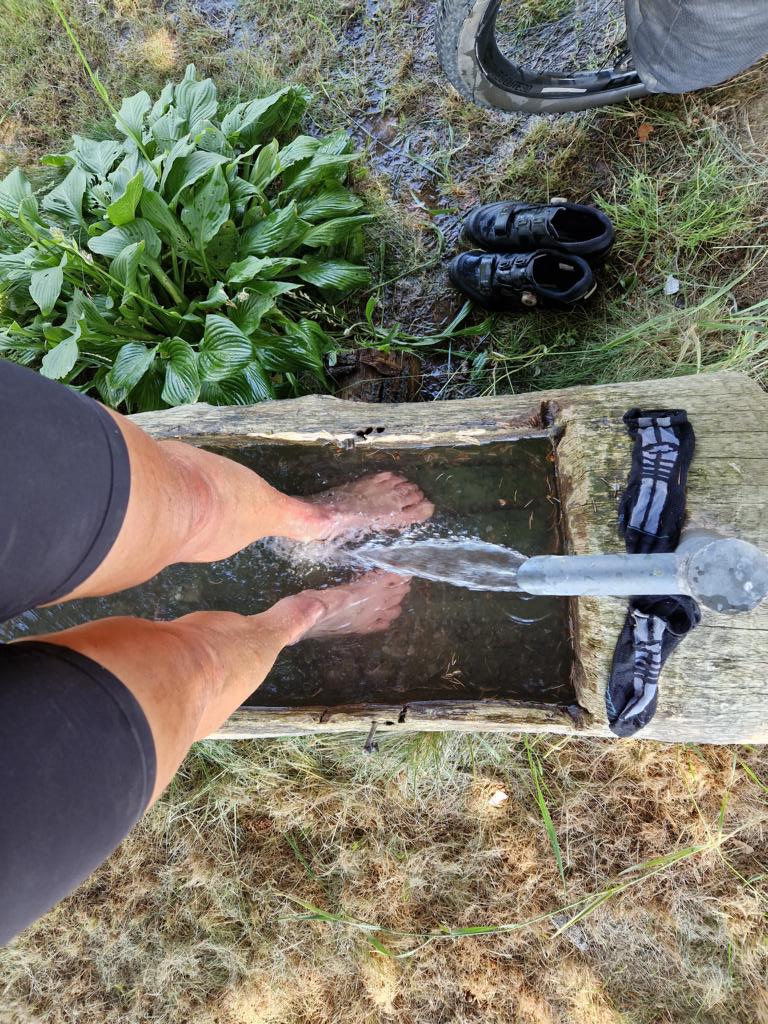 At some point it gets easier and I pass a fountain. Not drinking water, but I take the opportunity to stand in the ice-cold water of the fountain and numb the skin of my legs a bit, because almost the entire open area is covered with pustules, wheals and scratches and it itches terribly.
Cycling through fields is also hot, but at least the wind cools down a bit and then the first sand track. That will be fun.
In Dauban I stop for lunch at the "Grillhaus". The Iranian chef prepares me a fabulous salad plate with halloumi and falafel. The whole thing is rounded off by a latte macchiato with two sugars and an ice cream.
Not long after my lunch break, I cycle along a flat asphalt cycle path and end up almost directly at the nudist beach at Bärwalder See. Great! Now I don't even have to get out my bikini. It's fabulously refreshing and I don't want to get out of the cool water. The sparse pine forests of Upper Lusatia, which I now cross, provide hardly any shade. I pass the Ravensbrück memorial, sadly known as a women's concentration camp.
Then it gets greener again. Bad Muskau with its unique parks in the style of English landscape gardens. On the outskirts of the town begins the Muskauer Heide, an extensive wooded area that became the first territory of wolves reintroduced to Germany in the second half of the 1990s. Fortunately, I had no encounter with the large predators on my lonely drive.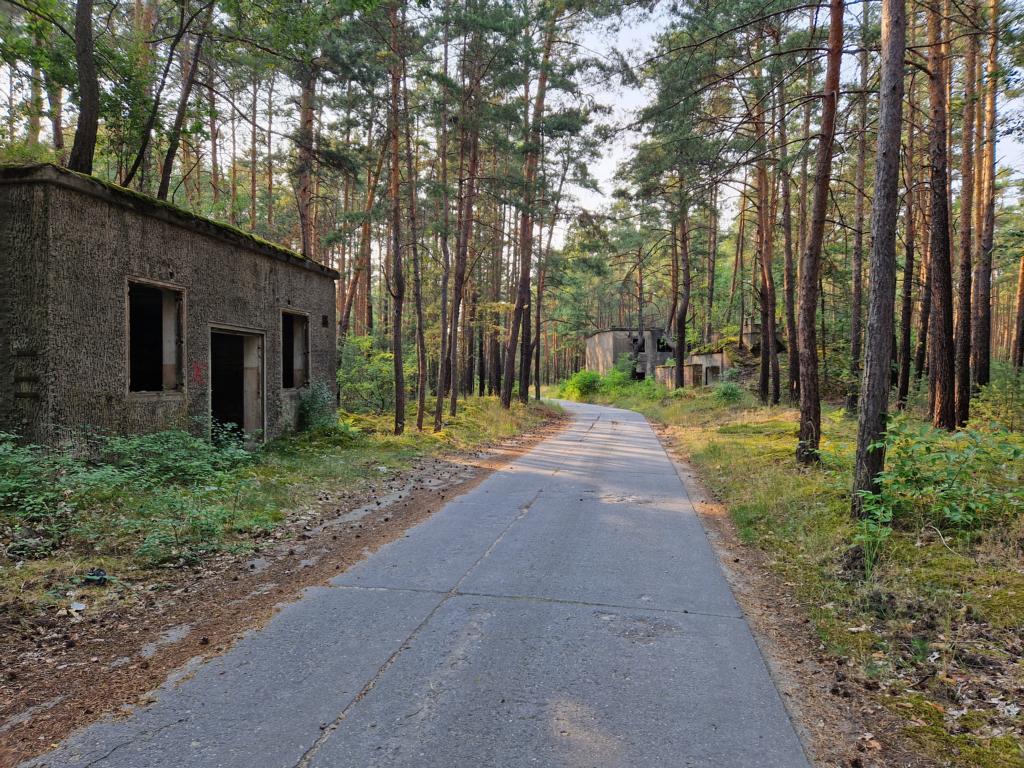 Now I have to cross the German-Polish border and ride a good 30 kilometres always close to the river Neiße, which marks the border line. It is very lonely here. A long sandy track. Sometimes it throws me off my bike, then I have to push a few metres out of the deepest sand. If I'm lucky, there are tyre tracks from a car, the sand is a bit compacted there. If it is already a bit scary for me here, the last 10 kilometres or so, which lead through the forest on a bumpy slab track, are a step up from terrifying. What I see here is ghostly: countless dilapidated buildings duck into overgrown hollows in the pine forest. The empty window holes seem to stare at me. Despite the heat, I shiver. I decide to research* at home what this demonic area near the German border is all about. I am relieved when I get near Forst and then, after a stop at a petrol station, cross the German border again.
In Forst, I actually wanted to go to a restaurant I had spotted on Google Maps, but there is no bridge over the Neisse from Poland here. It would have meant a long diversions. So the Polish petrol station with an attached shop is an absolute must, because the next day I have to cycle a good 100 kilometres until there is another supply possibility.
Research: The eerie forest is the Forst-Scheuno explosives factory, an explosives factory built during the Nazi era in 1938. It was used to manufacture ammunition from nitroglycerine. The 550-hectare site comprised about 400 buildings, 80 km of roads and 36 km of tracks.
Starved, I eat my way through the petrol station's assortment. The two Polish women treat me very condescendingly and unfriendly and seem to make fun of me. Stupid turkeys, Stephan felt the same way a day later, he said they were just stupid. Then pleasant kilometres follow on the Neisse cycle path.
At sunset, I arrive in Grießen at CP4, the huge site of the Jänschwalde open-cast lignite mine. Lignite is mined here over an area of 60 km². Only in the distance can I see the enormous mining equipment.
I am here according to plan, because only 5 kilometres further on I have already scouted out my sleeping place for today – a shelter near Taubendorf. I don't find a shelter, but I do find a picnic area. I pitch my tent at the back of a small open-air stage and even have "shower and wash facilities" with a water tap. So I even use the washing line I brought with me. I am alone, not a single villager shows up. I am lulled to sleep by the quiet "noise" of the harvesting machines in the distance. The grain harvest goes on until around 11 pm, when it gets dark.
Day 9, Monday 10 July
174 km/ 900 m/ 11:30 h
Right on time for dawn, before 4 a.m., work continues diligently on the many hectares of fields in the neighbourhood. Time for me to peel myself out of my sleeping bag and start packing. Breakfast before departure. The supposed drinking yoghurt from the petrol station yesterday turns out to be strawberry milk, pink and similar in taste to the toothpaste from my childhood. Horrible!
Soon the first failure, my path branches off to the left into a dense bush of stinging nettles. It goes uphill on sand, a tree blocks the way, I have to heave my bike a few metres up the slope, around the tree. Then the next one. My legs are scratched and bruised. Now comes another somewhat scary part. It's through the forest, decaying supports with rusty barbed wire on the left, more trees fallen across the path, ground churned up by wild boars, a white skull gnawed clean lying around somewhere. I can only make out three wheel tracks in the grass and moss. I don't think anyone but us ever passes by here. Quickly on!
It starts to drip. Then fields again. In the distance I see large grey birds strutting around, cranes, I later learn. Then forest and sandy track again. A big timber truck in front of me, he doesn't see me, I can't get past. Sand, sand, don't go in too fast, the front wheel lurches, the back wheel drags and you stand still without warning and it throws you off. After the sand, there are kilometres of gravel road that shake you to the core. Then another gravel-sand mixture. Ever since I left in the morning, I've been wondering what the trees with the big thorns on them are called. Now I remember: Acacia. I'm glad I have tubeless tyres.
At some point a deer crosses the path, then a second one. Right between an oncoming cyclist and me. We both brake and exchange a bit of information. It's a Belgian who is also on the BTG, but in the opposite direction.
Every change of direction is longed for, when it becomes more difficult, whether it is better or worse after the next junction will then become clear. Now just two kilometres of single track around a lake. Fine, but lots of obstacles and a lot of pushing, carrying and riding. In the distance it starts to rumble, thunderstorm? I pass a sign in the forest "Wolves are also looking for food in this area, keep dogs on a short leash, please supervise children" Oh oh! What about women cyclists cycling alone through the forest? Should I have my pepper spray ready?
Again and again, absolute "will breakers": you only move forward slowly, have to dismount again and again and push out of the sand. This is not how I had imagined riding after the mountains. I'm on the road for two and a half hours and I haven't even done 30 kilometres. I already suspected that I would wish for the mountains again. It goes up and down again, and level here, but at walking pace. Exhausting. I look forbidden by now, covered in bruises, scrapes, stitches. No wonder the people in the supermarket in Fürstenwalde look at me so strangely. Another 10 kilometres of single track, really nice, the only annoying thing is that when you slow down or have to stop to open and close a gate, you are attacked by countless mosquitoes.
There are many lakes here. Another one. Quickly clean the bike, body and clothes, especially the socks are in desperate need of it, then quickly jump in naked before someone walks by. Today is really lake day. Sometime in the late afternoon I post a message in the WhatsApp group that I don't like single trails any more. Then, at some point, there is a small village on the route. Frustrated, I want to find a cosy place to stay, I don't want any more terrain and mosquitoes. But a glance at my watch tells me it's still too early. Actually, the planned end point today would be a guesthouse in Joachimsthal. I should reach it to catch the last ferry in Aalbude at 8pm the next day. So on we go. It's business as usual, lots of lakeshores, lots of jungle.
Two hours later, however, I give up. No matter, then not Joachimsthal. I phone a hotel near the Niederfinow boat lift. Luckily they still have a room available. They serve dinner and I even stay until breakfast. There's no time to get to the eel shack anyway. But that's not so bad, because there's an alternative route. But who voluntarily drives 13 kilometres more than he/she has to?
Day 10, Tuesday, 11 July
184 km/ 1,100 m/ 10:40 h
After breakfast I cycle past the ship lift. The Niederfinow ship's hoist, commissioned in 1934, is the oldest ship's hoist still in operation in Germany. Next to it is a new building from 2022 that can lift even larger ships 36m. The enormous structures make it possible to connect the Havel-Oder waterway. The water trough is over 100m long, about 30m wide and 4m deep. It is unimaginable to me that large ships can be lifted about 40m with it. I would love to see it in operation, but I don't have the time.
Now it's off into the forest again. Something is new here and I will encounter it again and again until I reach the finish, especially when passing through towns: irregular angular cobblestones. The cars are probably supposed to be prevented from going too fast, with the MTB it is quite unpleasant, if there is no possibility to swerve onto grass or sand at the edge, then I am forced to go at a walking pace. I pass Chorin Monastery, church and buildings beautifully made of red bricks. Then cobblestones again. And there is even a mountain here. 8% gradient. But where it goes up, you can also roll down again. Relief for the legs, which otherwise pedal here under constant strain.
Without warning, another deep sandy section, then it goes up again, then I'm back where I left off yesterday, a single trail through the forest. Past Joachimsthal on a fine cycle path. I probably wouldn't have made it here before dark. Every now and then it goes uphill. Yes, there are hills here. In spite of the mosquito repellent, I'm immediately attacked by dozens of mosquitoes, and at the same time the sand sticks to my legs so nicely. Sand track: one and a half hours for a measly 15 km. Before that, in the forest, some kind of noise. What was that? A dog in this loneliness? Better hurry away!
Trees in the way again today, stop, lift over them. Caustic! Bramble vines scratch my mosquito-bitten legs.
Then I reached CP5, the Groß Dölln air base. At the time of its military use from 1955 to 1994 by the Soviet air forces, Templin was the largest military airfield on the territory of the GDR. Now the land is a solar park.
Alternative route due to lock construction. First fine cycle path, then sand as usual. My first fall. You fall relatively softly, but everything is full of sand. In Himmelpfort I stop at a fish stall. They serve delicious fish sandwiches. I make the mistake of not buying water here, now it's afternoon again and I'm almost out of water. I have 50 kilometres to go before I can buy anything again. I am just calculating how slow I am when I see a barrier in front of me because of woodwork, the road to the left is also closed. Passage strictly forbidden. What to do? My Garmin doesn't give me a clear diversions. I can't go back 10 kilometres, can I? I slip through and push my bike on indecisively. What excuse should I choose when I meet a forestry official? Tree trunks piled up next to the path, but far and wide not a soul. I hear machinery in the distance and decide to continue – there is no danger here where I am. After a short while I slip under the barrier in the opposite direction. Saved! Now I continue in the sun. It is hot and I decide to take a short swim at the next lake.
In Möllenhagen, about 40 kilometres before Aalbude, finally a supermarket. I take my time, eat comfortably, think about how I can stash all the stuff and have to repack several times. I need a lot, as there are no shopping opportunities on the last day. But I don't have to hurry, I wouldn't catch the last ferry anyway.
Shortly before 8 p.m., I am just outside Kummerower See. At the eastern end of the lake, the last ferry is just leaving. I could spend the night at the campsite. No one answers my call, so I first turn onto the single trail around the lake. I find a wonderful picnic spot, bench and table, mown all around, but in view of a bungalow settlement. I want to stay here.
I wonder if someone will send me away. After all, there is a campsite next door. Suspiciously, I keep looking at the houses in the first row, everything is quiet. First I eat my cucumber with tomatoes and feta, aka Greek salad. At sunset, I start pitching my tent, fixing it between the bench and the fence, as a strong wind has picked up. No one complains. Then "Good night!"
Day 11, Wednesday, 12 July
162 km/ 670 m/ 8:50
I don't want to arrive too late in Cape Arkona. So far, I've only thought as far as the destination, what comes next – I don't know. But better not to be there too late then. The wind had got a bit stronger. I have to struggle with my tent, sleeping bag and mat, which the wind wants to take over. The sky is leaden. I eat something and set off. Single track further around the lake. More pushing than riding. Past the harbour and the camping site. Then I hear it rumbling in the distance. The first ferry would not leave for another 4 hours, so I am probably forced to take an alternative route. The first drops. In Aalbude I save myself in a tin bus shelter. That's when it starts. It's the end of the world. Lightning from all directions, it starts pouring down. I feel a bit queasy, wondering whether the bus shelter would be like a Faraday cage in an emergency, since it's not closed all the way round. Now I'm stuck here. It's doubtful when I'll arrive in Kap Arkona, and it's equally doubtful whether I'll find a room. First I have my rice pudding for breakfast. What luck that I had put my tent together so early, a little later and everything would have been soaked.
The rain radar shows I am in the centre of the storm, but in about an hour it will all be over. When the lightning stops, I cycle on. My rain jacket and trousers are soon soaking wet. The alternative route has its good points, a lot of the road is tarred, and in Demmin I can enjoy a latte macchiato (with two sugars) and a croissant at the petrol station. I continue on a short stretch of forest road, and the bike is filthy in no time. In a garden I see a man digging and ask if he has a garden hose where I could clean my bike a bit. At first he looks uncomprehending, he's probably never experienced that before. Then it doesn't take long and I have to get off the cycle path again and cross muddy paths. Too bad, the bike looks like hell again. A stop at the cemetery and a superficial cleaning. Further on and mud again. I don't think there's any point in cleaning today.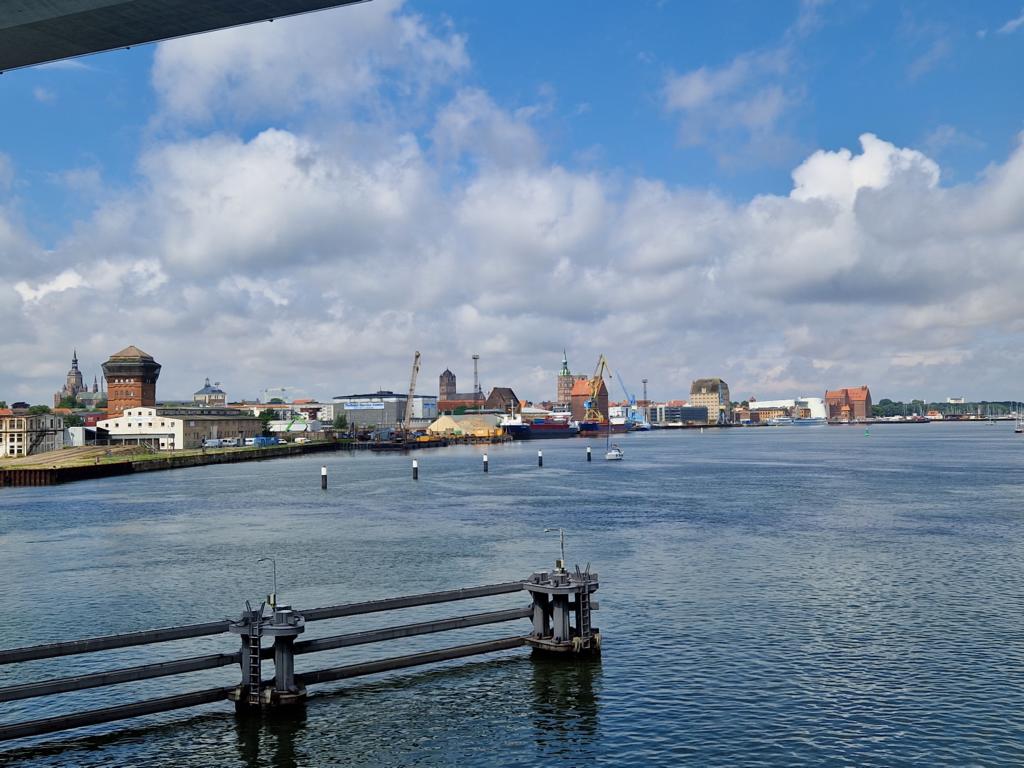 Today I make a little faster progress than on the last few days. In between there are cobblestones and sandy tracks. Before Stralsund, however, I can cycle for kilometres along a cycle path. In front of me is the high bridge over to Rügen. I puzzle for a while how to get up there, there were no signs. My trusty Garmin then shows me that I don't have to cross the Rügen bridge, but the Rügen dam right in front of me. On the island of Rügen, my front wheel reports that I must have hit something, air hisses out, but the sealant does what it should and the tyre is soon quiet again.
In the first village, my second cemetery stop today, the sky is now blue, the action could be successful, if I am no longer completely clean, then at least my vehicle should not be so unkempt as to drive over Rügen. I fetch a watering can, look for the water, find it at the opposite end of the cemetery, how impractical. The result is something to behold. Then I unpack my picnic basket. It is so peaceful and quiet here. A senior citizen joins me, he is visiting his wife. Now it is no longer so quiet, he tells me his entire life story.
On we go. I will easily reach the Wittower ferry. The wind drives me along the coast. The flagstone path jolts me a little. Suddenly a strange noise at the back. I stop and adjust my tailfin bag at the back. The attachment on the seatpost has slipped down a bit and it may have hit the tyre during a bump. Somehow, as I ride on, I feel that the bike "floats" a bit when I steer. I stop again and reach for the rear tyre. Oh, there's not much air in it. I take out the air pump. Something is not working, in any case the air hisses out of the pump hose and not into the tyre. Oh dear! I ride back, there was a pair of cyclists from Belgium sitting on a bench. With a borrowed pump, the tyre inflates nicely, but when we chat a bit more, the tyre is the same as before.
Apparently there is a hole that expands and allows air to escape until the decreasing pressure equalises again. I continue to drive. But what should I do if the air goes all the way out? I don't have a working pump. I can put in a hose, but will someone with a pump come along again? Will I make it to Kap Arkona in the evening? Fortunately, no more air escapes from the tyre, although I keep looking down suspiciously. In Wiek I make a coffee stop. Latte macchiato (with two sugars), poppy-seed cake, strawberry slice and bee sting. I had discovered that my smartphone is almost empty and may plug it in at the shop, but they want to close shortly. Then onwards. The Wittow ferry is not far, but I have a headwind. I cross from the south to the north side of the island and now there are only a few kilometres to go on a flowing, single-track path to Cape Arkona. Then I'm standing under the brick lighthouse. A little helpless.
A long journey with many adventures is over. It was a challenge to set out all alone and I am grateful that there were no technical or health problems. I am thrilled by the beautiful lonely landscapes that Germany has to offer. I have long forgotten the unpleasant situations.
The journey home will probably be the bigger challenge.
With or not with – that is the question here:
With 26 kg of bike and luggage I felt I had a lot with me, clothing-wise I needed everything, even the warm things. But I could leave a few things at home …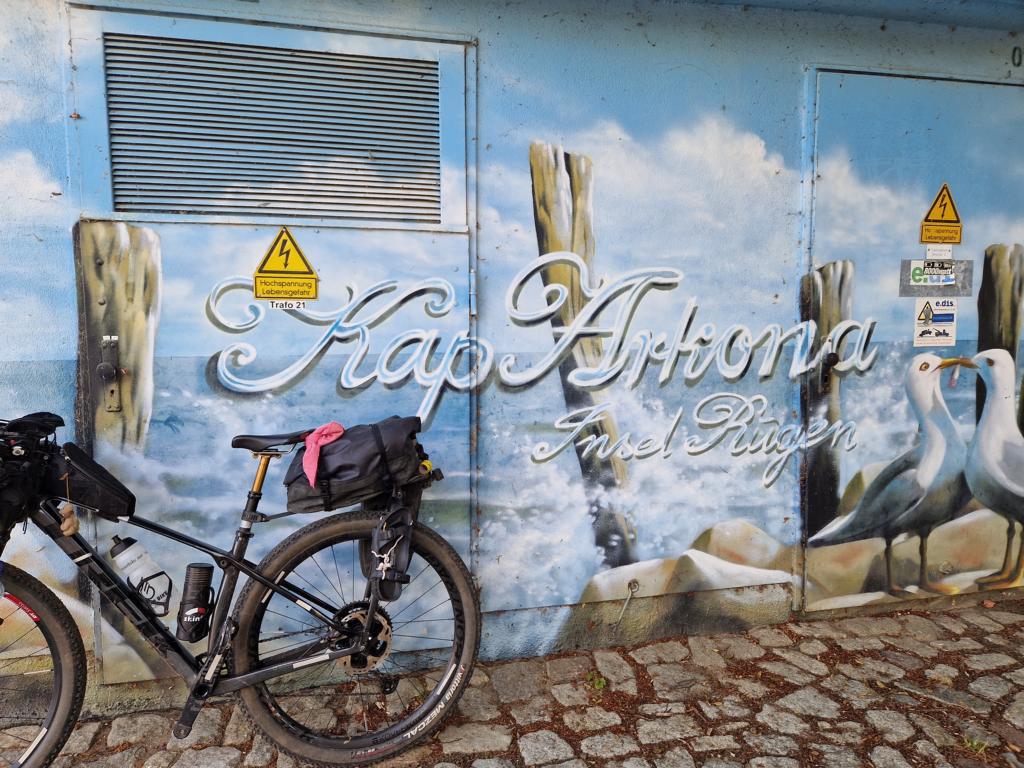 The things I've dragged along for nothing:
Powerbank that empties itself shortly
2x freeze-dried meal
Snickers, Twix, bars – after the hot days only oddly shaped heaps
Bear bell, jingled around in the bag with restraint
Bikini and towel – in the lakes I bathed naked or in underwear, in the heat you dry quickly without a towel
Fortunately not used, but it has to come with me:
Medication
Tools (except for an Allen key for others)
Air pump, didn't work in Rügen anyway