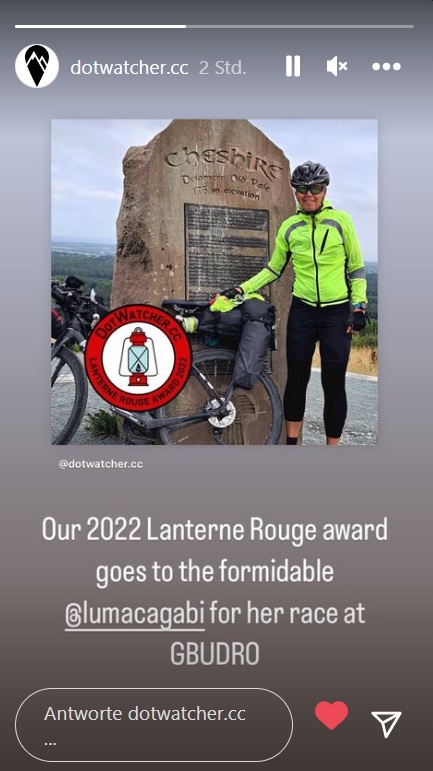 I was perplexed when Kitty from Dotwatcher.com* contacted me recently to tell me I was being nominated for the Lanterne Rouge Award. Should I be cheering? Should I blush because this might be embarrassing? But I consider it an absolute honour …
This is the text translated into German (Source: Instagram @dotwatcher.cc)
An award that shows the importance of pushing through adversity. Whilst every race has to have a winner, there is another position that many DotWatchers follow closely, the Lanterne Rouge. With rich stories and an unshakeable resolve, these riders often capture the hearts and minds of their followers both on the road and off.
This year a particular standout was Gabi Winck (@lumacagabi). Gabi took on the absolutely mammoth GBDURO, finishing last, however finishing a race with over a 50% non-finish rate. She made keen moves to each checkpoint, riding in treacherous conditions through the darkness and foul weather. Gabi's positive attitude and friendly outlook were welcomed at the checkpoints.
Gabi is no stranger to ultra-distance racing, finishing the Three Peaks Bike Race and the North Cape 4000. Gabi documents all of her adventures via her in depth blog and youtube channel which is both a reflection of her journey and an informative tool for any ultra-rider.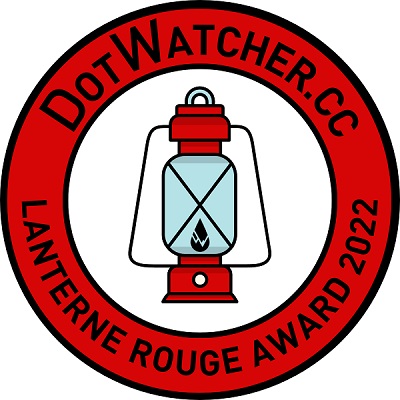 Gabi: 𝙂𝘽𝘿𝙐𝙍𝙊 𝙬𝙖𝙨 𝙩𝙝𝙚 𝙗𝙞𝙜𝙜𝙚𝙨𝙩 𝙘𝙝𝙖𝙡𝙡𝙚𝙣𝙜𝙚 𝙤𝙛 𝙢𝙮 𝙡𝙞𝙛𝙚, 𝙖 𝙡𝙤𝙩 𝙤𝙛 𝙙𝙞𝙛𝙛𝙞𝙘𝙪𝙡𝙩 𝙩𝙚𝙧𝙧𝙖𝙞𝙣, 𝙡𝙞𝙩𝙩𝙡𝙚 𝙨𝙡𝙚𝙚𝙥 𝙖𝙣𝙙 𝙡𝙤𝙣𝙚𝙡𝙞𝙣𝙚𝙨𝙨 𝙞𝙣 𝙖 𝙬𝙤𝙣𝙙𝙚𝙧𝙛𝙪𝙡 𝙡𝙖𝙣𝙙𝙨𝙘𝙖𝙥𝙚. 𝙏𝙝𝙚𝙣 𝙛𝙧𝙤𝙢 𝙙𝙖𝙮 8 𝙤𝙣𝙬𝙖𝙧𝙙𝙨, 𝙖𝙡𝙢𝙤𝙨𝙩 𝙚𝙫𝙚𝙧𝙮𝙩𝙝𝙞𝙣𝙜 𝙬𝙚𝙣𝙩 𝙬𝙧𝙤𝙣𝙜: 𝙘𝙧𝙖𝙨𝙝, 𝙛𝙧𝙤𝙣𝙩 𝙡𝙞𝙜𝙝𝙩 𝙗𝙧𝙤𝙠𝙚𝙣, 𝙗𝙪𝙛𝙛𝙚𝙧 𝙗𝙖𝙩𝙩𝙚𝙧𝙮 𝙗𝙧𝙤𝙠𝙚𝙣, 2 𝙛𝙡𝙖𝙩 𝙩𝙮𝙧𝙚𝙨, 𝙖𝙞𝙧 𝙥𝙪𝙢𝙥 𝙗𝙧𝙤𝙠𝙚𝙣, 𝙤𝙫𝙚𝙧𝙨𝙡𝙚𝙚𝙥𝙞𝙣𝙜 𝙖𝙩 𝙣𝙞𝙜𝙝𝙩 𝙖𝙣𝙙 𝙨𝙤 𝙤𝙣 𝙖𝙣𝙙 𝙨𝙤 𝙤𝙣.
𝙄 𝙩𝙝𝙤𝙪𝙜𝙝𝙩 𝙩𝙤 𝙢𝙮𝙨𝙚𝙡𝙛: 𝙩𝙝𝙚𝙧𝙚'𝙨 𝙣𝙤 𝙨𝙪𝙘𝙝 𝙩𝙝𝙞𝙣𝙜 𝙖𝙨 𝙜𝙞𝙫𝙞𝙣𝙜 𝙪𝙥, 𝙚𝙫𝙚𝙣 𝙞𝙛 𝙄 𝙘𝙤𝙢𝙚 𝙡𝙖𝙨𝙩. 𝙎𝙤𝙢𝙚𝙤𝙣𝙚 𝙝𝙖𝙨 𝙩𝙤 𝙗𝙚… 𝘾𝙤𝙢𝙞𝙣𝙜 𝙡𝙖𝙨𝙩 𝙖𝙩 𝙩𝙝𝙚 𝙂𝘽𝘿𝙐𝙍𝙊 𝙞𝙨 𝙨𝙩𝙞𝙡𝙡 𝙖𝙣 𝙝𝙤𝙣𝙤𝙪𝙧 𝙜𝙞𝙫𝙚𝙣 𝙩𝙝𝙚 𝙝𝙞𝙜𝙝 𝙙𝙧𝙤𝙥-𝙤𝙪𝙩 𝙧𝙖𝙩𝙚.
Don't worry, Gabi has already signed up for several 2023 events, there'll be lots to follow.
Congratulations to Gabi for our 2022 Lanterne Rouge Award, our award for the most tenacious rider of the year.
*Dotwatcher ist eine wunderbare Plattform für ultra-distance cycling-Berichterstattung mit einer tollen Gruppe von Expertinnen und Experten, die jedes Ultra-Radrennen genau begleiten und analysieren. Bei der GBDuro fand ich die Berichterstattung sehr motivierend (bis auf die letzten Stunden, bei denen alle Diskutierenden meinten, ich schaffe es sicher nicht mehr in der Zeit ins Ziel …)