deutsch …. italiano … strava … download GPX
Sounds good: 700 kilometres of gravel through the north of Italy, little altitude difference, lots of culture (Unesco World Heritage Site), even more nature along the rivers and canals.
And since I don't feel like sleeping all night after the GBDuro22 adventure, I start without any ambitions and with the intention of getting a good night's sleep every night. I exclude the tent, as the weather forecast predicts rain and cold. Pre-booked accommodation, a mere 200 km a day, that would be comfortable. Off to Caorle and off we go. The start area is not overcrowded, as it is the 01 edition of the Terrenobili and you can also choose the start window within 24 hours.
First, my video:
Some northern Italian towns should be visited, including Treviso, Vicenza, Padua, Verona, Peschiera del Garda and other towns with beautiful medieval centres such as Montagnana, Este, Monselice, …
Another characteristic of this first edition of the Terrenobili is that the route mostly runs along rivers and canals, which means a lot of gravel on dams, very few roads alongside, but instead, in addition to the gravel sections, cycle paths, some secondary roads and the odd single trail over hiking trails. There are hardly any particular difficulties.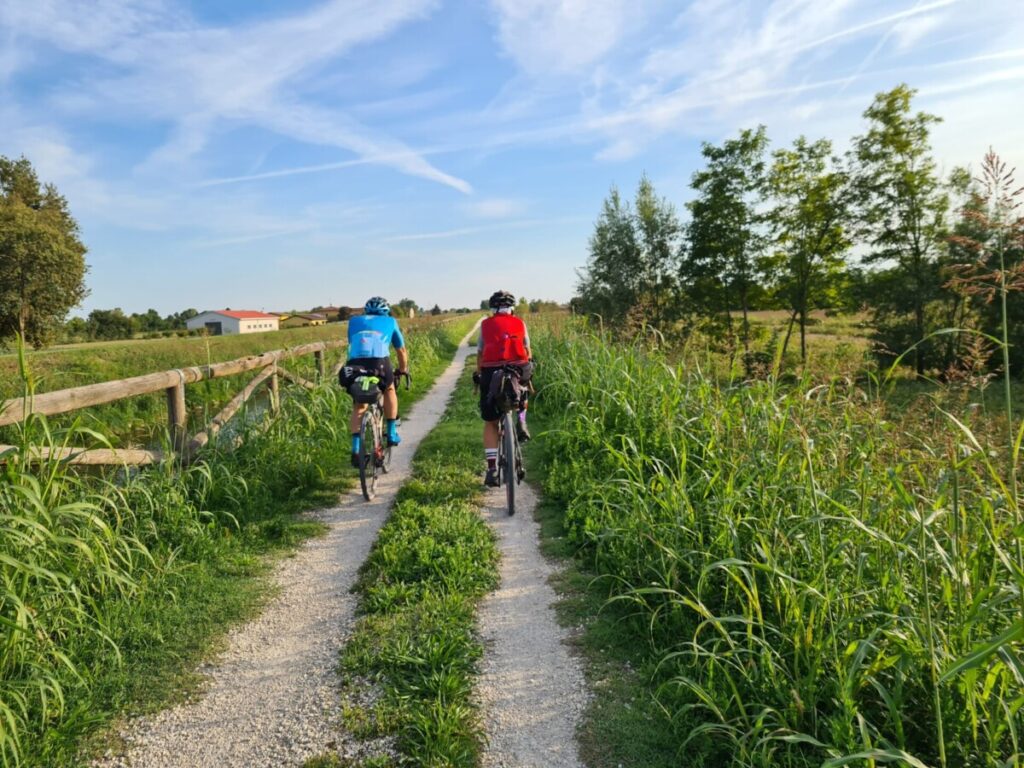 On the first day, I had 212 kilometres ahead of me and hardly any altitude metres. I met Marina on the way and we rode together from time to time, and we also met Mauro again and again. However, the many gravel sections lower my average speed, so that I only arrive at the Hotel Piroga in Selvazzano near Padua after dark, after getting the stamp on my brevet card in the centre of Padua.
The first day ended quite entertainingly with lots of chatting and exchanging stories, so I will be on the road alone for the next three days. Not bad either, you can do what you want, take photo breaks when you want. I don't like sticking to the tyre of another cyclist anyway, I like looking at the landscape all around and don't want to stare at the tyre of the man or woman in front all day to avoid rear-end collisions.
As I only have 190 kilometres to cover after breakfast today, I somewhat arrogantly wondered whether I would not be back at the hotel far too early today. This second day is characterised by a varied, constant up and down, interrupted by a few short but very crisp climbs; the "signature" of Giorgio Murari is clearly recognisable. The gravel sections also require more concentration today. And so it is not until late afternoon that I reach Lake Garda and head for the checkpoint.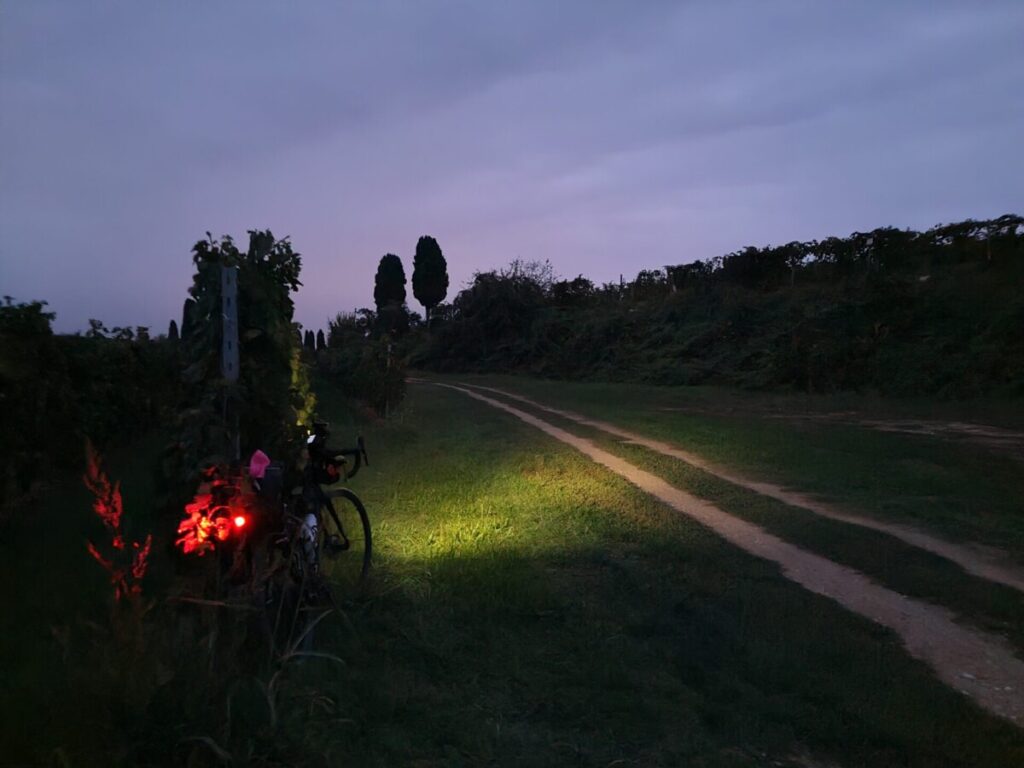 Unfortunately, I'm too early to get a few hours' sleep at our favourite bike hotel, Enjoj. So, after a snack, I now have to mount my lamps, because it is slowly getting dark and, moreover, thick dark clouds are looming from the sky. Not long after, the first raindrops. It's criss-cross through the terrain, the paths sometimes very stony. But eventually I arrive at my booked accommodation in Villafranca, Hotel Antares, much later than expected and completely soaked. I am so glad that I can now slip into a warm bed and that my first choice was not the tent.
Breakfast and on we go. Today "only" 180 kilometres. It goes through agricultural plains, which remind me a little of Spain with its many greenhouses. Then it's beautiful again, over lonely narrow paths on river embankments. The whole tour is characterised by constant changes of direction, it never gets boring and the navigation device had better not be left unattended for too long. A few "mistakes" are caused by my carelessness. I visit beautiful places with medieval centres, such as Montagnana, Este, Monselice. In Arquà, on the slopes of the Euganean Hills, I look for the house where Petrarch spent the last years of his life. There is a lot going on here. While a while ago I noticed the trees full of small red oval fruits, here I am told that the fruits are the giuggiole, typical of the area.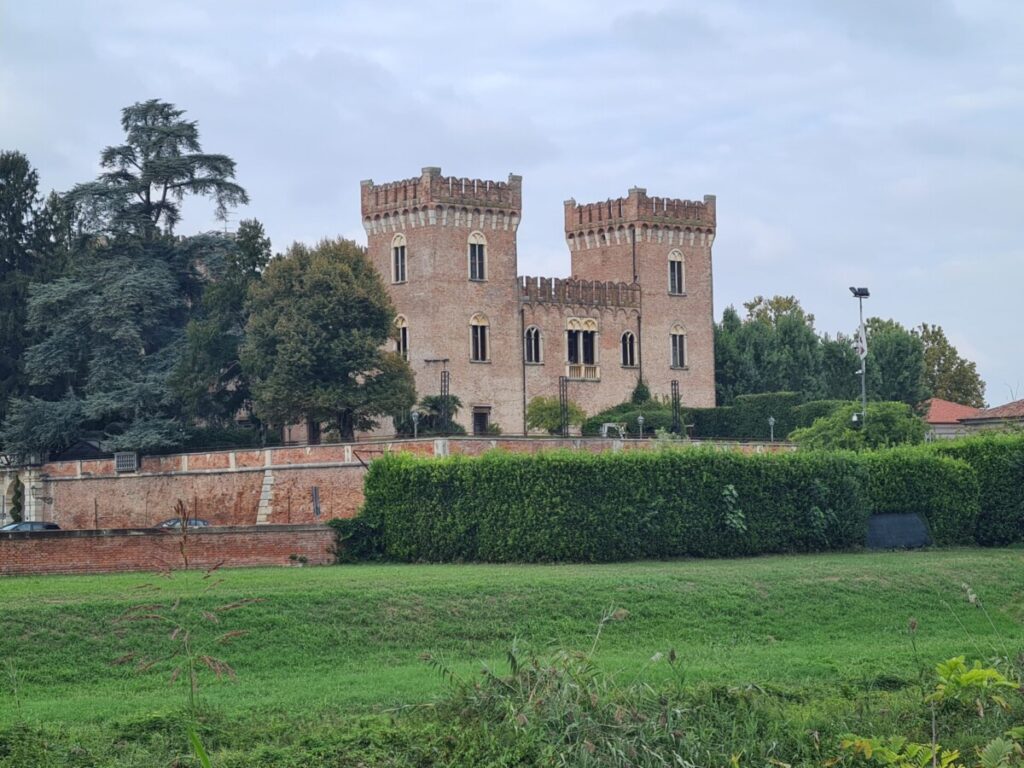 Die Giuggiole haben die Form einer großen Olive, haben auch einen Stein, haben aber einen dem Apfel ähnlichen Geschmack. Sehr lecker! Vor Montegrotto fängt es wieder an zu regnen. Nach dem Abstempeln geht es steil aufwärts. Der nun folgende Singletrail ist regennass und dementsprechend rutschig. Weiter um die Colli Eugnei und Richtung Padua. Nicht bald darauf wird es schon wieder dämmrig und ich komme punktgenau zu meinem gebuchten b&b, in Saonara, mit dem Namen burro & marmelata. Sehr nett werde ich von der Cheffin des Hauses umsorgt.
After a delicious breakfast with homemade cake and other delicacies, we set off again. 135 kilometres will probably be done by early afternoon. With a road bike that would be so …, but the gravel section is a real challenge and so I make slower progress than expected again today. But I'm not stressed and the Terrenobili is not a race after all.
Today the focus is on water again: from one river to the next, along canals and lagoons. Lots of nature again, very beautiful. As in the last few days, there is some wind, but it is hardly noticeable due to the many changes of direction. If you have a headwind, it soon changes back to a tailwind after the next river loop.
Entertaining to the end. Long kilometres within sight of Venice on a cycle path along the sea, then single track next to the Laguna del Mort, I pass Jesolo, Eraclea and am soon in Porto Santa Margherita, the destination. A wonderful journey comes to an end.
The organiser Massimo and Diego from the Gelateria 'La Fiesta' welcome me warmly. There is a beautifully crafted medal (which certainly won't end up in my box in the cellar!!). After hardly taking time to eat in the last few days, I now enjoy being spoiled with a super delicious toast and a perfect sundae.
I had previously thought that it was "only" 700 kilometres, but it turned out to be quite a stretch. My decision to cycle during the day was absolutely right, otherwise I would not have seen many natural and cultural beauties.
Massimo tells me about his plans for the future. The Terrenobili is to change route and also theme every year. This year, the different places with Unesco World Heritage Sites and the river courses … What will it be next year? Let's be surprised.
Here you will find the latest information: Terrenobili.bike
Preview 2023: The Terrenobili will probably take place next year under the motto le colline = the hills.