First my video …      italiano           deutsch            

Crazy? No, I feel neither as something special or even as a heroine. I'm just a normal person looking for challenges, maybe to make me feel "alive". With regular practice and the will for it ,it's feasible for everyone.
After I finished some Ironman distances, I found this rather normal and was looking for something special. I saw a television documentary of a crazy event in Norway: At dawn athletes jumped from a ferry into the black waters of a fjord in the far north. How amazing is that? On Facebook, I made the acquaintance of a triathlete who rocked the thing before. And at some point I had the confirmation in my hand: "You are in!" Now there was no turning back. In 2011 I started the Norseman and jumped with 250 others into the icy fjord. The conditions were dramatic: outflowing tide, which required all forces from us, wind, waves, and rainstorms. The bike route was 200km because of the changed swim start. The first 30 km in the pouring rain. Since I was at T2 at about 165th place, I didn't bother to chase an overtaking runner. I ran my own pace. While I was still in time when I got to the famous km 32.5 – I was the first athlete that wasn't allowed to go up to Gaustatoppen. The runner who had overtaken me earlier was the last person allowed to go up the mountain. I was devastated and I didn't have any joy with the White Shirt.
My husband had the suggestion to try it again the following year. So I jumped from the same ferry again in 2012. The water was freezing cold and I had cramps in my hands and feet. The biking part was good, I enjoyed the wonderful scenery. At T2 I was again only on place number 152 and some guys passed me. Crap, again only the white shirt? I slowly worked myself to the front and before the Zombie Hill I was ranked 142. I could hardly believe it. Again and again I had to look back, to make sure there was no group following me. And luckily there wasn't. At the "intersection" I was allowed through. The race wasn't close to be over, but the tension was going away. The black shirt was mine!
I had a year Xtreme Tria-break, because I got qualified for Hawaii at the Ironman Frankfurt.
Meanwhile, there was a new Xtreme Triathlon: the Swissman! I was allowed to start at the first official competition ever. The Norseman was hard, the swissman was harder! However, the race wasn't so stressful for me, because everyone could achieve the goal who made the time cut-offs. The setting was fantastic; I knew it already partially from the Inferno Triathlon.
Celtman, the third race of the mythical Three. A friend told me about it and I started to
daydream about it because of the nice website. However, my job didn't allow me to go to this competition the end of June. Unexpected I got the opportunity to go anyways but I didn't get selected. I was so happy when I received an email that a spot for me opened. I was a little naive, because I thought this race couldn't be harder than the norseman and the swissman. But I was wrong!
What expected me? The icy cold waters of Loch Torridon, a 200k long bike course in Scottish rain and wind? The run over the mountains was hard, but also the lower route wasn't to underestimate. I had doubts, especially if I could be within the time at k18 of the running track. My calculations showed that it would be extremely limited, especially if conditions are poor.
Swim:
The race morning – 3h in the transition zone in Shieldaig, a village on the Applecross
peninsula in Wester Ross on the west coast of Scotland – mythical like at the Norseman and Swissman. I had to say Goodbyes to my supporter. We got to the swim start with buses and the Water temperature and the jellyfish were as promised. Luckily I brought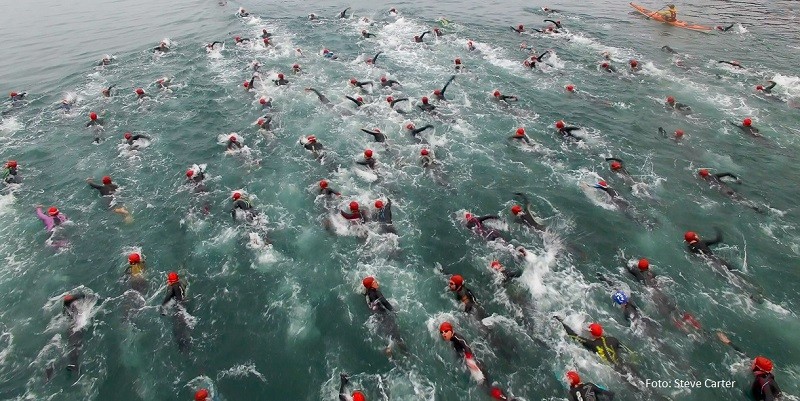 gloves with me which gave at least a little warmth. At the Norseman I had cramps in my fingers and they
stuck out like crow's feet and I couldn't really swim like that.
And the wildlife? I saw a couple of jellyfish underneath me. Very beautiful. Suddenly my hand hit a foot. "Sorry! " I didn't want to get this close to any swimmer. I was looking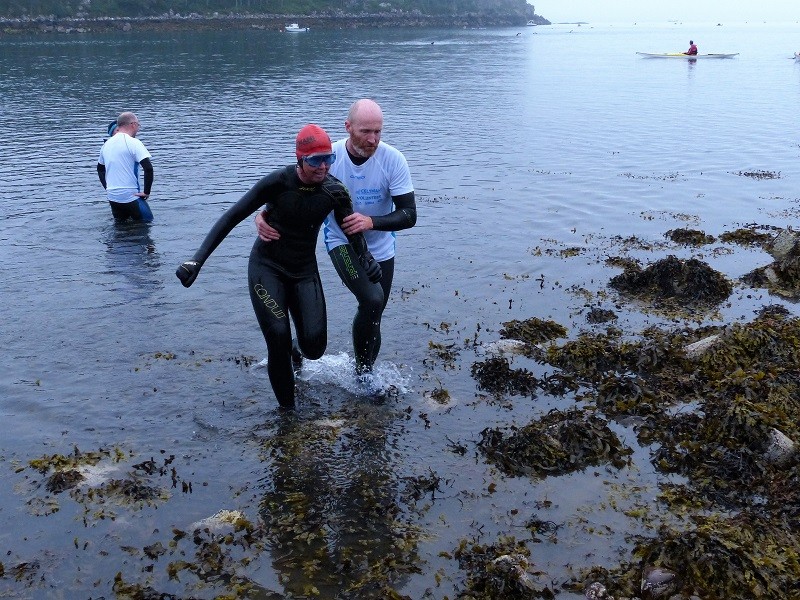 around me but there wasn't anyone. I hit something again. And then I realized, I didn't hit anyone, it was all jellyfish. Suddenly there were swarms around me. My swim time sucks, but my gloves fortunately prevented direct contact with the jellyfish.
Bike:
At some point I was at the shore. The helper pulled me out of the water and I staggered with my Supporter Hermann to my Exchange Place. It took a long time to peel myself out of the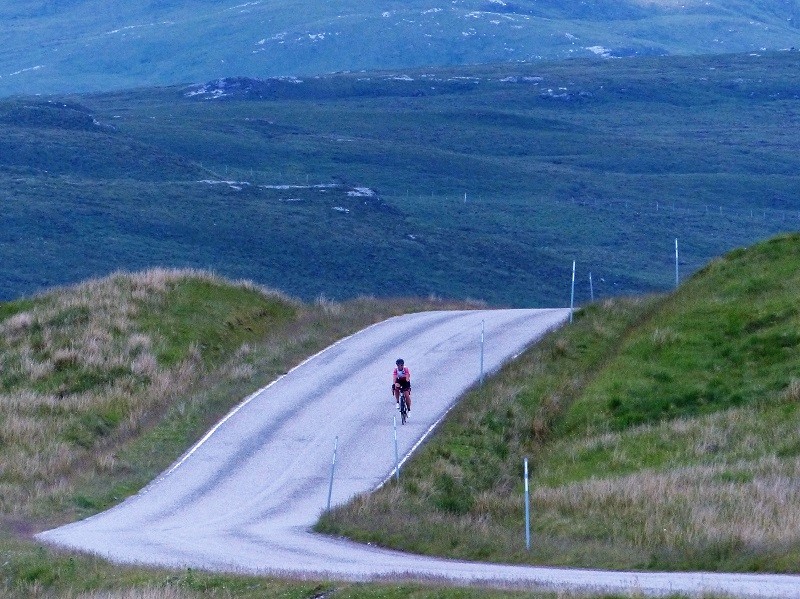 Neo and to get into dry clothes. Finally on the bike! Approximately every 20 km I saw Hermann on the side of the road. It's not easy for a one-man supporter team, he has to take pictures, hand me food and hand me new drinks. I was half way through with my bike route and I was good in time after my calculations. I was already mentally trying to prepare for the run. I told my supporter again to not forget my sports watch, the Garmin 910XTI. He asked: "Which Garmin?" I took the watch off after swimming and Hermann couldn't find it anymore.
A light breeze slowed me down a little and I didn't feel like I'm going fast anymore. How should I manage 5k uphill and then 13k flat and downhill running and all this under time pressure? The traffic chaos in front of me probably indicates the approaching transition area. Finally!
Run 1:
The change was really fast. And there were millions of little mosquitos. Then I started running, and I was WHITOUT GPS watch which shows me the progress. For the Colin Pass we had to run about 300 meters uphill. I got there surprisingly fast. But I still had 15 km in front of me and almost nine hours. The running was very hard for me, especially on this very rough and dirty road. Runners were in a hurry and were overtaking me. That meant that I should hurry too. Then I finally made it to the next aid station. I asked the girls how far it is: Only 4 miles. How much is it in kilometres again?
I was trying to stay attached to two athletes. Will I make it in time to T2A? I started walking for little bit but the thought that I could miss the cut-off made me run again. Around the next corner I suddenly saw electricity pylons. The road must be there! And I knew that I only had 3 km left on the road. I asked some spectators for the time, it was half past three. That meant I had 10 minutes a kilometre. That had to be feasible, even with walking breaks in the slopes. A little bit later I met Hermann, who was smiling at me.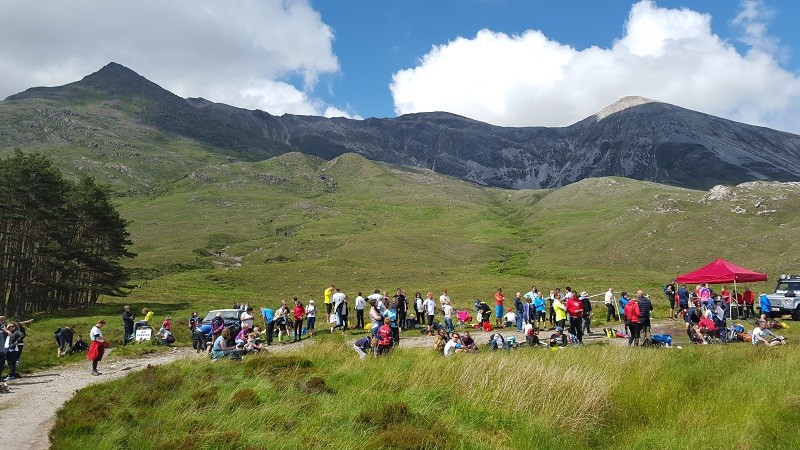 Run 2:
T2A –I managed it in time. Health Check: I laughed a little bit exaggerated and told them that it wasn't that stressful so far. Hahaha, managed. After the kit check and Backpack on my back we were back on tour. Now 900 height meters are taken into steep switchbacks. We got one hour and 45 minutes for it. Things were going great. Going up was easy for me.
However, I was so thirsty but we only had a small bottle for each of us and hardly anything to eat. At the first summit the stress dropped from me. Now we got all the time in the world. Going down, but where is the road? We had to climb over blocks. In the distance we saw a peak with nothing but small people on it. Do we have to go up there too? My view went further to the right: A long ridge and another peak full of people. Do we even have go that far? We continued. And at some point we got to the highest point. And then we got to the precipice: A channel leads steeply down. Oh, I remembered that they mentioned that at the briefing. We saw a beautiful lake below us and arrived there after some climbing down. Hermann found fresh water. We kept walking because running is too dangerous on this path.
After some time I finally saw the road. Actually I planned to run
the remaining kilometres. But my desire to run wasn't that great at that moment honestly. I decided to run the last 100 meters, because it simply looks better on the finisher photo.
I ran through the target bow to applause, there were still some spectators even though it was already 10 PM. Done! Now I'm allXtri!!! Not very fast, but with black and blue finisher shirt. I was
so proud!!
Epilogue:
No, I don't feel as a hero or super athlete. I do this because I have fun at special sport events. And the reason why I have the black shirt in Norseman and blue shirt during Celtman is only because I had very good weather conditions these days. A very special thanks to my super Supporter Hermann. Without him, all this would not be possible. Big thanks also to the great organizer teams in all three races. You are great!
[youtube https://www.youtube.com/watch?v=pKZmAtgWiOg&w=560&h=315]
official film 2016: